MacBook Pro Retina Display shares secrets in teardown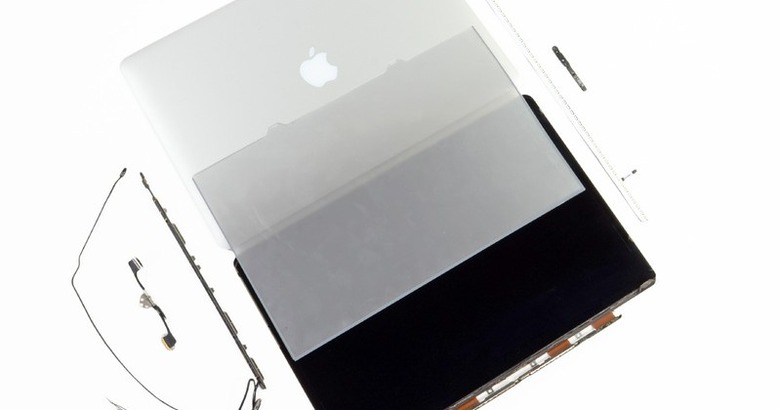 Apple's MacBook Pro with Retina Display may have terrified the teardown experts with its tightly-packed chassis and blithe disregard for user-repair, but they couldn't resist returning to open up the high-res screen. iFixit couldn't get the new Pro's lid open in time for their original teardown, but with new tools in hand they took a second shot at discovering how Apple had managed to accommodate so many pixels in so slim a component.
The answer shouldn't come as much of a surprise: Apple again sacrificed accessibility for aesthetics. Even the skilled hands of the teardown merchants couldn't dismantle the Pro's screen without cracking it, though they soon discovered why: in a triumph of space-saving, Apple has managed to make the entire lid the LCD screen.
"Apple did not design and build a 1.5 mm thin LCD panel. They did, however, do something exceptional with the design of this display: rather than sandwich an LCD panel between a back case and a front glass, they used the aluminum case itself as the frame for the LCD panel and used the LCD as the front glass" iFixit
There are some other design compromises, such as routing cables through the hinge and potentially making even just replacing the FaceTime HD webcam an arduous challenge. The feeling is that, should Apple ever have to repair a new MacBook Pro, it'll simply be swapping out the whole screen assembly rather than trying to coax a new panel into place.
If you're more interested in how the new MacBook Pro with Retina Display performs when it's in one piece, check out the full SlashGear review.