Mac Pro 2013 benchmarks leak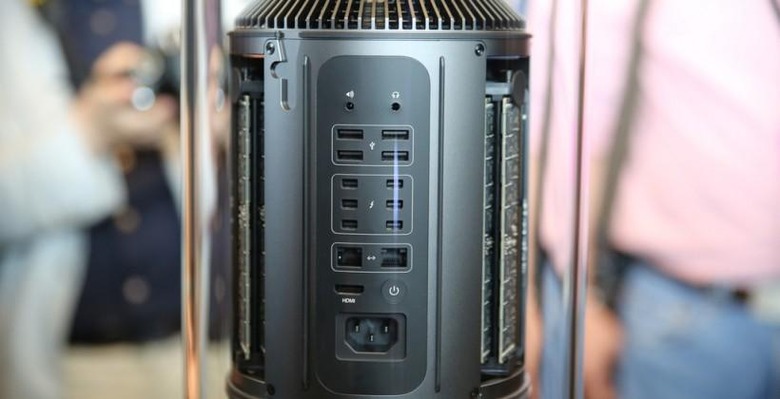 Apple's new Mac Pro 2013 may not be on sale yet, but that hasn't stopped the compact new workstation from cropping up in benchmarks and, in the process, giving us a hint of its Xeon E5-powered performance. A listing supposedly for the new Mac Pro – which Apple gave us a sneak peak of at WWDC earlier this month – has shown up at Geekbench, complete with a mighty impressive score.
The Pro in question is listed as "AAPLJ90,1", rather than "MacPro6,1" as might be expected, and scores 23,901 overall in the Geekbench test. Geekbench is a synthetic test of processor and memory performance, one which many reviewers and system builders use to compare baseline abilities of PCs and Macs.
With a 23,901 score, the new Mac Pro is approximately 2,000 points ahead of the previous flagship Mac Pro. That might not seem a lot, but the performance improvement becomes more clear when you consider what hardware each system is working with.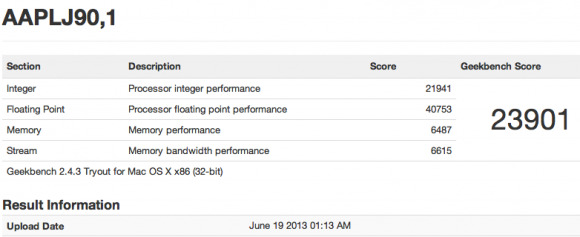 In the Mac Pro 2013, there's a single Xeon E5-2697 processor, with 12 cores, running at 2.7GHz. The older Mac Pro, meanwhile, has a pair of Xeon X5675 processors, each with six cores, and running at 3.07GHz. The new Pro has 64GB of 1867 MHz DDR3 memory, whereas the old model has 24GB of 1333 MHz DDR3.
As well as the top-line advantage from the Ivy Bridge-E based Xeon E5 over the older, Westmere-based processors, the 2013 Mac Pro pulls ahead of its predecessor in most of the sub-categories tested. The difference may even become more marked as Apple refines the workstation closer to release.
It's also worth noting the improvement over Apple's high-end iMac desktop, which some existing Mac Pro users had considered switching to after the Cupertino firm left the Pro unchanged for so long. The Geekbench results are clear, however: our tests of the 3.4GHz Core i7 iMac saw it score 14,064.
Mac Pro 2013 eyes-on:
Of course, it's possible that the codename in Geekbench was fabricated, though there are some indicators that that's not the case. For a start, the machine being tested is running a custom OS X Mavericks build, 13A2054, MacRumors points out, which is not what has been publicly released to developers. Meanwhile, the motherboard ID also matches up with one Apple cited as for the new Mac Pro, again in Mavericks.
There's more on the Mac Pro 2013 in our SlashGear 101 roundup. Apple hasn't said exactly when the new desktop will launch, nor indeed how much it will cost, though some unofficial estimates have pegged the compact powerhouse at around $4k.