Remember back a while ago when your best pal Chris Burns reviewed that really rather odd head-based Bluetooth video camera by the name of Looxcie? Well wouldn't you know it, they've made a second generation, and wouldn't you also know it, it'll come ready and willing to work with iCloud, the Apple cloud-based functionality and system announced officially earlier today! This new device will have a new form factor, a new set of prices, and of course, new and improved functionality.
Before we go on, let me remind you that the first Looxcie was what they were calling the world's first wearable mobile-connected video cam. What's that mean? It means you attach it to your head via your ear and you hit the record button on your phone. Speaking from a perspective of a person who's literally used the first generation device, I can definitely say that Looxcie's got an enjoyable and utterly unique device on their hands. Futuristic and science fiction-y too!
This new unit is 20 percent lighter than the first version (and the first version was mightily light,) as well as almost half the size of the original. Generally this would mean that you'd lose some function or another, but this new version retains full battery capacity and all of its video capturing and sharing features.
The original required that you either wrap it around your ear or that you incorrectly hold it in your hand like a newb. This new version has attachment accessories that allow you to also attach the device to a helmet, wear it with a cap, and a flock of additional options. As far as how much video the unit can hold on its own and how much each different costs, you've got the following: $199 for the 8GB model and $179 for the 4GB.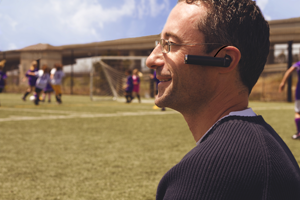 Some additional specs for your consumption:
• Lightweight: 22g (less than 1 oz.)
• Clips stored as MP4 files
• Up to 5 or 10 hours of video storage (depending on model)
• User selectable video capture in 320p or 480p
• Instant clip creation and sharing to Facebook, Twitter, YouTube or iCloud
• Looxcie companion apps for iOS and Android: LooxcieMoments and LooxcieCam
• Bluetooth 2.1 + EDR and eSCO for up to 10 meters range
• Bluetooth Hands Free Profile 1.5 for telephone calls
• 365mAh Li Polymer battery for up to4 hours of continuous video recording
• RoHS compliant manufacturer
• DSP noise reduction optimized for enhanced audio 
Have a look at a video recorded from the original here:
[vms 082a2415f0902f0da88f]
Then again, take a look at our review of the first generation of this headset then get pumped up about gen 2!
LOOXCIE LAUNCHES THE LOOXCIE 2 WEARABLE CAMCORDER

New Compact Form Factor and Adjustable Fit Allows for Anytime, Anywhere Use with Optional Attachment Accessories

Sunnyvale, CA- (June 07, 2011) – Looxcie, Inc. makers of the first wearable mobile-connected video cam, announced today the launch of Looxcie 2™, its sleek new video cam. With an entirely new design, Looxcie 2 weighs 20 percent less and is almost half the size of the original while maintaining full battery capacity and all video capture and social media sharing features. New attachment accessories provide users with a variety of ways to wear and use Looxcie 2: snugly over the ear, on helmets, caps and more.

Looxcie 2 comes in two configurations: up to 10 hours of video storage and up to 5 hours of video storage, available for $199 and $179 (MSRP) on www.looxcie.com. The companion Looxcie smartphone apps can be downloaded for free from the Android's Marketplace or iPhone's App Store.

Looxcie 2's unique design allows for a hands-free point-of-view experience. When a memorable moment occurs that is worth preserving or sharing, the instant clip button automatically rewinds, captures and saves the moment as a permanent clip, which can be instantly shared to sites like Facebook, Twitter and YouTube. And with the updated LooxcieMoments smartphone companion app, users can now choose between either 320p or 480p video quality. Software and firmware upgrades are compatible with the original Looxcie.

"With Looxcie we gave people a way to capture video and share instantly, ensuring that they wouldn't miss the best part of a shot," said Looxcie CEO, Romulus Pereira. "Looxcie 2 takes this seamless experience a huge leap forward by giving people the flexibility to wear Looxcie in whatever way is convenient to them so they can catch that killer jump, swing or slam dunk and still share it out over social media in a single click."