Looxcie Bluetooth Video Camera Review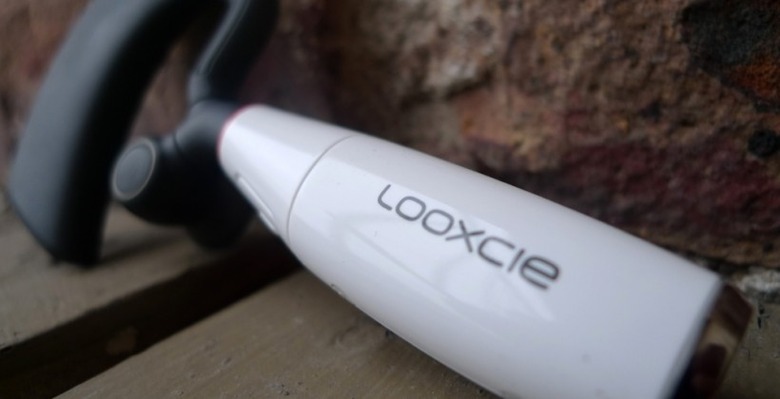 Welcome to our look at the Looxcie Bluetooth Video Camera, a device that you can use whilst connected to an iPhone, a variety of Android phones, or just your computer via USB. What this device does is loop around your ear, sit comfortably at your temple, and record video for you from what basically amounts to as a first-person perspective. The variety of ways you might employ this device are explored below, as are the quality and manageability of the video as well as the camera device itself – will this strange little oddity be hanging around your face in the very near future? Let's talk about it.
First Impressions
When I was first taking a peek at this device, I wasn't sure if it was a projector, a Bluetooth headset, a laser pistol – or what. This immediately drew me in. I love oddities though, and I'm not entirely sure of my fashion sense – so trust me when I say that you'll have to make sure you're comfortable wearing this bit a headgear for yourself. I'll get a bit further on how it's going to fit you in a moment, but for now, keep in mind that this isn't an invisible piece of equipment.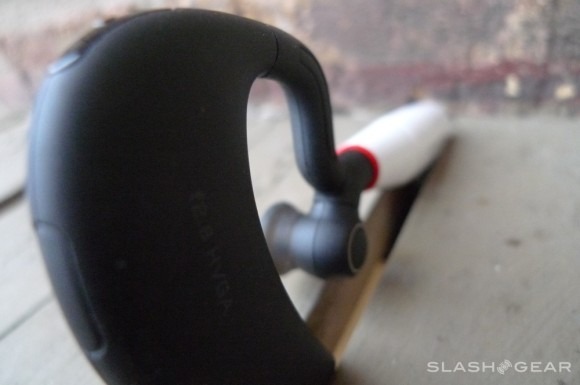 That said, it's a completely lovely looking piece of industrial design, and I do consider myself to be a bit better than a novice at judging that. The placement of the buttons, the fact that there's a total of 4 buttons, two lights, one earpiece, one miniUSB, and one camera all on this little J, that's amazing. It all seems as one, as it should. White and charcoal coloring with accents of red – that's also tops.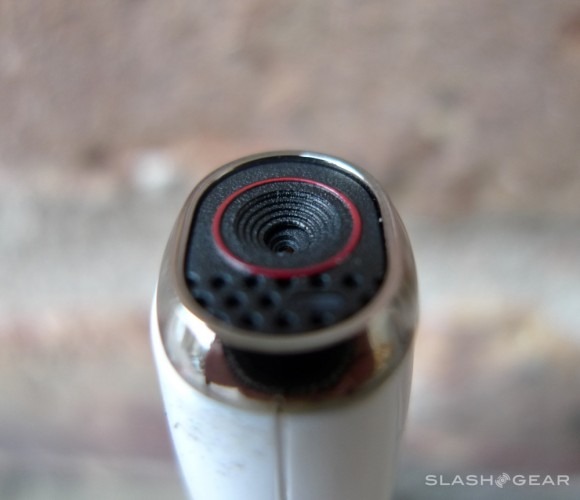 All you've got to do is charge this device by plugging it in by the base, let it sit, and press the earpiece button to turn it on. That's it. Once you're there, you can either choose to record using the record button, OR – and this is what we've done in this entire review – you can use your mobile device to control the camera. Spoiler: it works very, very well, and is totally slick.
Ear Placement
When you first bust this device out, you're going to wonder how you're going to make it fit around your ear. As it turns out, the area between the earpiece and the back bit is not rigid, it's maneuverable. Once you've pulled it open, you can place it on your hear and sort of clamp it tight again so it wont go anywhere once you're wailing your head from side to side (don't do this, but know that you can.) There's certainly ways to apply this device to your head that will make you have an earache by the end of the day, but it's just as easy or easier to make it fit the correct way, the way that'll have you forgetting that it's there 5 minutes after you've put it on.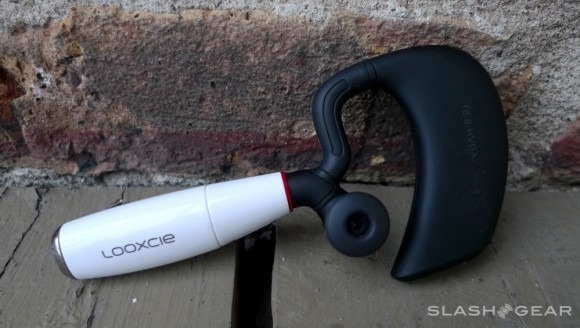 Activation
When I use the title "Activation" I don't mean with your wireless company – this isn't the sort of device where you've got to pay for it by the month, it's a one-time purchase and that's it. What I mean is that you've got to turn the thing on. This can get a little confusing if you just take it out of the box and start pressing things since there's no screen to tell you if you're doing things right or wrong. What you've got to do first is make sure the thing is charged up. Press the bottom button or the earpiece button to see. Once you see the tiny green light blink from the bottom of the device, you're pretty much ready to go – at least for power.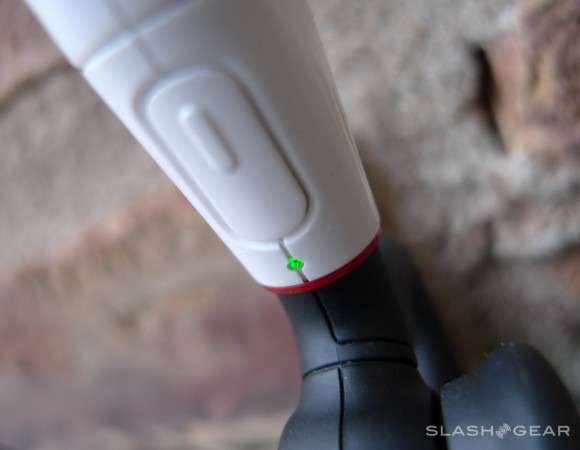 Next what you've got to do is hold the bottom button, the top button, and the back button all at once until the green light is blinking slowly. This means that your device is sending out a discoverable Bluetooth signal. You won't have to do this if you don't plan on using the device with your mobile phone. We did though, so this is the process. The Looxcie device popped up immediately inside our Bluetooth options screen on the HTC ThunderBolt, our device of choice, and connection occurred basically instantly. Once it was connected, it's placed upon the ear and left for a few moments while you download one or two Looxcie apps for free.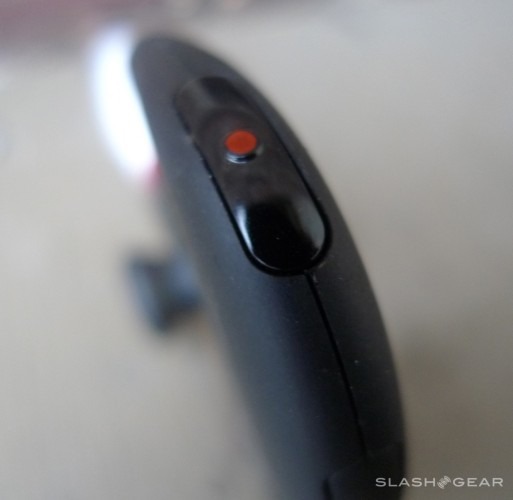 There's LooxcieMoments and LooxcieCam App. To start, you'll probably want the camcorder as it allows you sort of a "live viewer" so you can adjust the camera on your head so that it's straight. Once you've got the app open, it'll take just a moment to connect, again, to the device. Once it's connected, you wont have to connect again at all unless you shut one of two devices off. Looking into your screen on your phone now will show you exactly what your Looxcie device is seeing. More than likely you'll have to adjust a tiny bit (left or right, twisting the camera as it's still attached to your ear) to make sure it's level.
Then you're ready to go!
Recording
You've got two options for recording, the first being LooxcieCam App, which records at your full size options, we'll get back to this in a moment, or LooxcieMoments, which records slightly smaller and at a smaller frame rate, the videos is produces supposedly better optimized for sharing via the social networks it can easily connect to like Facebook or YouTube. Note: Facebook was a little bit spotty with us because we kept wanting to record giant videos, but YouTube never gave an error at all. LooxcieMoments is fun for if you'd like to show people moments of your life that you're not going to really want to keep for later reference. It might also be a very viable option for if you just NEED some head-based video and audio and you're running low on space in the device.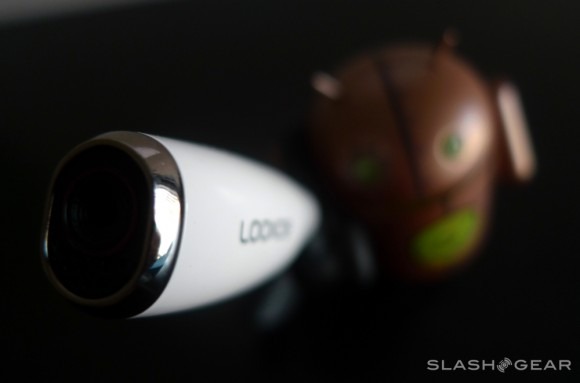 Also note: you can use the device as a Bluetooth headset – aka you can answer calls and make calls. Handy!
Information Storage
When you're using your device strictly with the LooxcieMoments taking videos at HVGA, 15 fps, 800 kbps, the folks at Looxcie say you'll be able to grab up to 5 hours of video on your 2 GB device. This 2 GB is inside the camera, but you'll also be able to access these clips on your smartphone device. With LooxcieCam App or with the camera used by itself with no app assistance, you'll be able to record 1 hour. This is all INSIDE the device itself. When you're using your phone, you'll be able to access your videos and watch or share them, but only if you're connected via Bluetooth to the device. If you'd like these videos on your computer, all you need to do is download the free desktop app that'll transfer all the videos over. Otherwise what you'll be doing is moving them to your YouTube or Facebook with the data plan on your phone.
Apps User Interface
The two apps you'll be using on your mobile device (the phone, in this instance,) are exceedingly simple and basically impossible to not understand. You'll be recording, viewing, and even editing in no time! Editing is limited to clipping bits out of videos, for example if you've got a few moments of prep time after you've pressed record but before you've started speaking, but what more could you ask for? The only limit we can see here is that once Looxcie gets working on tablet computers, they're going to have to make it simpler to transfer video from the Looxcie device to the tablet itself – people WILL be wanting to use things like iMovie and Video Editor to work further with the clips they've made.
See a few of the interface bits here: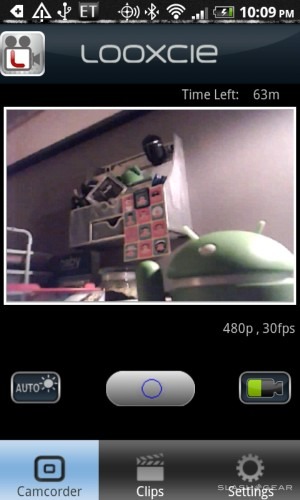 LooxcieCam App Main Interface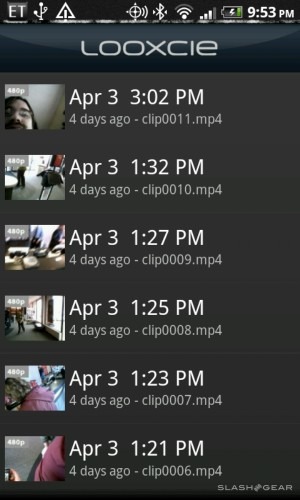 Video Library View (same in both apps)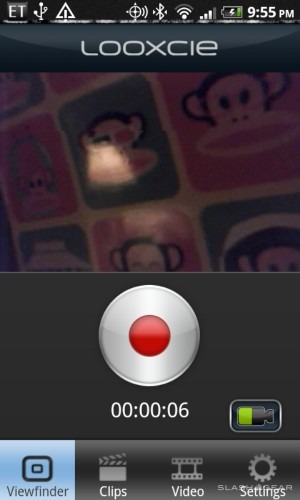 LooxcieMoments Main Interface
The two main differences between the apps is your ability to view what your camera is seeing outside record mode, this feature only available on the LooxcieCam App, and the video size. This will change soon, as they're activating the large size clips on LooxcieMoments soon.
Video Quality
Have a peek here at several different environments and instances of use you might encounter or try out when you've got the camera in your possession:
[vms 082a2415f0902f0da88f]
A couple of notes: I have hair that reaches down to my shoulders in all three of these videos – keep an eye out for whooshes of beautiful brown flowing wafts. Second, the dog you see in one of the videos is Susi, your humble narrator's friend – her name means "wolf" in Finnish. Finally, each of these videos were filmed at 480p at 30fps and transferred onto the computer via USB directly from the Looxcie device – aka this is the highest quality video options and transfer.
Wrap-Up and Final Verdict
This device costs $200. While I would judge the perfect price point for this device to be right around $150, the full $200 is fair, especially since the Looxcie group appears to be sending out pretty regular updates / bug fixes / etc for free. The device is heavy-duty enough that you wont have to worry about handing it over to your child to play with. Not that you'd let a tiny child use technological doodads without supervision, but it's comforting to know that this isn't like a smartphone where they're almost certainly going to bash the screen in the first chance they get.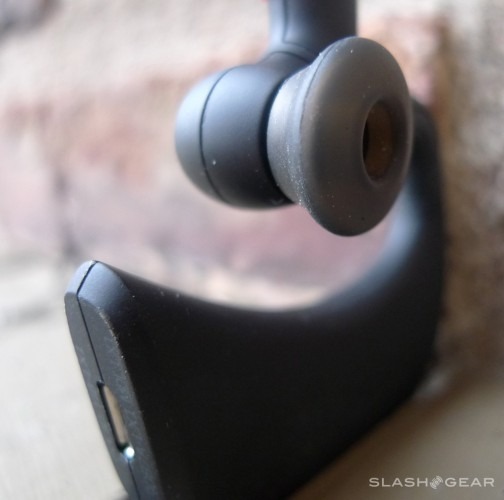 It doesn't have the best video quality I've ever seen on a device this size, in fact one of its taglines is "It's not HD, it's ASAP," but depending on what you plan on using the camera for, it could be very, very useful and eventually essential. Think of all the sweet spy stuff you could accomplish! You'd have to tape over the red record light, of course... But speaking from experience, having used this camera over a period of a couple weeks, noone thinks you're recording them – or if they do, they certainly don't act as though they do. The two aunts of mine you see in the Verizon store in the video above had very different reactions to the camera when they first saw it on my head, but neither of them acted odd when I had it recording. One said nothing of it, the other said "what in the heck do you have on your head now?!"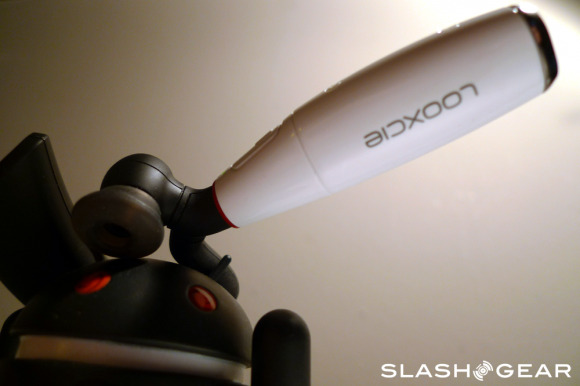 Be brave! Pick one of these little things up. They allow you to record things in a way you'd only otherwise be able to by holding a big fat camera up to your face, and this is much lighter and less obtrusive. And it comes with a little black bag you can use when people realize that the device isn't implanted into your head. It's all the headcam action you could want, in a cute little package!