Logitech Pop hands-on: A simple programmable button for the IoT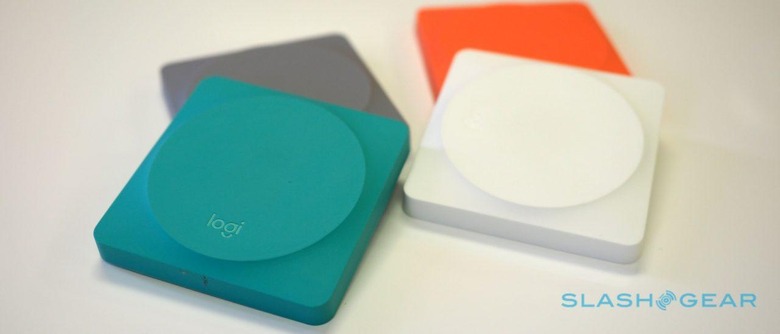 The modern smart home may be a whiz-bang palace of connected gadgets and smartphone control, but there are times when you really just want to press a button and switch on the lights. Logitech Pop promises to be just that, a programmable wireless button that hides its not-inconsiderable scope in triggering the Internet of Things behind a veil of rubbery simplicity.
Pop addresses a not-insignificant problem. Although our smartphones – and, for those wearing them, our smartwatches – have become do-everything touchscreen remotes for many connected devices, from which you can dim your lights, close your blinds, lock your doors, and control your set-top box, they're not necessarily the most convenient interface.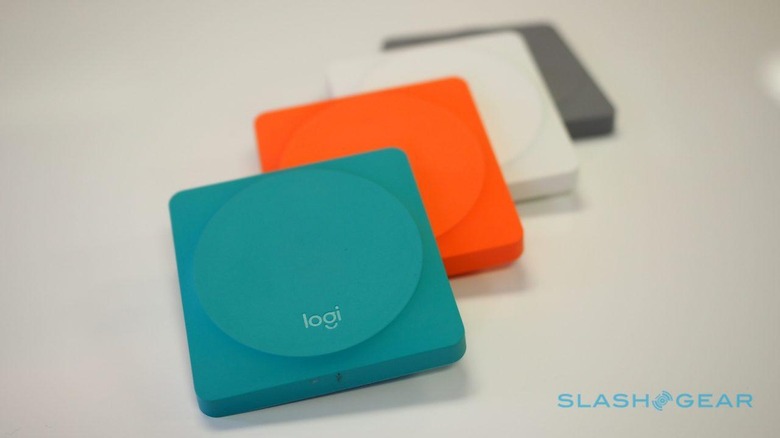 Younger kids might not have a phone in the first place; the less tech-savvy might find pulling out a smartphone (if they've even upgraded to one) just to adjust the lighting a frustration. Do you entrust guests with access to your smart home, or the babysitter, and do you need to produce a laminated "How To" guide just so they can understand the peccadilloes of your particular setup?
There are times when a button is about as complex as it needs to be, though Pop is a lot more than a wireless switch.
Physically, it's a square of rubberized plastic, smaller than a drinks coaster, with a raised circular button on top. Two coin cell batteries inside power the Bluetooth LE radio; they're user-replaceable, though Logitech says they should last for 5-6 years of typical use. You could leave it on a coffee table or nightstand, though sticky pads are included in the box for wall-mounting.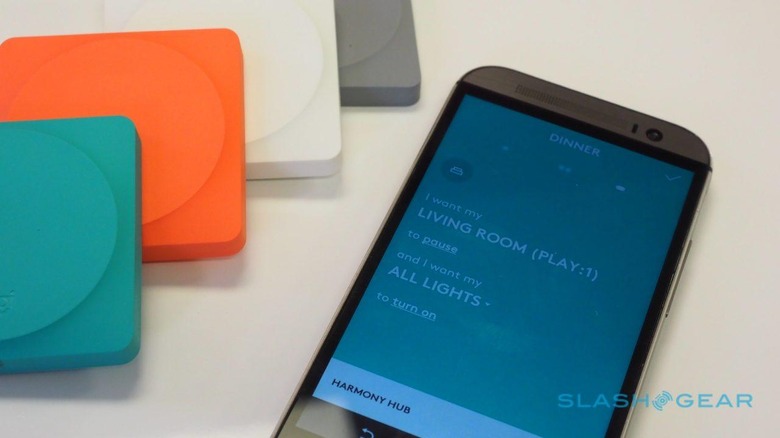 Though there's a single button, it can be used three ways: single-press, double-press, or long-press. Presses can be optionally set to toggle on/off, or just to trigger once. Setup is via the companion iOS and Android app, with a process similar to that of IFTTT. Pick the button command, drag in your choice of devices – lights, blinds, connected outlets, and more – and set what you want them to do, and then hit save.
The hub – a nightlight sized block that plugs into a spare outlet and bridges the Bluetooth-connected buttons with your WiFi network – saves the details of each recipe, so even if your phone isn't nearby it doesn't matter. In fact, there's a virtual version of each button in the app, though Logitech doesn't expect people to really use that.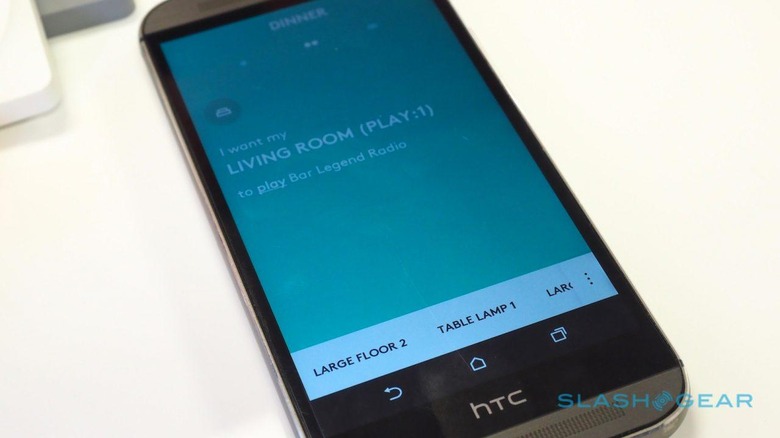 There's no theoretical limit to the number of Pop buttons you can have, Logitech tells me, and nor is there really a limit to how many devices each recipe can command: the cap so far, they say, has been just how many connected items each tester has had.
Range between button and hub is 100 feet in open space, though that will obviously come down depending on the nature of your home; you can plug in a second hub if you're encountering dead spots, and the buttons will automatically communicate with whichever is nearest.
A product like Pop lives and dies by the devices it can work with, of course, though Logitech arrives to that battle with some history. Pop has been developed by the same team responsible for the company's Harmony universal remotes, which can now control more than 270,000 products. It's the de-facto standard for those wanting to condense down several clickers into just one.
Pop doesn't arrive with full support for that catalog, unfortunately. Out of the box it's compatible with smart lighting providers like Philips Hue, Sonos streaming speakers, August's smart locks, Samsung's SmartThings, and several other platforms. You can have a Pop press start a certain Sonos playlist, for instance, as well as load your favorite mood lighting setting.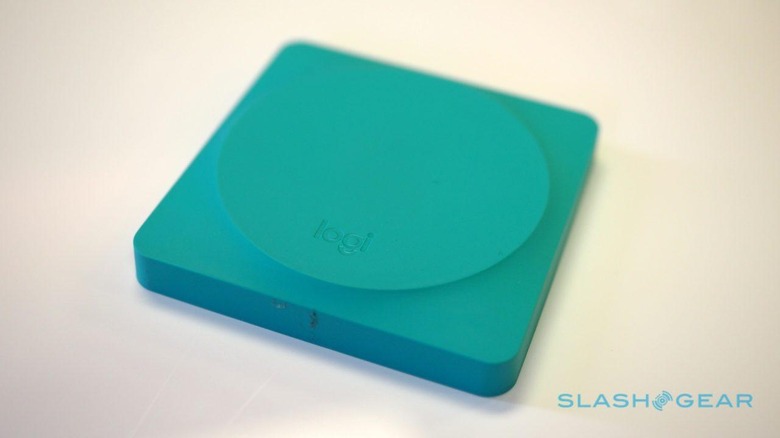 For broader support, though, it can be linked with a Harmony Hub, the $100 app-and-remote-enabled home controller, and the Harmony Home Hub Extender, a $100 add-on that grants ZigBee, Z-Wave, and Z-Wave Plus compatibility.
With that in place, hitting a Pop button could turn on the TV, and the surround sound system, and load up Netflix, in addition to shutting the curtains, dimming the lights, and locking the doors.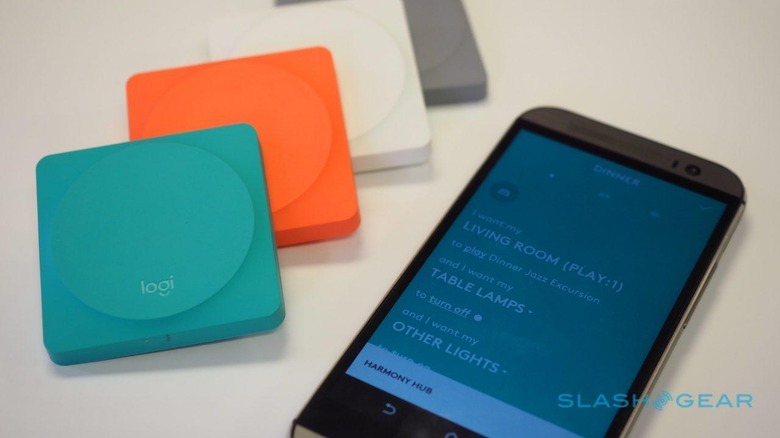 In time, Logitech tells me, the goal is to give the Pop itself more native control over third-party platforms and devices, so that the need to have a Harmony Hub is reduced. The team takes a proactive approach to new devices, approaching fresh players in the entertainment, IoT, and smart home game to collaborate on Harmony compatibility, as well as offering an API for those who may have slipped under the radar but that also want to get involved.
For now, though, Pop is arguably the most competitive attempt at corralling connected devices. A starter kit, with the hub and two buttons, is $99.99, while add-on buttons are $39.99 each. That's certainly not cheap if you want to outfit every room in the house with at least one smart switch, though it's $10 cheaper apiece than Philips' Hue Tap switch that only works with the one lighting platform. Those who want the flexibility of the modern smart home, but don't want to be tied to their smartphone as a result, might well consider it worth the price.