Philips Hue Tap Review: Smart bulbs go old-school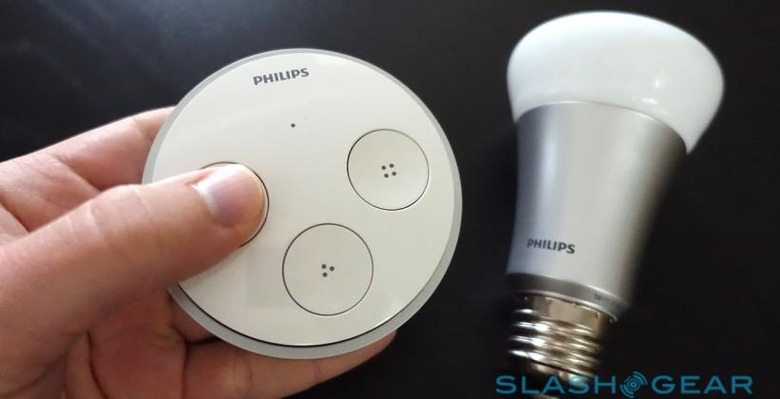 Philips' hue smart lightbulbs have always been at the mercy of a dumb switch. The range of color-changing LED bulbs have won over many smart home enthusiasts with their flexible effects and easy installation, but while controlling lighting from a smartphone or tablet is catnip to geeks, the less tech-savvy were left bemoaning their suddenly redundant physical light switches. Enter Hue Tap, a tactile and portable way to bring up to four presets out of the app and into the real world.
Hardware and Design
Hue Tap doesn't pretend to look like your average light switch. A 7.5cm diameter circle, 2.5cm thick, it matches the hue bulbs with a silver and white color scheme. Where the bulbs are glass and aluminum, though, Hue Tap is all plastic: sturdy enough, but there's a sense that Philips picked materials for being lightweight – the switch is just 90g – rather than for a premium feel.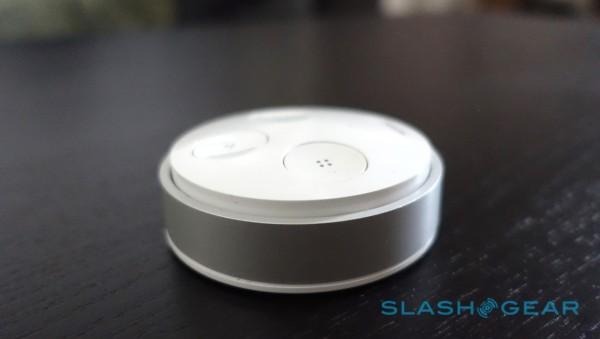 What that does mean is that Hue Tap is easy to install, not least because it doesn't require any sort of power supply. At its simplest it can be left on a coffee table or desk as a roaming controller, but there's also a twist-off mounting plate on the back for wall placement. That has two self-adhesive pads already in place, as well as holes for screws if you prefer (though you'll have to provide your own). Even once on the wall, you can still twist Hue Tap off and take it around with you.
What it's not is a seamless swap for a traditional light switch. For those catching up, hue bulbs need a constant power supply, so the light switch for whatever fixture or lamp they're screwed into has to be permanently turned on. If you toggle it off and then on again physically, the bulb powers up to maximum brightness and a simple white light; that's a safety feature, in case you suddenly need to see normally.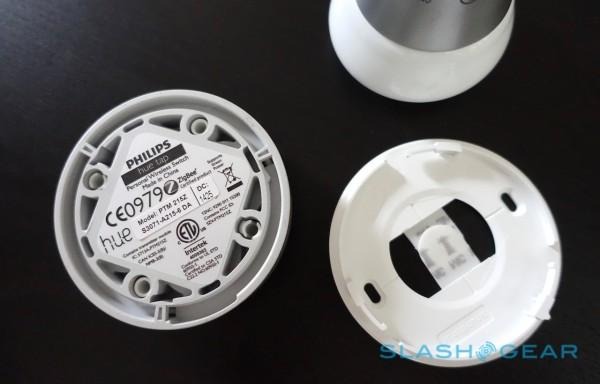 That's fine if you're content to ignore the wall switch and use the hue app instead, but it can be a pain for those unwilling or unable to use a phone or tablet to control the lights. They invariably prefer the traditional switch, and if they leave it turned off the hue app won't work.
Hue Tap won't fit into a regular one or two gang fitting, so you can't just swap out the existing control and replace it. Instead, you could put Hue Tap right next to it, and hopefully train people to press the circular controls not reach for the old switch.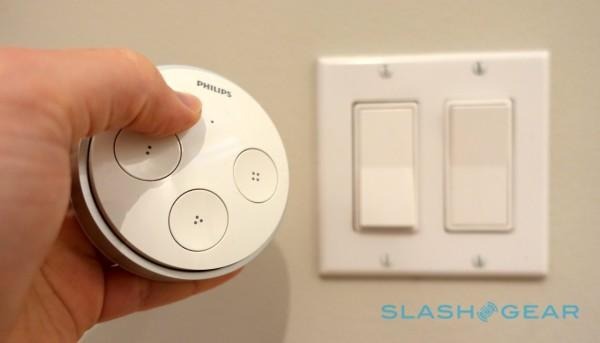 Software and Functionality
Setup is just as easy as physical installation, as long as you have the latest firmware running on both the hue app and all the bulbs and the bridge. A new "My devices" option appears in the Settings page of the app, and after you press and hold the two-dot button for ten seconds and then release it, Hue Tap shows up in the list. Up to 25 can be paired with any one hub, and each renamed.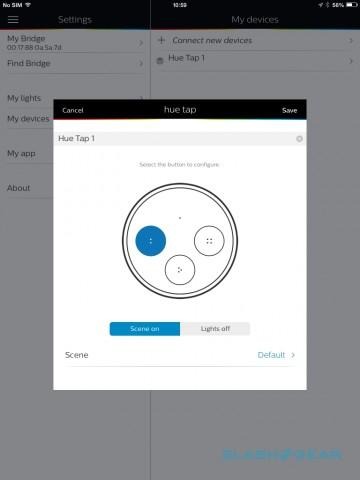 From there it's a case of assigning functionality to each button. The whole front of Hue Tap acts as the first button; then, pressing each of the other three, slightly dimpled buttons inset into the fascia trigger the remaining three shortcuts. Slightly confusing at first, the three sub-buttons depress to an initial level but that's not enough to actually activate them, and you need to keep pushing until the whole front presses.
That's because the act of pressing in the front is what generates the electricity to actually communicate with the hue hub, courtesy of the ZigBee Green Power protocol, and hence the fact that you don't need batteries or an AC adapter.
Each button acts as a trigger, though only in one direction: you can't press it a second time to deactivate the scene. By default, the primary button is set to turn all lights off, while buttons two through four can be assigned to scenes. If you want to trigger the maximum four scenes supported, then you don't get a power-off feature, and would instead have to load up the app to shut the lights down.
You can't assign an individual bulb to a button, though if you set it up as a saved scene preset on its own then you can select it. Conversely, you can have a button turn off only selected bulbs rather than all of them, though not deactivate a specific scene; so, if you've got hue bulbs in multiple rooms and want to control just those in the same location as Hue Tap is mounted, you need to individually select the lamps in that room rather than just saying "I want everything involved in this scene to turn off."
It can make setup a little complex, but once you've gone through the process the first time, your Hue Tap is good to go. I left the main button powering everything off, and then had three of my most common presets assigned to the other buttons, for instance.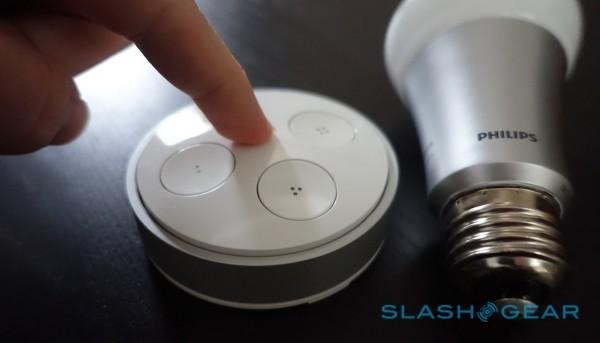 Philips quotes between 15 and 30 meters of range depending on what environment you're using Hue Tap in. In practice, since ZigBee is a mesh network – the switch links up to the nearest bulb rather than needing to connect directly to the hub – I had no problems controlling the lights from anywhere in the home, even with a couple of walls between me and the nearest lamp.
Response time is pretty much instantaneous, and the scene is triggered as soon as the button is fully depressed. Of course, there's no visual indicator on the switch to show system status; if you want absolute confirmation that the lights are off, or turned to a different scene, then you'll have to open up the app to check.
Price and Value
It's no understatement to say that a physical switch for the hue system is something fans have been vocally demanding from the outset. Unfortunately, the Hue Tap doesn't come cheap. At $59.95 it's the same as an extra bulb, which means outfitting several rooms could quickly get expensive.
Still, it's not like there are a huge number of alternatives, and those there are have their own drawbacks. For sixty bucks you could actually get a cheap Android tablet that you could dedicate to being a hue controller, though then you still lack the one-touch actions, the ease of installation, and the battery-free operation.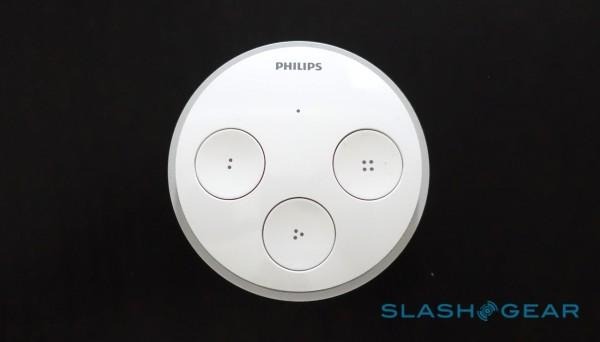 Alternatively, Belkin's WeMo Light Switch can be found for around $44, and though it's intended to work with the WeMo range, it can also work as a trigger in IFTTT for hue bulbs. It switches out for a single-gang traditional switch, which means installation is trickier than for Hue Tap, and only controls a single scene rather than up to four. Still, if you want the most streamlined integration and don't mind turning off your power and whipping out the screwdriver set, Belkin's switch is the most discrete.
What will make Hue Tap's price tag easier to stomach is when IFTTT integration arrives. Right now, there's no support for the switch in the "If This Then That" service which acts as a connecting network between products like hue, WeMo, Nest, SmartThings, and more, but Philips tells me it exposes the Hue Tap button-presses through its APIs just as control of the bulbs is opened up to third-party platforms.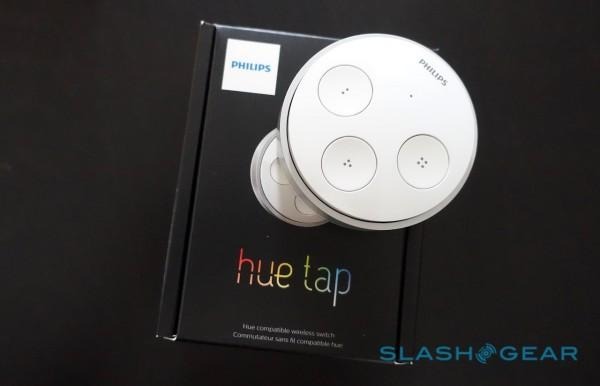 That could eventually mean assigning a Hue Tap button to turning on a Sonos preset around the home, or shutting off your heating, or instantly locking all the doors and windows fitted with smart locks. The smart home community has been looking for a flexible universal remote, and Hue Tap makes a strong argument to be that device.
Wrap-Up
On the face of it, $60 is a lot to pay for a light switch, particularly when all the same functionality and more is offered in a free app. Then again, hue was never designed to be the cheapest lighting system, and trying to squeeze more features into Hue Tap would've been counter to its aim of doing a few things in the easiest way.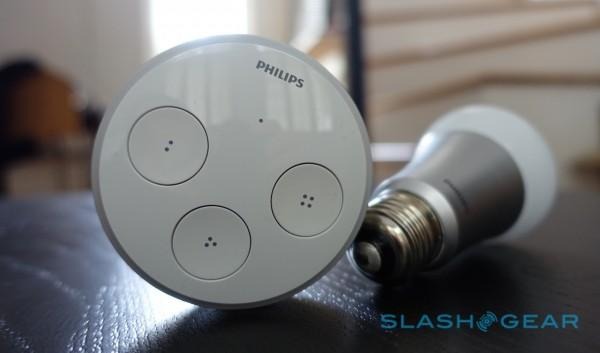 Philips deserves credit for ousting batteries and making installation so straightforward, though having each button work to turn a scene both on and off would be preferable.
Still, if like I do you share a home with someone whose first thought when wanting the lights on isn't to pull out their phone, there's a huge amount of merit to Hue Tap. That will only increase when third-party platforms and services add their own support.