Philips hue tap and hue lux boost smart lighting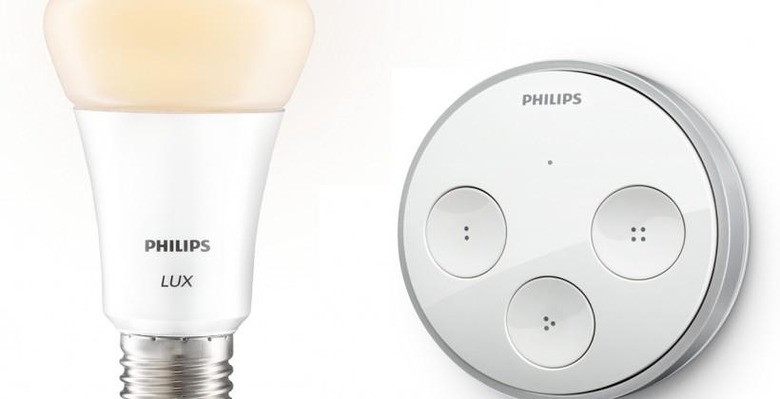 Philips' hue lighting system is gaining two new components, a hue lux remote-control white bulb, and hue tap, a wireless wall switch for easy control that demands no batteries or wiring. hue lux works on the same ZigBee low-power wireless system that the original color-changing hue bulbs use, but changes through white light only instead. However, it's Philips hue tap that we think might be more exciting, both to existing hue fans and to home automation users in general.
As before, hue lux pairs with a base-station that plugs into your router – or you can pair up to fifty bulbs to an existing hue bridge – and then offers a range of white light. That spans from a full-power warm light through to dim use, and off, from hue's iOS and Android apps.
It's also possible to link it to macros, for controlling the lighting in one or more zones simultaneously, and to connect hue to other services for notifications and more. So, for instance, hue lux could flicker when you have new email, or if a favorite sports team scores.
Alternatively, it could be controlled by the new hue tap. A circular wall switch, hue tap has four buttons which can be linked to individual bulbs or preset macro scenes, and is powered by the kinetic energy of the user's finger rather than batteries.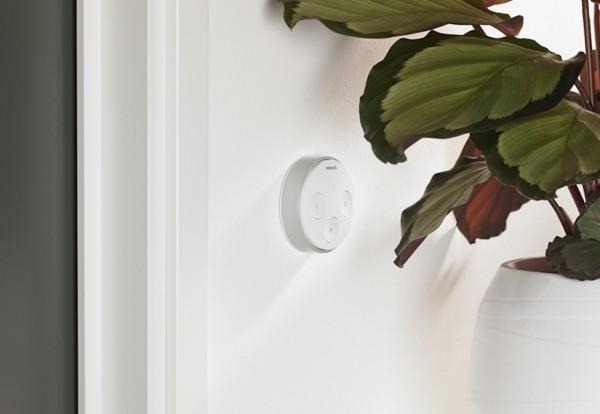 That means installation is a matter of fixing it to the wall or leaving it on a table. One of our lingering complaints about the hue system has been its reliance on the companion app – your existing wall switches have to stay on for the remote control lighting to work.
However, with hue tap, even those who don't want to use the app – or who can't be bothered unlocking their phone to get to it – can control the lighting.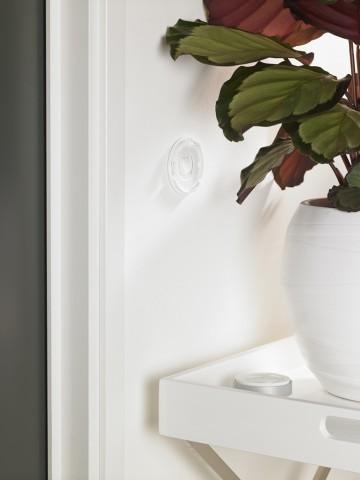 What makes hue tap particularly interesting is that Philips will open it up to third-party smart home developers through the hue API.
"The hue system is built as an open platform and the functionality of the hue tap and hue lux will be shared via the hue api and developer program like other functionality" a Philips spokesperson told SlashGear. "Other home automation systems such as SmartThings are free to also use these devices and functionality if they choose to – however it would require them to build the integration through our APIs."
That potentially means easy installation of a multi-function switch that could be mapped to multiple different home automation products, addressing a common request in the growing smart home market.
Philips hue lux will go on sale after the coming summer, priced at $99.99 in the US or €89.99 in Europe for a starter kit with two bulbs and the hue bridge. Individual bulbs will be $39.95 in the US or €29.99 in Europe. As for hue tap, that will be released at the same time, priced at $59.95 in the US or €59.95 in Europe. They'll be accompanied by an update to the hue app itself.