LG Optimus G Pro appears in press event invite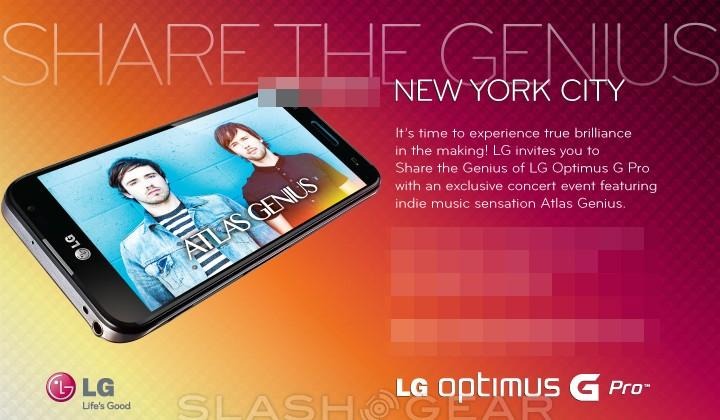 This week the folks at LG have revealed the contents of their soon-approaching press event for New York City: the smartphone known as the LG Optimus G Pro. This device has been released internationally and will be appearing in the United States with 4G LTE capabilities and a set of specifications not unlike that of the international edition. This device will be revealed with full details at the event which will take place on the first of May in the evening at a concert event.
This concert will feature the band known as Atlas Genius. This is the latest in a line of similar events hosted by LG, Samsung, and most recently HTC. Just this past week an HTC mini-concert was held with musician Pharrell Williams in promotion of the HTC One smartphone release. Several months ago, Samsung brought the Samsung Galaxy Note II to the United States with a mini-concert put on by Kanye West.
Even Apple has joined in the fun with an appearance by the Foo Fighters at the iPhone 5 release event this past year. Now with the LG Optimus G Pro, LG will be the bringing an engagement to New York City. It's not known at the moment if the smartphone will be available at the event for demonstrations or if the company will be revealing any release information before or after the music event.
With the release of the LG Optimus G Pro, LG will have effectively updated their large smartphone nearly-tablet-sized segment while the Verizon Intuition by LG remains out there for consumers looking for a pen-toting experience. Here with the LG Optimus G Pro, Qualcomm has also jumped onboard with the Snapdragon 600 quad-core processor, this being the same processor coming with the HTC One and the Samsung GALAXY S 4.