LG Nexus 4 leaks in apparently official press shot [Update: Is it fake?]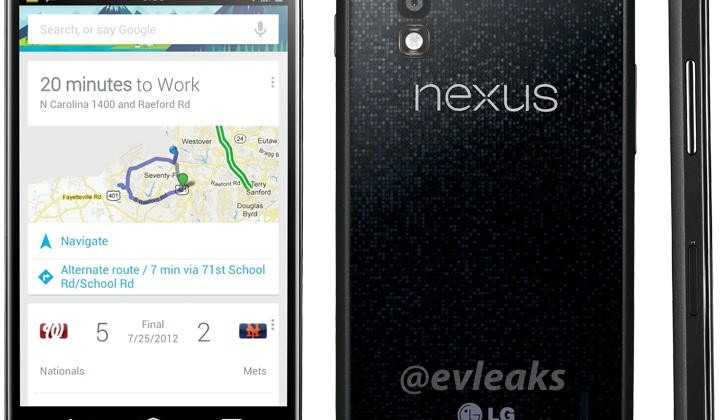 What's believed to be a promotional image of the LG Nexus 4 bearing Google's Nexus branding has leaked, ahead of the smartphone's expected launch next week. The image, courtesy of tipster evleaks, fits with previous leaked photos of the handset in the wild, though that last sighting didn't include the bold "nexus" logo across the upper rear of the phone. Update: Not so fast! This might not be as legit as we hoped.
Still, that's a last-minute addition we'd wager, and everything else is lining up for a launch on October 29. LG execs have apparently confirmed that timescale themselves, and leaks about the Monday Google press conference suggest the new Nexus will be one of the key announcements.
The LG Nexus 4 itself is believed to use a 1.5GHz quadcore Snapdragon S4 Pro processor and 2GB of RAM, with an 8-megapixel camera on the back and a 1.3-megapixel camera on the front. Inside the 9.1mm-thick chassis is a 2,100 mAh battery – fixed, not user-removable – together with either 8GB or 16GB of storage.
Up front is a 4.7-inch 1280 x 768 display, using an LCD True HD IPS+ panel rather than the AMOLED we've seen on other recent Nexus phones. That's shared – like much of the Nexus 4 – with the LG Optimus 4, our review of which is here.
OS is expected to be Android 4.2, also tipped to make its official debut on Monday. There isn't long to wait until we find out for certain; SlashGear will be with Google on the 29th to bring you back all the news.
Update: evleaks has a second shot, this time with the Nexus 4 at an angle:Update 2: People are pointing out that the first shot includes a non-standard battery gage on the display, which certainly implies it might not be legitimate. The second shot, shown below, doesn't use the same on-screen image.