LG Nexus Prototype detailed in full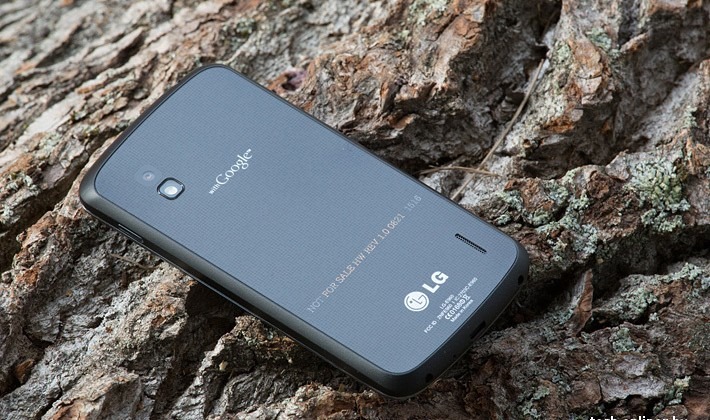 The next Nexus family device set to be released by Google and LG appears to have been revealed essentially top to bottom by a man with a prototype. This LG Nexus device being a prototype shown off by the Onliner lends quite a bit of detail as far as how this device will look and feel, but does not send out final details insomuch as it's working with software that's already out on the market and does not seem to be performing as it would have to in benchmark tests of several types. This review of the device release today is therefor a look at the ideation process behind Google and LG's collaboration.
The photographs above and below appear very much to be showing an LG device based on their recently revealed LG Optimus G, a device with a quad-core processor from Qualcomm and a massive camera. The USA versions of the Optimus G have two different cameras, one model with a 13 megapixel camera, the other with an 8 megapixel camera. This LG Nexus device quite likely has an 8 megapixel camera, this assessment based on the apparent size of the module compared to the G and our understanding of how Google advances their Nexus line one step at a time – aka they wouldn't skip 8 and go right to 13.
The Galaxy Nexus, a Samsung device, surprised the masses last year with a release that included a 5 megapixel camera. We expect that this LG device – if indeed it does pan out – will include an 8 megapixel camera at least. This prototype carries with it the code LG E960 as well as the name "Mako". It's also been suggested that this device is code-named LG Nexus 4.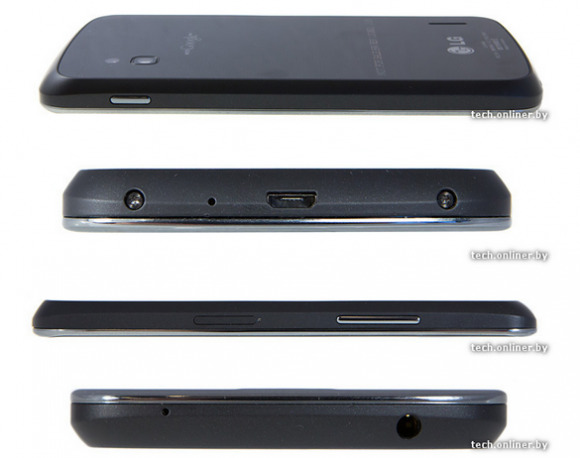 The LG Nexus 4 name comes from the idea that it is the 4th major Nexus smartphone on the market – or will be in the near future. The prototype review we're seeing today shows the device to be extremely similar to the Galaxy Nexus in size and shape with a slightly more flat front and back, a glittery sort of back panel not unlike the Optimus G, and a front panel with glass that curves downward near its edges.
The display is shown here to be an IPS LCD and has the same amount of pixels that the Galaxy Nexus had at 720 x 1280 across a 4.7-inch panel. The image you're seeing below shows the device next to the iPhone 5, that device having a 4-inch panel, both devices apparently showing the same wallpaper to make it clear which is the brighter and the sharper of the two. We do not know if the reviewer here made both devices hit their maximum brightness.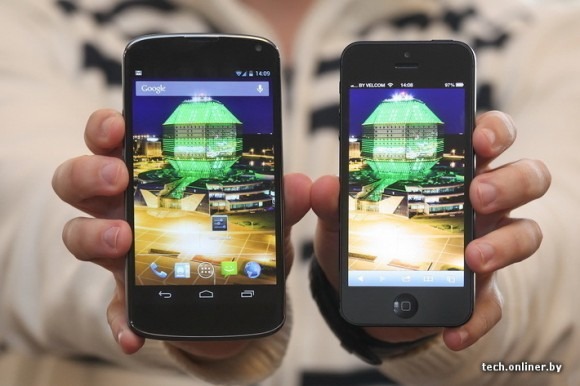 Keep your eyes peeled for a real look at this device as it leaves its prototype stages and brings on the next generation of Google's Vanilla-flavored Android system. We're expecting a very clean version of whatever Google has to offer next for Android with no carrier additions. What we're suspecting, in addition to this, is a worldwide release – or something close to it – with Google's own Google Play store online offering up the device for sale for everyone all at once.
We shall see soon, and very soon, if the rumors are correct!
[Thanks Gene for the tip!]