LG Lucid 2 Review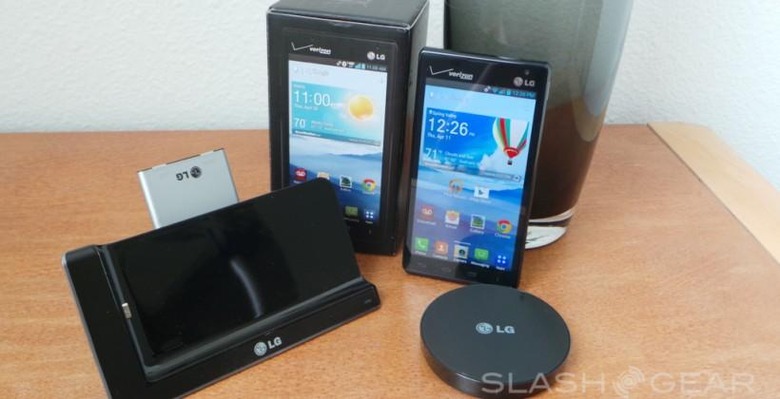 Last year Verizon and LG partnered up to offer an inexpensive smartphone in the LG Lucid with 4G LTE, and now a year later we have the new and improved LG Lucid 2 on the SlashGear review bench. Today we'll be taking a look at LG's latest budget friendly 4G LTE packing smartphone over on Verizon Wireless. It's absolutely free on contract from Big Red and runs Android 4.1.2 Jelly Bean and more so read on to see if it's worth it – even for a freebie.
This brand new device was released on Verizon Wireless earlier this week and we've been putting it through the paces. It certainly isn't a Galaxy S III or iPhone 5, but LG and Verizon are aiming for a more budget friendly crowd. Or someone that is fairly new to smartphones. You'll be working with a decent mid-sized run of the mill 4.3-inch smartphone with some decent specs, but it's the price point of free that is important here. Lets take a look.
Hardware
The LG Lucid 2 certainly doesn't win any design awards, nor does it come with durable aluminum materials like the HTC One, however it does feel nice in the hand. It's sized right, lightweight, yet still fairly durable. All things a first-time smartphone buyer might want. So what's under the hood and how does it stack up? Here's how!
The Lucid 2 comes with an average 4.3-inch qHD 960 x 540 resolution IPS display. It doesn't look bad, but could certainly be better with most mid-range phones lately being at least 720p HD. Screen resolution aside this has all the makings to be a pretty stellar smartphone. Under the hood is Qualcomm's Snapdragon S4 1.2 GHz dual-core processor and 1GB of RAM. LG's added 8GB of internal storage along with a micro SD slot for expanding storage, and we get a pair of decent cameras. On the rear is 5 megapixels, and VGA up front should do okay for the average Skype call or Google+ Hangout.
As you can see from the gallery, it isn't the thinnest smartphone but then again we did have the wireless charging cover on back which added about 4mm to the thickness. One important aspect to the size is the fact that we still get an impressive 2,460 mAh battery in such a small device. Add that to a smaller screen than most that isn't HD, and only a dual-core processor and this thing lasts longer than most. In fact we've been able to go nearly 30 hours on a single charge with moderate use.
Sadly as far as hardware is concerned the device certainly doesn't impress. It's lightweight which is nice, but it also feels extremely cheap. The terrible plastics are not a favorite of ours, and they are even cheaper than most we've seen in the mobile space as of late. The bezels around the screen aren't too big, and the capacitive touch Jelly Bean buttons were nice and responsive. We'd like the backlit keys to stay bright longer, as guessing got old very fast. In closing the hardware certainly isn't the best around, but for being absolutely free we really can't argue. Or knock too many points for it being cheap plastic, a lower resolution display, and only a 5 megapixel camera. Check it out in detail below:
Software
As you saw above, we are clearly working with Android 4.1.2 Jelly Bean but it has been covered with LG's take on an Android skin. It's not our favorite, but then it isn't as intrusive as something like Sense UI. The animations are smooth, neat, and extremely fast – so we can't really knock it. LG's made a few tweaks we've seen lately and nothing here is really new. They have a few theme options to change the look and feel with ease, and even offer what they call a "starter mode" where the phone will get dumb-down for a first-time smartphone user.
Android 4.1.2 Jelly Bean is extremely responsive with the dual-core processor, and LG's software doesn't seem to slow down performance. We enjoyed using things like Google Now voice search with Jelly Bean, and the expandable notifications are nice. Sadly LG's pulldown bar is a mess. The WiFi button you see in the screenshots only wastes valuable pulldown bar space and we can't get rid of it. We don't need to see a massive box with our WiFi name Okay LG. The quick toggles in the notification bar were customizable, so that was good. And the screen brightness quick option is a nice touch too.
We had a little more bloatware than we'd like but that's because Verizon has their own, and recently they've been adding Amazon's suite too. Add those to the extra and not all that needed LG apps and we have a full 3 pages of apps out of the box. More than any first time buyer would need, to say the least.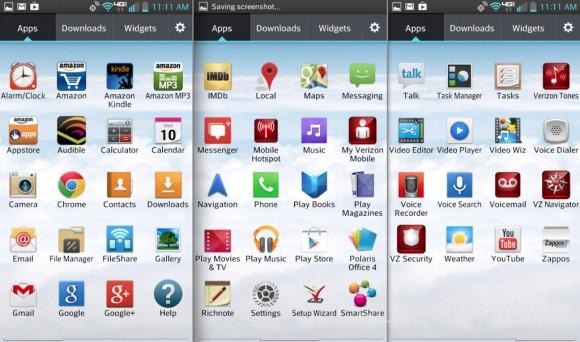 Performance was swift thanks to Android 4.1 Jelly Bean and project butter, and the animations were extremely quick making the entire device just feel fast and fluid. LG's main issue lately has been with somewhat buggy software, and the lack of updates. As long as this continues to get a few updates in the future to Key Lime Pie and beyond we'll be happy.
Benchmarks
As usual we had to run a few benchmarks just to see how the phone and that dual-core processor handled some daily tasks. As we mentioned above the entire device feels fast and flies during average tasks, so take these as you will. It holds its own quite well thanks to the Snapdragon S4 under the hood and 1GB of RAM. So we'll take it.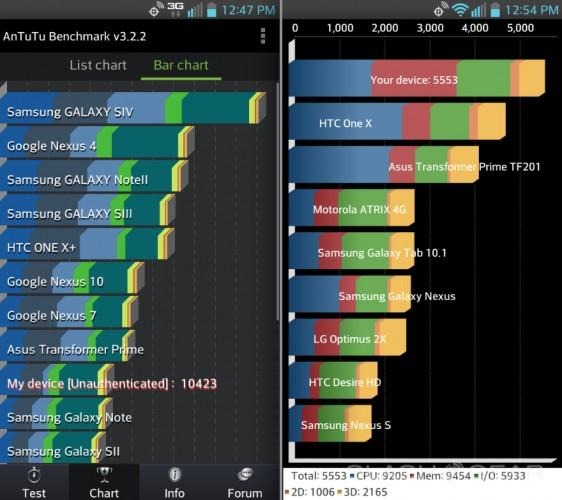 Camera & Phone
The Lucid 2 comes with an average 5 megapixel camera but it was up to the job for those usual Facebook or Google+ photos. Video recording is only 720p, but that was to be expected. Thankfully the shutter speed and camera interface is much better than the original Lucid, and you'll be snapping Facebook-worthy pictures in seconds. Here's a few indoors, as well as outdoors for good measure. Good enough right? Hey the phone is free!
As far as a "Phone" is concerned, the Lucid 2 does great. The actual call quality is great thanks to Verizon, and the speakerphone was louder than many devices we've used in the past. Sadly 4G LTE seemed to be a little choppy in an otherwise stable locations, but we'll check with Verizon and get back to you on that. LTE dropped often and would default to 3G, then our data speeds for YouTube and browsing the web suffered. For most this shouldn't be an issue however.
Battery Life
As we stated above, the LG Lucid 2 happily comes with a larger than average battery given the size of the smartphone. LG paired a quality 2,460 mAh battery under the hood of this mid-range phone and it lasts far longer than many. We managed nearly 30 hours of battery on a single charge with minimal usage, and with heavy gaming and some web-browsing over WiFi it still lasted from morning til night. We didn't need to plug it in overnight either, that's the biggie. You won't be crying if you forget to charge your phone during the wee hours of the night.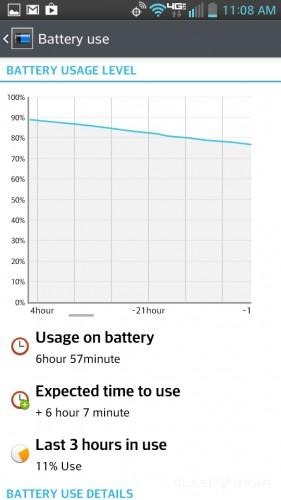 LG's software tweaks really made showing the battery life a task, as the image above shows the battery drain at 21 hours, and that went all the way down to 10% after about 25 hours. Usually stock Android has a great battery stat page, but LG decided to make it a bit complicated. That aside because it doesn't matter, battery life is stellar on the LG Lucid 2. Certainly the best for a budget phone, considering the RAZR M only has a 2,000 mAh battery and nearly the same specs.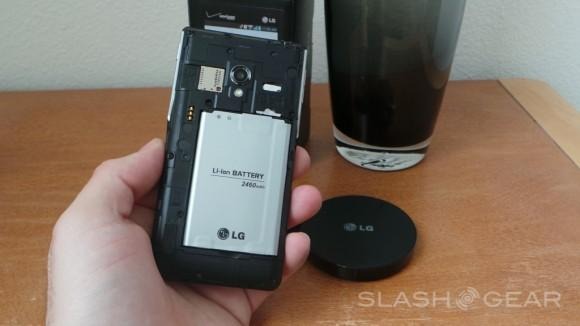 Accessories
With the LG Lucid 2 being free with a new 2-year contract, Verizon has a few accessories they'll want you to buy while you are in the store. One that is a pretty decent move considering you're walking out not paying a cent is the wireless charger options. Using what LG calls the "world's smallest" wireless charger to drop it and go for only $39.99. This charger is made of the same extremely cheap plastic materials, but has a nice durable set of feet so it won't slide around. Simple drop your Lucid 2 on it smack-dab in the middle and it will instantly start charging. It has a nice notification LED too.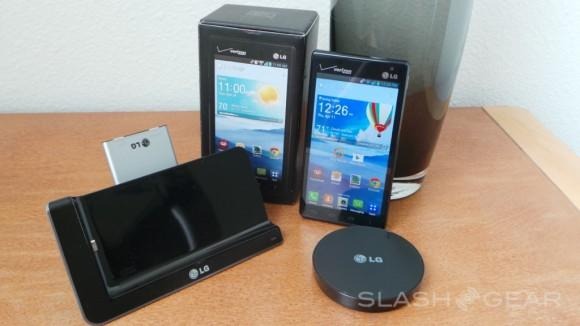 Then LG's also included in Verizon stores a wireless charging dock and spare battery charger. The dock pictured above sadly doesn't have audio out or anything of that nature, but will put your Lucid 2 in a nice landscape mode while you sleep. It also doubles as a charger and conveniently comes with a spare battery that will also charge up all night. So basically LG has battery life completely covered with the Lucid 2.
Wrap-Up
LG has done a rather fine job here in terms of what you get with the Lucid 2 for the price. The fact that they are offering a fairly decent mid-range phone (screen aside) completely free with a new 2-year contract is the selling point here. You get a powerful, capable, and up to date Android Jelly Bean smartphone all absolutely free. Then from there you can enjoy some wireless charging and spend that money on apps from the Play Store instead.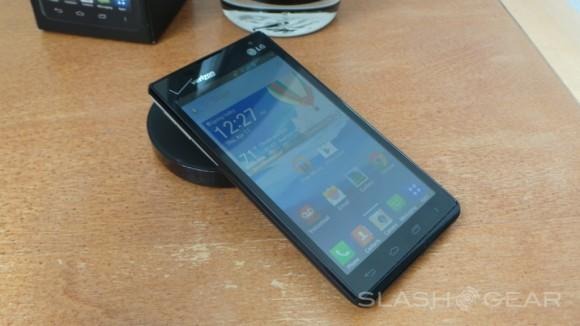 So in closing is the Lucid a device we'd recommend to someone who is considering the iPhone 5, Galaxy S III (or S4) or any other high end device? Nope! Nor does the device deserve any such sort of recommendation. What we will say is for a teenager or a first time smartphone buyer the Lucid 2 for free is a pretty good option, and something worth taking a look at in a store near you. Enjoy the rest of the photos below.