LG LU6200 spotted in photos, now called LG Optimus LTE

There's a device out there made by LG, one that's got the most powerful dual-core processor LG has ever offered on a handset, one that's got 4G LTE speed capabilities right along with the ultra-powerful motor. This device has a few names already, a code name LG LU6200 and an obvious street-name, that being the LG Optimus LTE, and now we've got a few in-real-life photos of the beast as well. While this isn't the first dual-core smartphone LG has ever offered, their first being the LG Optimus 2x (aka T-Mobile G2X, the world's first dual-core smartphone in its first iteration), it's certainly the most impressive.
This device is said to carry the world's first AH-IPS LCD display on it's monstrous 4.5-inch 1280 x 720 pixel resolution screen, and according to our source here today, it carries one of the biggest smartphone batteries on the market at 1830 mAh. That's as big as the Galaxy S II, USA version or otherwise! Also according to the source we're looking at today, this device will be launched as the LG Optimus LTE in Korea on the U+ carrier, and is still just to be classified as the model number LG LU6200 for a worldwide release until a more crafty name can be nailed down.
What we're seeing here also around it's lovely 8-megapixel camera is a rather unique back panel covering its battery and microSD card slot. It's got a sort of checker square grid with several different tones. LG has what your humble narrator notes is one of my favorite smartphone builds of all time. Curved Gorilla Glass forever! Thusly this case (even though the display appears to be totally flat) gives one great confidence for the future of LG. Can't wait to see this one in person!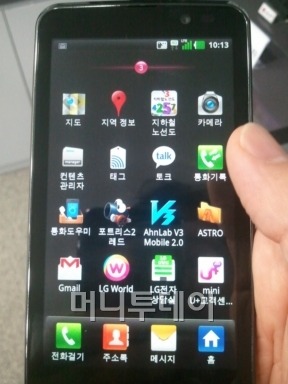 BONUS: this device will be the first to host the game Street Fighter IV for a period of three months EXCLUSIVELY. That's a pretty big deal if you're a Street Fighter fanatic, a pretty big deal indeed.
[via daum (Korea)]