LG Lancet Windows Phone coming to Verizon, specs leaked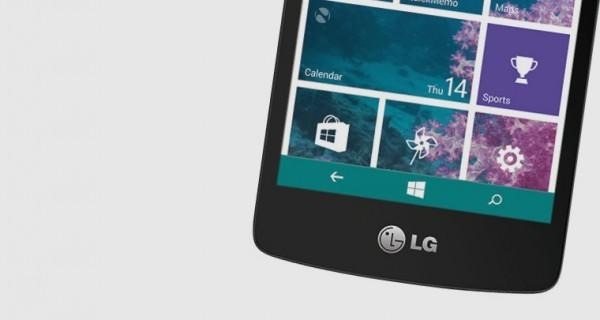 Last month, we gave you a sneak peek at what little we knew about Verizon's newest LG Windows Phone. Now, we know a lot more. LG's new Windows Phone is called the Lancet. It's LG's first foray into Windows Phone territory from LG's usual fare of Android devices. It's nothing too fancy, but it could be a solid choice for those in the market for a Windows Phone.
LG Lancet's ergonomic design features rounded edges and a 4.5-inch, 854x480 TFT display. The phone's 8MP rear-facing camera is capable of 1080p video recording. The Windows Phone features a 1.2 Ghz Snapdragon 410 processor and will be powered by a 2,100 mAh battery. The smartphone runs Windows Phone 8.1 Update 2. The 8GB phone only has 4GB of usable internal storage space, but don't fear–the handset features a microSD slot for expandable storage.
LG's Lancet Windows Phone also has features taken from LG's Android product line. The "knock on" feature lets you wake up the screen or put it back to sleep with two taps. "Gesture shot" lets you signal to the front-facing camera for perfectly timed selfies while "soft light" will illuminate the screen while you take a selfie, creating flattering lighting, filter-free.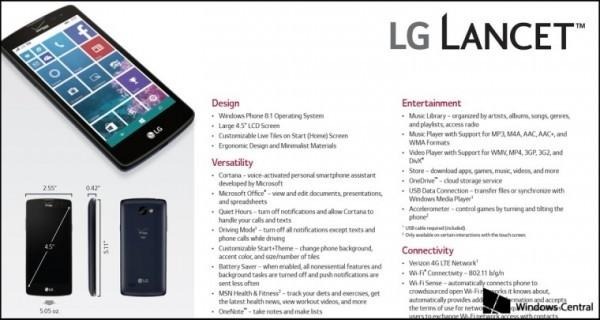 There is no word on pricing or release date for the new phone. It looks like a mid-range Windows Phone, similar to Microsoft's Lumia 640. We're interested to see if this will spur other manufacturers to add Windows Phones to their product lines.
Source: Windows Central