Microsoft unveils Lumia 640 and Lumia 640 XL at MWC 2015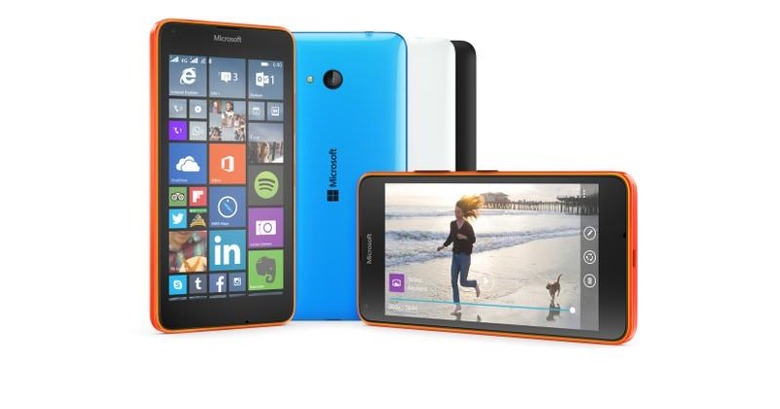 Microsoft might not be making a big splash at MWC this year, but that doesn't mean it's completely ignoring the opportunity to show some signs of life. While it does have a few products, they aren't that big. Well unless you mean physically big. The tech giant is unveiling the new Lumia 640 and its giant cousin named, what else, the Lumia 640 XL. But don't get too excited yet about these smartphones as they aren't yet running what would eventually be Window 10 for phones.
These two are still witihn the Windows Phone 8.1 era, though Microsoft promises a Windows 10 upgrade when that becomes available. So there are at least two 100 percent sure smartphones that will get that upcoming release. Other than that, there isn't anything terribly exciting about the smartphones. At least not yet. Microsoft promises powerful hardware, but each OEM has their own interpretation of what that means. The Lumia 640, which comes with a 5-inch screen, is estimated to cost 139 EUR ($155) for a 3G version and 159 EUR ($178) for LTE capabilities. The larger 5.7-inch Lumia 640 XL, on the other hand, will have a price range of around 189 EUR ($211) for the 3G model and 219 EUR ($245) for 4G.
Microsoft is also announcing a new Universal Folding Keyboard. Aside from being very portable because of its transforming shape, the keyboard is also designed to work with any mobile device running any platform, whether it be Android, iOS, or Windows.
More than these devices, what might be more interesting to Microsoft fans is what the company will also be showing at MWC. For the first, the company will show the public the latest build of Windows 10, not for tablets or desktops, but for smartphones. The demo will include the new browser, based on Spartan most likely, the new Universal Office suite, and other apps for mobile devices. If this is your area of interest, be sure to keep tabs on our MWC 2015 coverage for more details as they come.