LG G3 specifications dropping back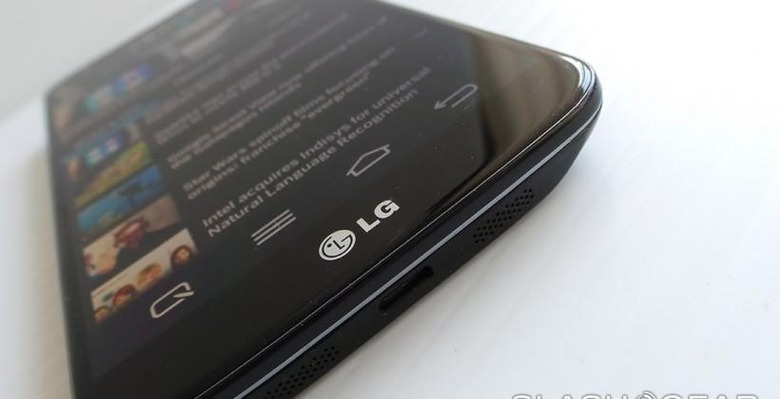 It would appear that the LG G3 is going to take some heavy cues from the last generation, building on the LG G2's unique look and feel. This device will have the same odd back-facing keys as its predecessor, as well as the LG G Flex. This device will also be coming in multiple colors – starting with black and white.
The LG G3 will also roll with the same me-first mentality of the last several generations of LG smartphones. This means the first device with the newest Qualcomm Snapdragon processor, highest-definition display, and at least a high-end back-facing camera, if not the finest on an LG device thus far.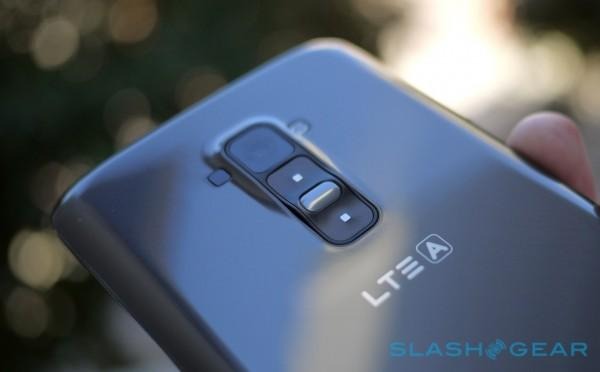 The specifications tapped from anonymous tips here matches the non-official Samsung Galaxy Note 4 details almost on-the-nose. Have a peek at our recent Galaxy Note 4 specs article to see how very similar they are.
Display size: 5.5-inchesDisplay density: 2560 x 1440 pixels, 534PPIProcessor: Qualcomm Snapdragon 805 quad-core 2.5GHzRAM: 3GBInternal Storage: 32 + microSD card slot for 128GB moreCamera (back): 13-megapixels, 720p @ 120fps (slow motion), 1080p @ 60fpsCamera (front): 2-megapixels, 1080p @ 30fps
The LG G3 has been leaked in a single photo this weekend which shows its OIS (Optical Image Stabilization) camera and dual-LED flash. There's also a power button between volume up and volume down, slightly flatter with this iteration than the LG G2 or LG G Flex.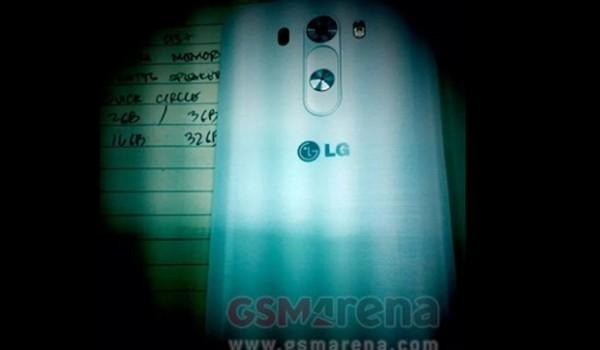 NOTE: The images you see above and below (besides the GSMArena image) are of the LG G2 or LG G Flex, with their first-generation back-facing keys.
You'll also notice a black spot opposite the LED flash. While we'll hear that this is a fingerprint scanner from some sources, it's likely far to small to act as such a feature. If there is a fingerprint scanner on this device, it's in, below, or around the power button.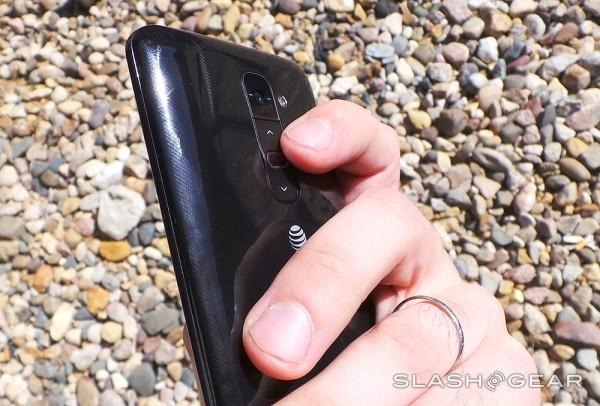 Meanwhile given the very, very similar placement of the HTC One (M8)'s second camera for Duo Camera abilities – though this might also be too small a hole for such a thing. For now we might just have to bank on it being something new, strange, and definitely differentiating.
The LG Optimus G was revealed in September, 2012, released in October, while the LG G2 was revealed in August and released in September of 2013. It'd be surprising if LG decided to push their next-generation LG G3 any earlier than June – but the industry is changing.
The Samsung Galaxy S5 was released weeks earlier in the year than the Galaxy S4, while the HTC did the opposite, being revealed after Mobile World Congress rather than before, with both devices going on sale at right around the same time (this early April). Expect the LG G3 soon, but not too soon.
VIA: GSMArena