The first two Android Wear devices are being shown off this week at Google I/O 2014 and have been put on sale through Google Play. Both of them square-faced, both of them working with the first iteration of Android Wear. There's the LG G Watch and there's the Samsung Gear Live – which one will strike your fancy the hardest?
Specifications
On the left of this text chart you'll find the LG G Watch, while the right shows the Samsung Gear Live. The first chart shows the differences between the two, while the second shows how the two are similar.
NOTE: To have another, longer look at both devices, have a peek at our LG G Watch hands-on: This is Android Wear and our Samsung Gear Live hands-on (vs Gear 2) straight from I/O 2014 as well.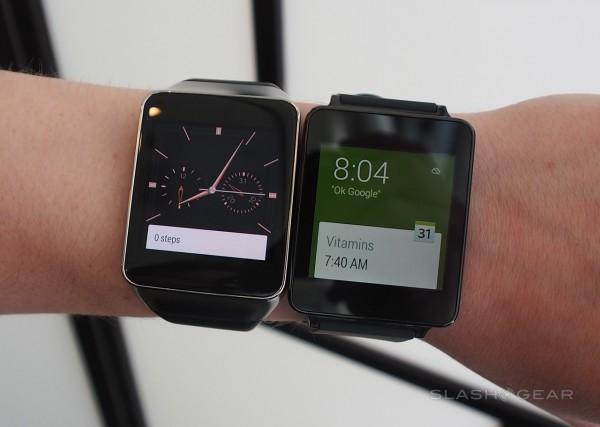 G Watch / Gear Live
Display size: 1.65-inch / 1.63-inch
Display type: IPS LCD / Super AMOLED
Display Density: 280 x 280 (240 PPI) / 320 x 320 (278 PPI)
Battery: 400mAh / 300mAh
Heart Rate Monitor: no / yes
Processor: Qualcomm Snapdragon 400 (both)
RAM: 512MB (both)
Internal Storage: 4GB (both)
Bluetooth: 4.0 LE (both)
Dust and Water Resistant: IP67 (both)
Watch Strap: Removable, Replaceable (both)
Sensors: Gyroscope, Accelerometer, Compass
Both devices charge with their own unique charger with a dock included in the box. Neither of these devices support "wireless charging" as they both require their specified dock.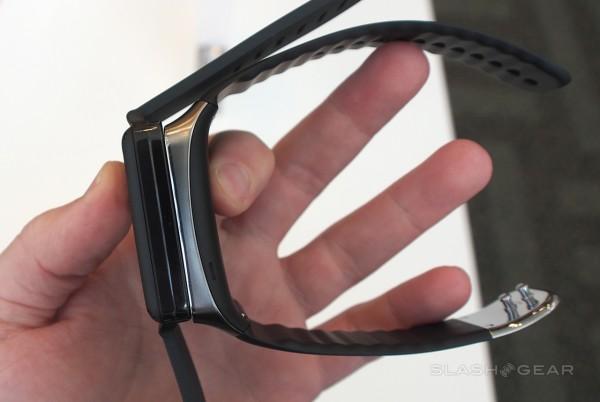 Here you'll get some close-up views of the display quality of both devices sitting one next to the other. They're surprisingly similar for using different display technology – at this time
Software
Software will be essentially the same on these two devices. Samsung has suggested that they will create some of their own services – but there's no solid date for release. Both of these Android Wear devices will be centered on Google's services, just as you see in the demonstration videos and software rundowns from the past several days in our Android Wear portal.
Above you'll see a peek at what your smartphone will be doing to control the abilities of your Android Wear devices. Below you'll see what adding a new Android Wear device is like in this software. At this time, only one Android Wear device can be controlled by your Android smartphone at a time.
Pricing
Depending on where you live, one or the other of these smartwatches will cost more cash. If you live in the United States, The LG G Watch will cost you $249.99 while the Samsung Gear Live will cost you $199.99. If you live in the UK, pricing is G Watch $229 (£159) and Gear Live $199 (£169).
Moto 360
We've had a peek at the Moto 360 but have not seen a market-ready device as one does not currently exist. Based on what we've seen thus far, the Motorola device appears to present a much more natural-looking experience, while the software remains essentially the same.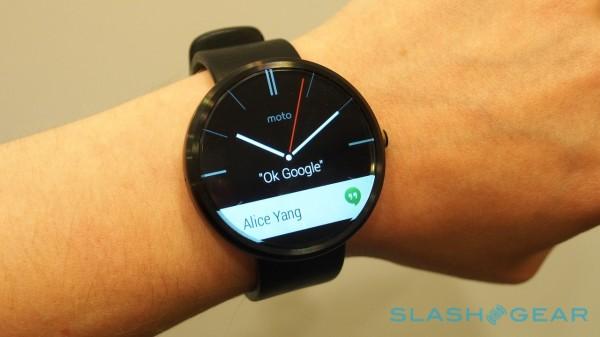 The Moto 360 has a bit more "futuristic" look to it as it exists in a circle (sort of) – while the whole collection has the same abilities in the end. Unless you need a heart rate monitor (from the Samsung device), you're basically going to be making an Android Wear device decision based on your preference for looks.