LG G Watch hands-on: This is Android Wear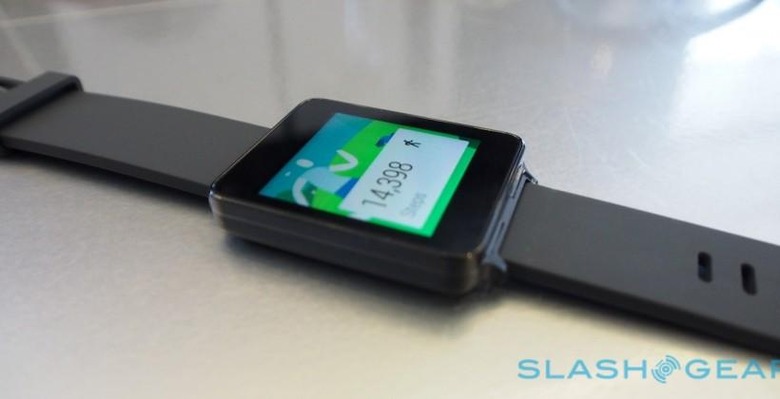 Android Wear is one of the big announcements of Google I/O today, and one of the first to ship will be LG's G Watch. Set to go up for preorder on Google Play today, priced at $229.99 and expected to ship on July 7th, we grabbed some early hands-on time and caught up on some of the design decisions with LG.
The G Watch hardware is perhaps the most discrete of the three Android Wear designs we've seen so far, eschewing the obvious metal of the Samsung Gear Live or the circular display of the MOTO 360. LG has used metal too, though its's a discrete black- or gold-coated stainless steel, cut from a single block. On the wrist, it's fairly compact, though the 9.95mm thick body does stand a little proud of the arm.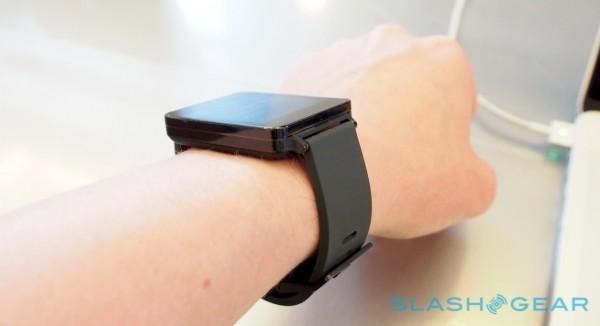 The standard bands are made of silicone rubber, but they're interchangeable with any 22mm aftermarket strap. Everything is controlled through the 1.65-inch LCD IPS 280 x 280 touchscreen of LG Display's own making, with no physical buttons whatsoever.
LG says that its research indicates display shape – square or round – isn't actually something people care about, just as long as the information that's being served up is relevant and timely. The company mocked up a number of round options, but decided that a square screen to begin with made more sense for fitting text and graphics on-screen with minimal waste.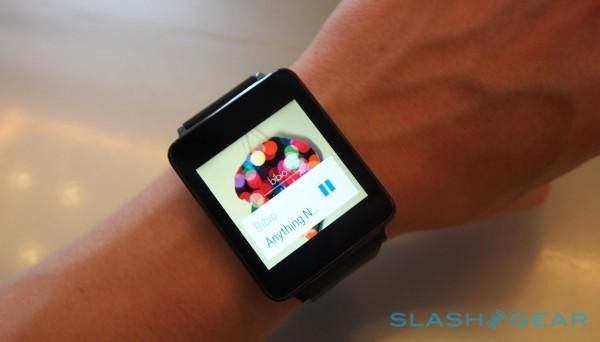 That display is always-on, showing the basics of time and the most contextually-relevant information at that moment in a low-power mode during periods of inactivity. Flick your wrist, however, and the G Watch wakes up, with Android Wear's swipe and tap centric interface presenting like a deck of Google Now cards.
It's hard to benchmark a smartwatch, but the 1.2GHz Snapdragon 400 processor and 512MB of RAM seems to tick along well and keep the simplistic UI moving smoothly, albeit in a semi-demo mode which allowed limited interacton. The more intensive functionality – such as voice search – is as much more a factor of data connection on the tethered phone. Google's voice recognition works in the same way as on a phone, and we were able to give it instructions without having to bring it right up to our face.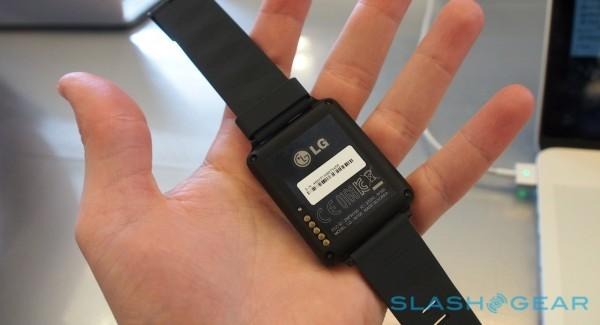 LG says its 400 mAh battery is the largest it knows of in an Android Wear device (Samsung's Gear Live has a 300 mAh battery, and Motorola is yet to fully detail the MOTO 360's specifications) and is claiming up to 36hrs of standby from a full charge. When the time comes to recharge, the G Watch snaps into a magnetic cradle, though it's not inductive charging but instead a set of five pins that make contact with the back of the smartwatch.
Inductive charging isn't the only omission. Android Wear can support a heart-rate sensor to go along with the pedometer functionality, but LG says time issues meant it opted to leave that out, at least for this first generation hardware.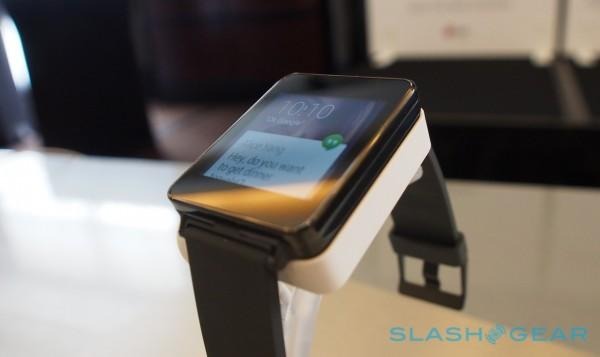 The 9-axis accelerometer tracks steps without needing a tethered phone, though will be able to share its data with Android Fit and thus other devices and services which tap into that. Nike, for instance, has announced that it will be sharing Nike+ Fuel data with Android Fit, so feasibly walking around with the G Watch could earn you points just as if you were wearing a Fuelband.
LG has big plans for Android Wear, and – though it's been hands-off with the OS itself, sensibly leaving it as stock – how it will integrate with other LG products, like Bluetooth headsets and future phones and tablets. For now, though, it's anything Android 4.3 or above, with no special treatment for LG devices.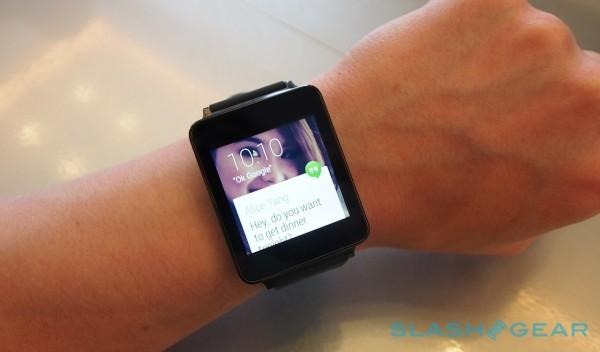 First impressions are positive, though we'll need to spend time with Android Wear to know exactly how useful it is in day-to-day life. One of the shortcomings of smartwatches in general so far has been the limitations of what, exactly, you can do with them without having to pull out your phone. Voice search and a more constructive understanding of context through Google Now should help with that, but we'll reserve judgement until we get to live with the G Watch on our wrists.