LG G Flex announced, claims self-healing properties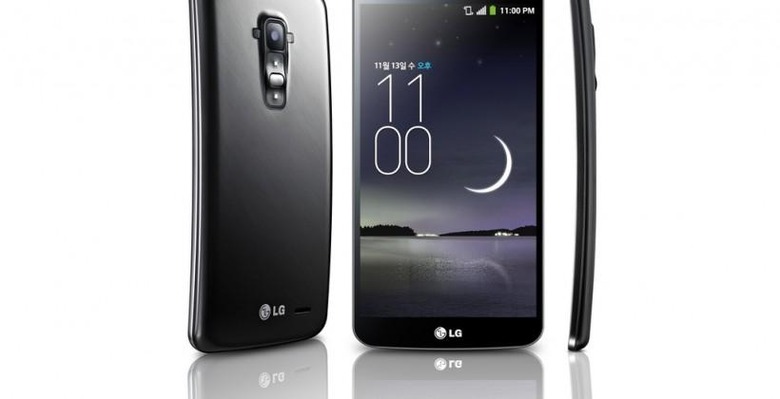 LG has officially released specs for G Flex, the company's long-rumored curved-screen smartphone. The phone is curved along the horizontal axis, features an unusual lockscreen with direct-to-app pinching, and in an homage to X-Men's Wolverine "self-heals" scratches in its outer casing. The phone joins Samsung's Galaxy Round among the first curved-screen smartphones that will reach consumers.
The curve of the G Flex is made possible through flexible OLED (organic light-emitting diode) technology, the same class of material used by the Galaxy Round. LG claims that "the phone offers better ergonomics when making phone calls and will allow for a more immersive video experience," reports The Verge. The shell casing's cosmetic healing relies on a protective film that makes scratches disappear in moments.
The new phone ranges in thickness along its length from 7.9 to 8.7 millimeters, weighs in at 177 grams, and boasts a 6-inch, 720-pixel screen. It runs on a 2.26-GHz quad-core Qualcomm Snapdragon 800 processor and uses 2GB of memory. Its camera is a robust 13-megapixel model, and the battery is designed to be long-lasting at 3,500 mAh.
The G Flex will only be available to consumers in South Korea at first. Samsung's Galaxy Round, which is additionally curved along the vertical axis for easy hip pocket insertion, is doing likewise. As one of the latest technology races among smartphone manufacturers, curved screens have yet to prove themselves in any market.
SOURCE: The Verge