Let's Test VR Headsets on the CHEAP!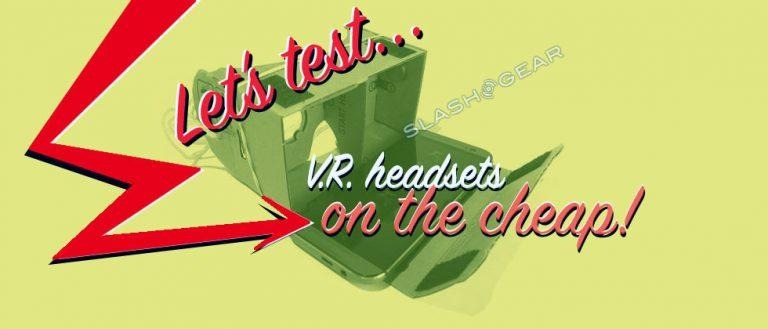 Today we're having a look at a handful of the cheapest – or closest to free – paths into virtual reality that you're going to find on the market. We want you in on this awesome playground of oddities now. We want you to see spherical visions of alternate universe and our backyards. We want you to see a dinosaur walking towards you in a hallway. We want you to be able to play Pokemon with a phone strapped to your face. We want you to do all of this for as close to free as possible.
Homido mini
The tiniest of virtual reality headsets is also the cutest. We can't necessarily say it's the best – it's not meant to be. In fact if you've tried any other virtual reality headset other than this, we recommend you do NOT step down. This is absolutely the most bare essentials sort of deal you're going to be able to find that's not made out of cardboard.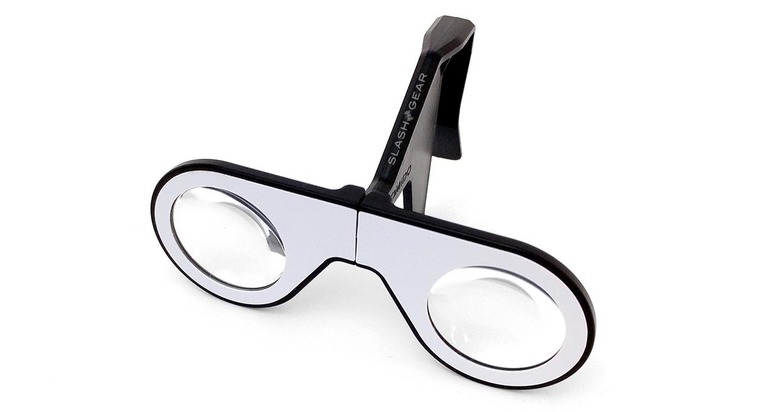 The Homido Mini folds down and fits in your pocket – easy peasy. As it is with the rest of the headsets in this article, you're going to need an Android or iOS smartphone to employ the eyewear, and the whole works for Virtual Reality action. Homido Mini will cost you around 15-Euro – that's around $17 USD at the moment.
Google Cardboard
Google Cardboard is not a product – it's a set of specifications. Google has released a plan for their VR headset that includes cardboard, a couple of special glass eyepieces, velcro, and a rubber band. You can get away with less than that, but we don't recommend it.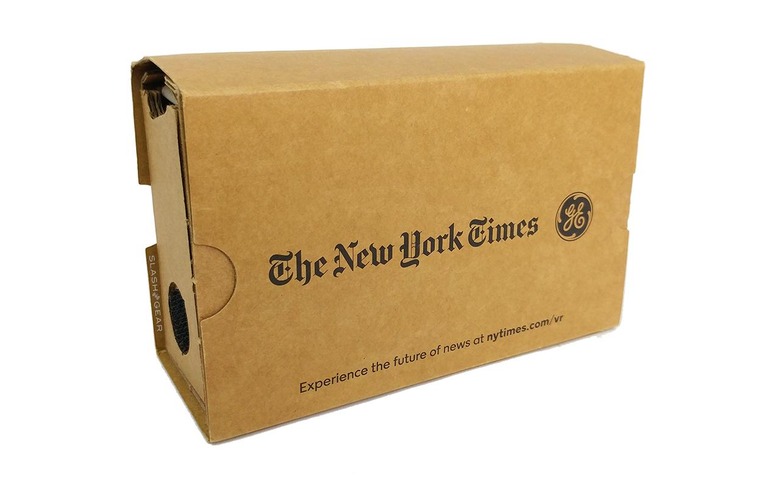 This headset comes in many forms. The version you see here is a still-folded Google Cardboard headset that was delivered by General Electric and the New York Times to readers for free so that they might experience their first VR presentation of news.
To get your own Google Cardboard headset, keep your eyes peeled. They're being offered by companies of all sorts – you might have found your Coca-Cola box able to be folded down into a VR headset recently, for example.
Be wary, though, of those headsets that do not include eyepieces. You could get a big ol' headache from that action. See our feature [the dangers of subpar VR experiences] to learn more about what to avoid.
VR SHINECON
The folks responsible for making the following headset have been known to suggest that it's on-par with the Samsung Gear VR. It absolutely is not. True, it does certainly LOOK like a Gear VR, but that's about where the legitimate equivalencies end.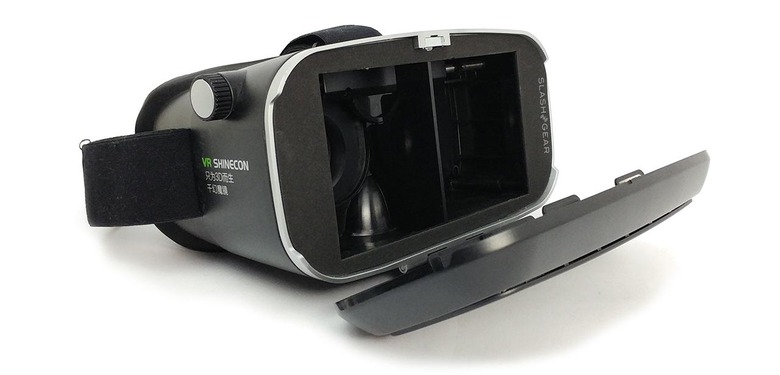 The straps are fine, the adjustments you're able to make with the various cranks on the headset are fine – but this isn't nearly so great an experience as the Samsung Gear VR.
If you want a Google Cardboard experience in a package that has just a bit more adjustment-friendly hardware, the VR SHINECON is pretty decent. You'll find the VR SHINECON available online for right around $20 USD.
View-Master VR
The folks at Mattel have jumped in on this universe with a re-birth of their original View-Master. This View-Master VR headset is relatively – not especially, but sort of – comfortable to use. It has a very familiar set of controls which include one single lever to pull down to advance.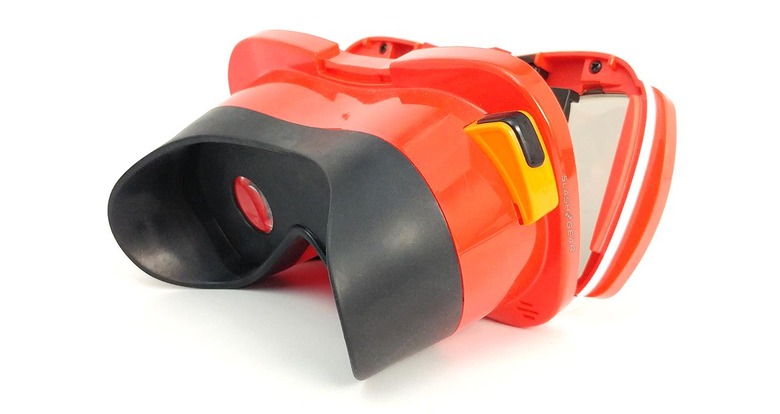 You can use the View-Master as a standard Google Cardboard VR headset sort of accessory, or you can choose to use the View-Master VR experience. In addition to the basic starter pack, you'll find a set of Reels available for purchase separately.
Each Reel provides a short VR/AR experience that's pretty neat in and of itself. Is it worth an extra $15-$20 per set of Reels? Of that we're not quite so convinced.
If you're looking for a headset you can use for Google Cardboard apps only, we'd recommend looking elsewhere – especially since this headset doesn't have a strap to stay on your head. For the price the View-Master still sits at in stores today – right around $30 for the starter-kit – we're going to want a more comfortable and more head-strap-friendly experience.
Homido Virtual Reality Headset
Made by the same people that make the "Mini" you see above, the Homido Virtual Reality Headset is just about as fine a smartphone-holding VR headset you're going to find under $100.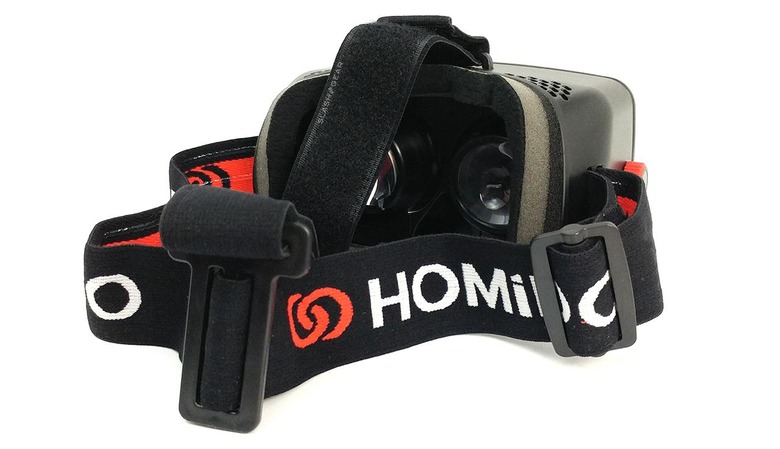 This headset has adjustment dials very similar to that of the VR SHINECON – and most other high-quality VR headsets, to a point.
That means IPD and focus adjustments aplenty.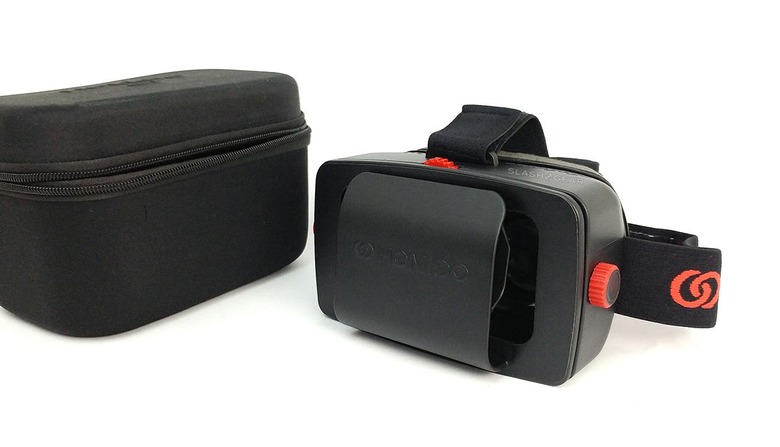 This headset has a high-quality head strap (1 strap, 2 parts) and comes with its own soft carrying case as well as 3 pairs of lens holders.
The price on the Homido Virtual Reality Headset is a bit steep at 69.99 Euro – that's around $80 USD. See if you can find one being sold on the cheaper than cheap – good luck to you.
No turning back now
SEE MORE: Virtual Reality
If you've decided to find yourself a VR headset for your smartphone and don't see what you've been seeking here, we'd recommend you hold tight. Over the next few weeks and months we're expecting several major manufacturers to jump in on the virtual reality game with their own unique headsets, each one working with their hero phone of choice.
And of course, if you want to go all in, consider the Oculus Rift or the HTC Vive. We're bringing you all sorts of hands-on experiences with the both of these top-level headsets immediately if not soon.