Lenovo ThinkPad X230 Review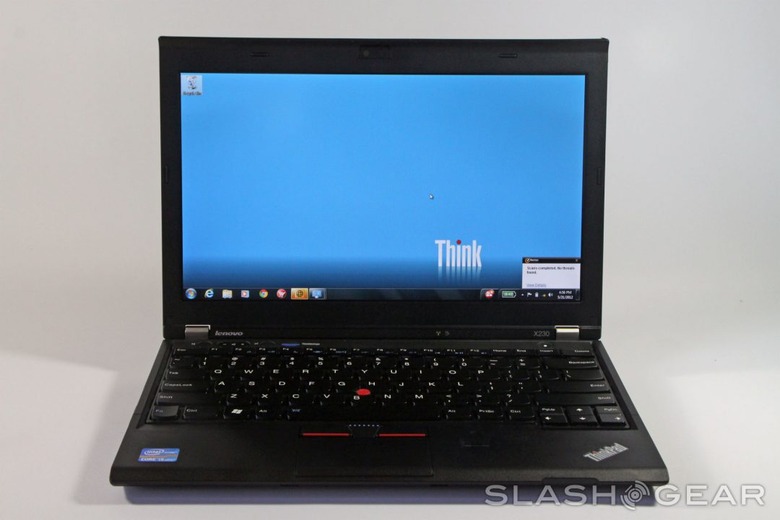 The ThinkPad family of laptops has had a reputation for reliability since long before Lenovo started making them, and the fervency of their fans is perhaps the only thing that reaches the same level as Apple hardware these days. The X series, Lenovo's road warrior class of thin and light laptops, remains among the most popular, and it's not hard to see why. But with Ultrabooks increasingly stealing the limelight, can the ThinkPad X230 keep the same amount of acclaim as its X200-series predecessors? Let's find out.
Hardware
The X230 is part of a dying breed of full-power, small-sized machines. Its diminutive dimensions hide an upgraded Intel Ivy Bridge processor, in the case our review unit, a Core i5 3320m. It's also got 4GB of RAM (with one DIMM slot free for easily adding more) and a 320GB traditional hard drive, with an integrated Intel HD 4000 GPU to match the third-generation processor. Like previous members of the X200 family, there's no disc drive to help cut down on volume and weight. Refreshingly unlike some of the more slinky laptops out there, the hard drive and memory are user-accessible, as is the 6-cell standard battery.
Externally the biggest change for the updated model is the keyboard, which switches to the chicklet style seen on the majority of new laptops. Those who are worried about the legendary ThinkPad keyboard losing its muster needn't bother: the keys are just as springy as other ThinkPads with plenty of travel and zero flex. In addition to the ThinkLight next to the 720p webcam, there's an optional backlight for the keyboard, though it isn't particularly bright.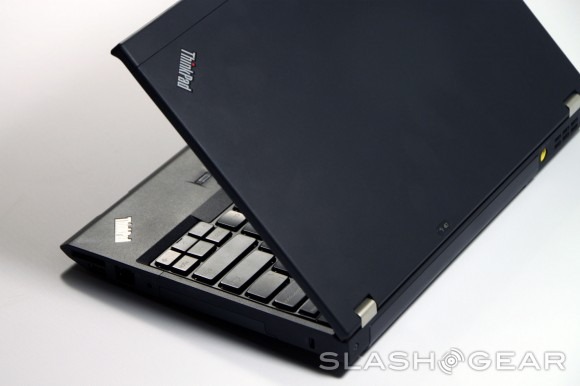 The touchpad uses the newer style as well, and this is a shame. There's very few PC laptops that have mastered the integrated mouse buttons (with the HP Envy 14 Spectre being the best that I've seen) and the X230 is not among them. Performing gestures and multi-finger clicks is a chore that isn't aided by the trackpad's small dimensions. Thankfully, the trademark TrackPoint "nub" and extra buttons remain, for those who've grown used to a stick-style pointer. An optional biometric scanner sits next to the trackpad on our review unit.
The 12.5-inch screen has its ups and downs. It's an IPS panel that's impressively bright, and the matte finish (an option that's all too rare) helps keep away glare. That said, 1366x768 is a relatively low resolution that's finally beginning to lose its hold on this form factor, and it's too bad to see Lenovo stick to the more typical density. A higher-res screen would be a much-appreciated option, especially since Windows 7 always seems to over-use vertical space.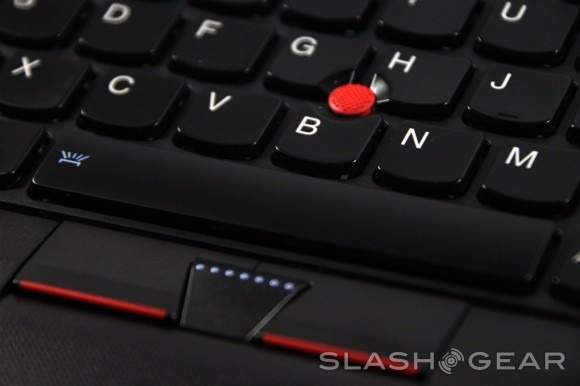 The hinge deserves some attention. Because it's considerably stiff and the laptop is surprisingly light, it's nearly impossible to open the laptop with a single hand without the base rising up. The screen stays where it's put, but I'd much prefer a slightly looser hinge and an old-school latch mechanism, instead of the small lip that's provided. The front of the laptop is bare, while the rear holds just the battery and power plug.
Moving to the left side, we're greeted with two USB 3.0 ports (black instead of the usual blue), a Mini DisplayPort and VGA port for video-out, a WiFi switch and an ExpressCard slot – an addition that marks this as a business notebook first and foremost. On the right side you get a more media-friendly SD card slot, a combined headphone/microphone jack with Dolby certification, an Ethernet jack, a Kensington lock port and a USB 2.0 port. That yellow color isn't just for show: it indicates that the port will continuously supply a charge even when the laptop is sleeping, a very useful feature in the age of smartphones.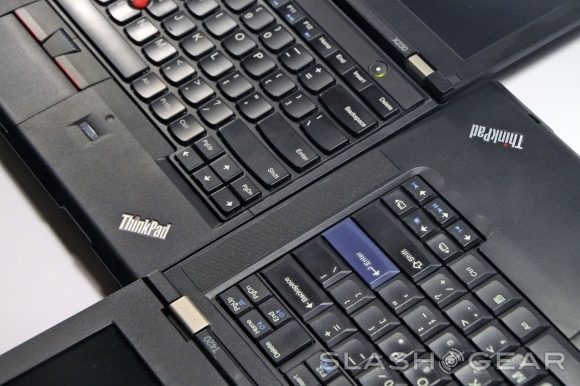 Stylistically... well, it's a ThinkPad. The same utilitarian design that the line has used for nearly two decades is just as functional as it was back in the 90s. While it won't turn heads like a MacBook Air or innumerable Ultrabooks, it's got a charm all its own for the right kind of buyer. It isn't especially thin, but it is light, and just about as small as it could be while remaining comfortable to use for extended periods of time. It's compact and light enough to slip into a backpack or briefcase and barely be noticeable.
Software
Lenovo keeps its business machines pretty clean when it comes to Windows – well, that's traditionally the case, anyway. There's a few programs here that I'd have installed anyway (Flash player, Google Chrome) and a lot that I wouldn't (Adobe Air, Evernote, SugarSync, Google Toolbar and the obligatory Microsoft Office trial). Lenovo seems to have added quite a few pieces of software that aren't necessary because they're built into Windows – things like a second battery meter.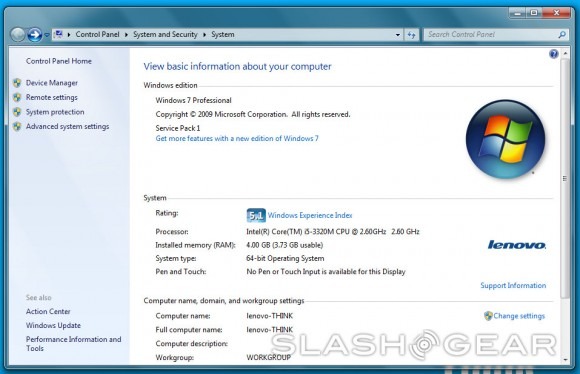 Lenovo's ThinkVantage is appreciated, if only for its ability to extend the battery by turning off some of the more unnecessary features. But the App Shop, a full-screen interface for things like "Google Search" and "Twitter", is not. There's more commercial software as well, but nothing you couldn't download through a standard browser. All of this wouldn't be nearly as annoying if the installation media was included, but alas, I haven't seen that in years. My standard tactic for a new machine is to download a Windows ISO and install it fresh with the license included on the machine, and for those with the know-how, I'd recommend the same here.
With all that said, Windows 7 and modern hardware are getting some impressive performance even with loads of extra software. The new Intel architecture shines, and through standard operations (in my case, dozens and dozens of Chrome tabs with various sync, graphics and chat programs running in the background) the X230 didn't bat a metaphorical eye. Those who regularly run intensive programs for graphic design or the like will probably want more RAM, but as a small work machine, this little guy handles very well indeed.
Performance and Battery
The Ivy Bridge standard has been long-awaited, and it appears to have been worth it. In our standard Geekbench test we got a solid 20% higher score than similarly equipped laptops from the last generation. It's not about to grind through video transcoding like a champ, but for pretty much everything a business user will need it's more than capable. The expanded HD 4000 integrated GPU should be good enough for decent graphics on less intense 3D games, like Team Fortress 2 and World of Warcraft.
[sgbenchmark id=159 show=system]
[sgbenchmark id=159 show=score]
Even better, the efficiency of this improved hardware seems to have been noticeably boosted. Through regular browsing I got 6:43, 6:56 and 7:09 in three separate tests. For a laptop of this size that's very respectable, and Lenovo has extended 9-cell batteries and a massive slice battery available for those who need to make it across an ocean on a single charge.
Value
It's hard to deny that there are more stylish laptops in this category – ASUS' Zenbook series, with its high-resolution screens and svelte profiles, comes to mind. And many of them will come in at considerably less than the X230's starting price of $1249. For those two reasons alone, many will overlook Lenovo's ultraportable, non-ultra-notebook.
It would be unwise to do so. Even without the bells and whistles (other optional upgrades include Bluetooth, 3G and SSD drives), the ThinkPad is a reliable machine that's comfortable to operate for a long time – and capable of doing so, thanks to its battery life. It's also tough as nails, at least if my personal experience with last year's machines is anything to go by. For these reasons, the premium will be worth it for the business or professional user who isn't overly concerned with looks.
Wrap-up
If you're already a fan of the ThinkPad line, there's nothing here to dissuade you, with the possible exception of the hinge and trackpad. And if you're looking for a ton lot of processing power in a small and comfortable package with great battery life, the ThinkPad X230 should be on your shortlist, and will continue to be so as more Ivy bridge Machines hit the market.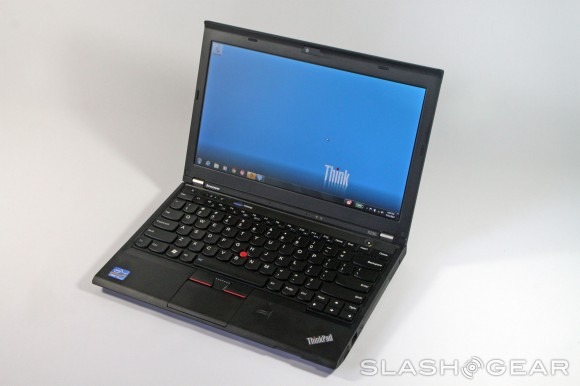 If you're looking for something to turn heads at the local coffee shop, keep looking (perhaps to the ThinkPad X1 Carbon, due later this summer). And if you want a high-resolution screen and enough graphical power to run Call of Duty 5, then this isn't the machine for you. But if longevity, reliability and portability are high on your list of must-haves, the ThinkPad X230 deserves some serious consideration.
The Lenovo ThinkPad X230 will go on sale in early June, in both pre-built and configurable versions. You can check out our hands-on video below.