Lenovo ThinkPad X131e Chromebook puts rugged Chrome OS in classrooms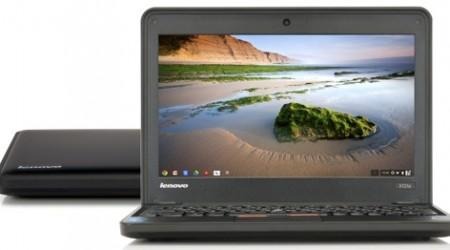 Lenovo has jumped on the Chrome OS bandwagon, revealing its education-centric ThinkPad X131e Chromebook, complete with a ruggedized casing for unruly students. The new model, a Chrome OS based variant of the existing ThinkPad X131e launched midway through last year, puts Google's cloud platform on an 11.6-inch display and teases all-day battery life.
Specifics as to what's under the hood are unavailable, but Lenovo confirms that the ThinkPad X131e Chromebook uses an Intel processor, rather than the ARM chip Samsung used in its Series 3 Chromebook. The laptop will have a 1366 x 768 antiglare display, as well as a webcam and three USB ports.
The 3.92-pound notebook won't, seemingly, be targeted at individual users, however, but rather at schools themselves. Lenovo will offer multiple customizations of the Chromebook – exact details are unknown at this stage – from February 26.
Lenovo's entrance of the Chromebook market follows Google's own moves to push Chrome OS in education settings. The search giant announced a $99 Chromebook for Schools project late last year, and it appears that the two companies may well work together to offer the X131e Chromebook as part of that scheme.
"Lenovo has a great reputation in schools for making durable and reliable laptops," Caesar Sengupta, director of Chrome OS product management, said of the new model, "so we're excited to partner with them to introduce the ThinkPad X131e Chromebook."
The new Lenovo Chromebook will be priced from $429 with volume pricing.
[via ZDNet]