Lenovo ThinkPad X131e laptop aims at hardcore students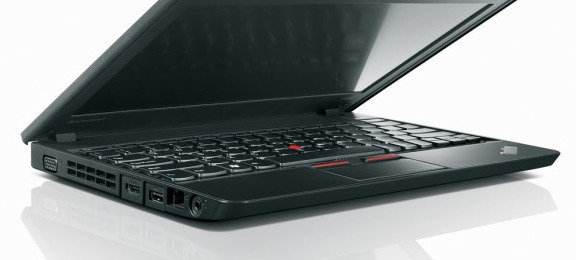 This week Lenovo is coming up with a brand new laptop model made specifically for students looking to bring their technological excellence up to par. This is the ThinkPad X131e, a laptop computer with rugged design as well as a powerful interior. You've got the choice between Intel Core and Celeron processor or AMD E-Series APUs for your engine, and Dolby Advanced Audio will be backing you up for sound.
This device has an 11.6-inch display and the entire unit weighs in at 3.5 pounds for easy transport. As for the specifics inside, it appears that this device will be closer to a netbook than it will be to an ultrabook – but you be the judge. The display has 1366 × 768 pixel resolution across its lovely LCD face, and you'll be running Windows 7 right out of the box.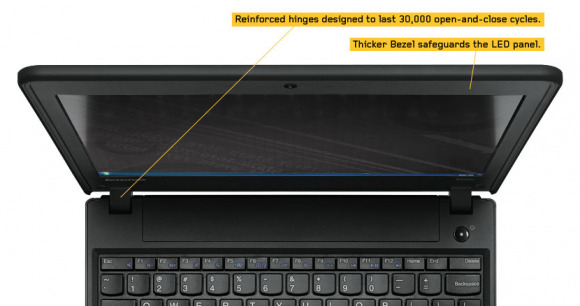 This device has a chiclet keyboard, a trackpade and a pointing stick for you Lenovo hardcore fans, and it's got 8GB of RAM ready to rock and roll. The video camera up top has 720p video capability, you've got up to 500 GB for max HDD, 128GB for SSD, and a multi-card reader as well. There's one USB 2.3 port, two USB 3.0 ports, and an ethernet port as well. You've got a full-sized HDMI port out as well!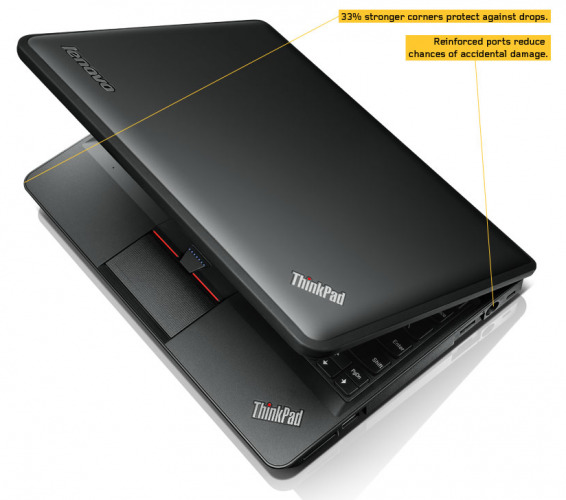 This notebook works with wi-fi, its battery is set to bring you 8.5 hours of wireless action, and for everyone deciding on an Intel processor for their configuration of this device, you've got the full Intel Learning Series on your side as well! Your choices again for the innards of this device include:
• Dual-core AMD E-300 and E2-1800 APUs with AMD Radeon graphics
or
• Intel Core i3-2367M and Intel Celeron 877 processors with Intel HD Graphics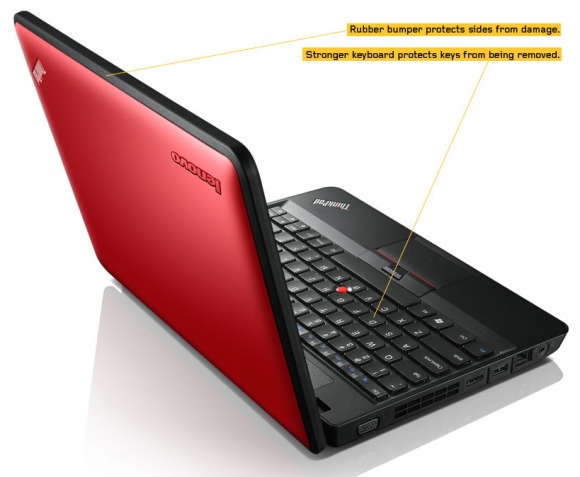 For the teachers there's an LED light on the laptop's cover showing whether or not the device is connecting to other devices – or the web – wirelessly. This will come in handy for when notebooks are allowed during a test but the internet is not. This device also has several hardcore abilities to keep itself save, including, per Lenovo:
• Reinforced hinges
• Stainless steel hinge brackets
• Tightly aligned keyboard
• Dustless fan
• Strengthened AC adapter cable
• Enhanced HDD shock performance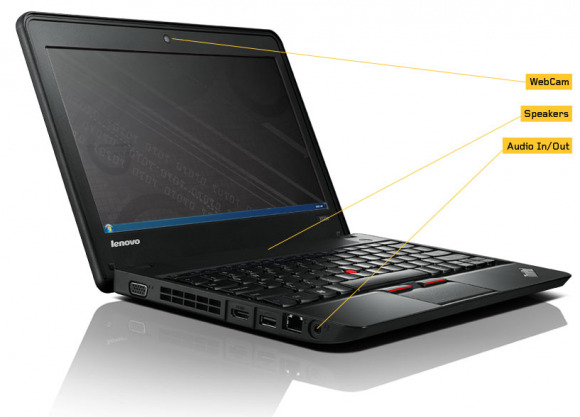 This device is currently only shown in black or red but will soon be available with custom colors and etching options – great for schools looking to purchase devices in their own colors with their own logo!
You can pick up the ThinkPad X131e laptop starting immediately if not soon from your favorite business partners as well as online at Lenovo's own online shop starting at $499 USD.