Lenovo Smart Clock Review: Google Assistant for the bedroom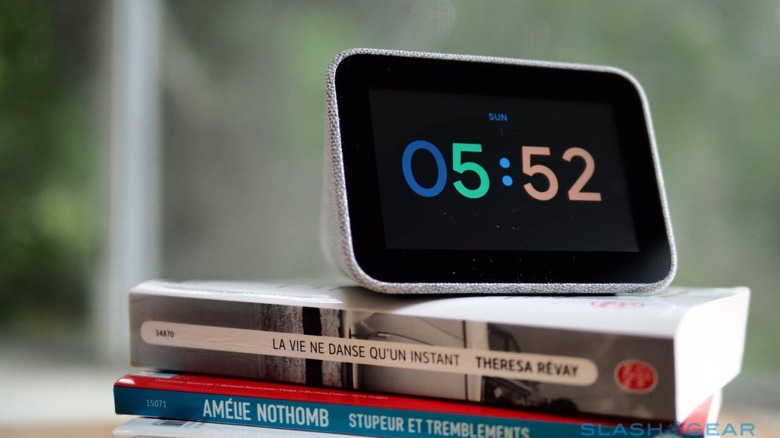 The Lenovo Smart Clock is undoubtedly the cutest smart display out there, but it takes more than soft-touch charm to earn a spot on the nightstand. The $79 addition to the company's smart display range is now the cheapest way to get the Google Assistant with a touchscreen, but it's actually an unexpectedly different experience in use than, say, a Google Nest Hub.
The design is tactile and appealing. The Smart Clock is a wedge-shaped chunk of fabric, fronted by a touchscreen. On the top there are two buttons to control the volume; they're subtle, but raised so it's easy to find them by touch alone. They control a single 3-watt speaker, which is more than loud enough for here. Music isn't going to sound as good as, say, a Sonos One would, but it's better than I expected.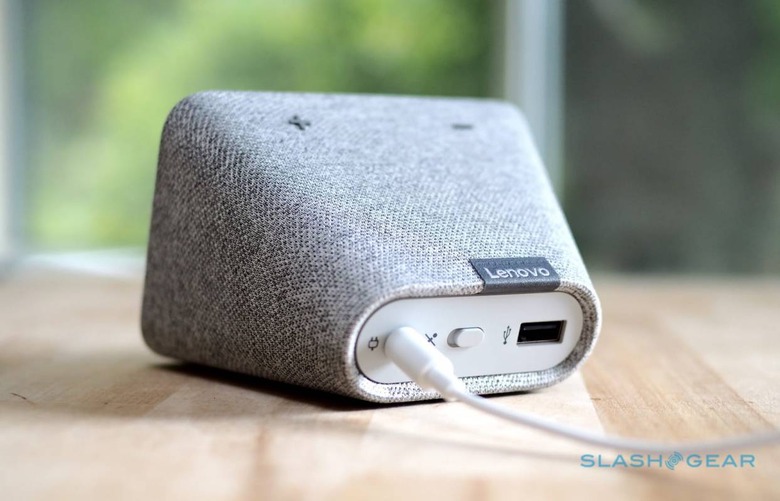 On the back, there's the power socket, a physical switch which turns off the microphone, and finally a USB Type-A port. That can be used to charge your phone. Inside, there's WiFi 802.11ac and Bluetooth 5.0, along with a MediaTek 1.5GHz processor, 1GB of memory, and 8GB of storage, running Android Things.
The touchscreen is charmingly small, a 4-inch IPS panel running at 480 x 800 resolution. Honestly, it's not the display you'd want to watch a slideshow of your favorite photos on, or indeed the latest Netflix episode. Side by side with the Google Nest Hub and the colors are noticeably less saturated. Anywhere from pretty much dead-on, and the brightness drops off significantly.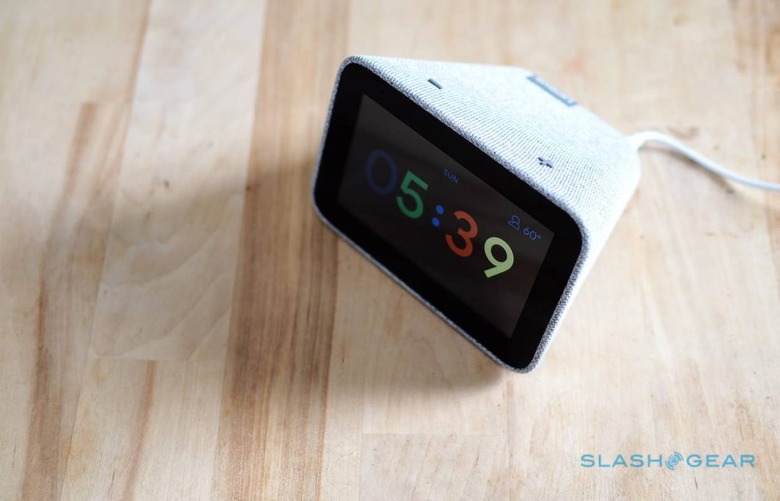 They'd be criticisms of just about any other device, but after living with the Smart Clock on my nightstand I came to realize they were actually advantages. For a start, it gets dim enough to not be a glaring distraction when I'm trying to sleep. Punchy, saturated colors would be too vivid in a darkened bedroom. An ambient light sensor automatically reduces the backlight according to the conditions of the room.
Lenovo isn't the first to make a smart display for the nightstand, but it is the first to pitch it right. Amazon's Echo Spot was certainly scaled just right to sit alongside the bed, but the camera atop its circular touchscreen was hardly reassuring. Amazon has, since, wised up to the fact that consumers aren't entirely keen on the prospect of being watched, and the latest Echo Show 5 has a sliding cover that physically obscures its lens – something Lenovo's Smart Display range has had from the start.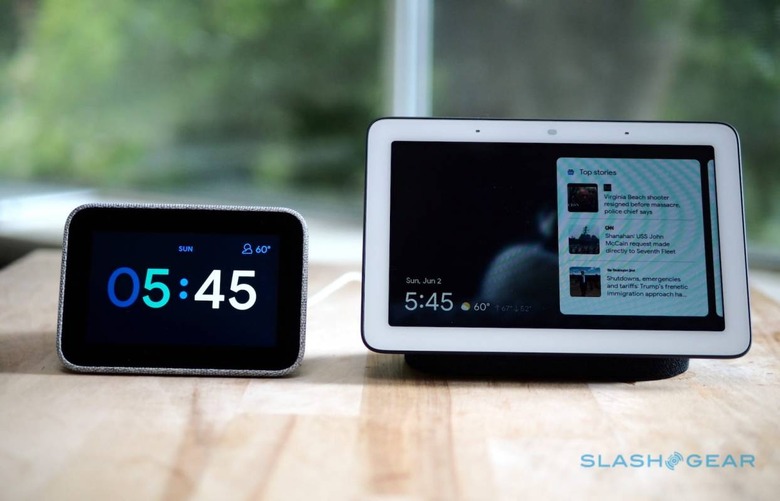 The Smart Clock doesn't need such a cover, because it doesn't have a camera at all. Indeed there are a few functional differences between this smaller smart display and what we've seen before.
In some ways, in fact, it sits between a Google Nest Hub and a Google Home. The Assistant uses the display less frequently to support its answers: you don't get images and text on-screen from Wikipedia if you ask a question, for example, and other results that would be visual on the Nest Hub are spoken-only on the Smart Clock. Lenovo does use the screen for weather forecasts and summaries of directions, along with simple smart home control and music playback graphics, but much of the time there's only an animated Assistant logo showing.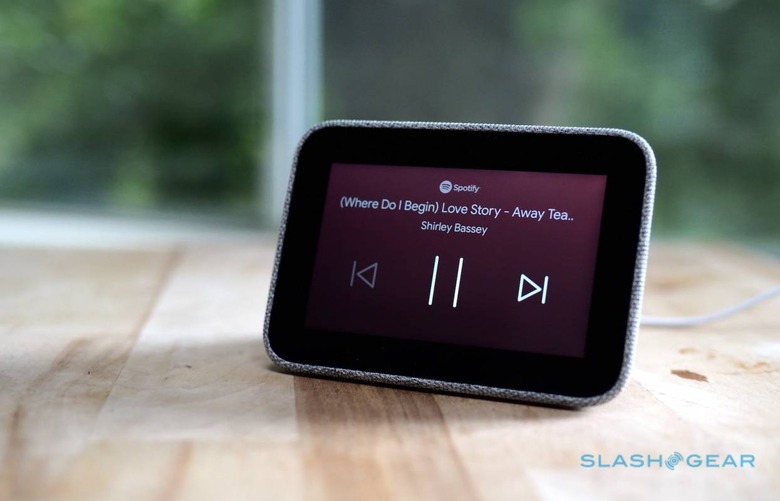 You can't Cast video to the display from, say, your phone; there's no support for any streaming video service on the Smart Clock, bar checking the live footage from a Nest security camera. Asking the Assistant to show you photos will leave you disappointed; there's no Google Photos Live Album screensaver option. Again, given your phone's screen is almost certainly larger than the Lenovo's, that seems like no great loss all-in-all.
Lenovo includes multiple clock face, from basic numerals through to more unusual layouts. Some can show things like the day or date, weather icons, or other details. An optional Dark & Light mode sees brightness and color inversion adjusted depending on the room's ambient lighting.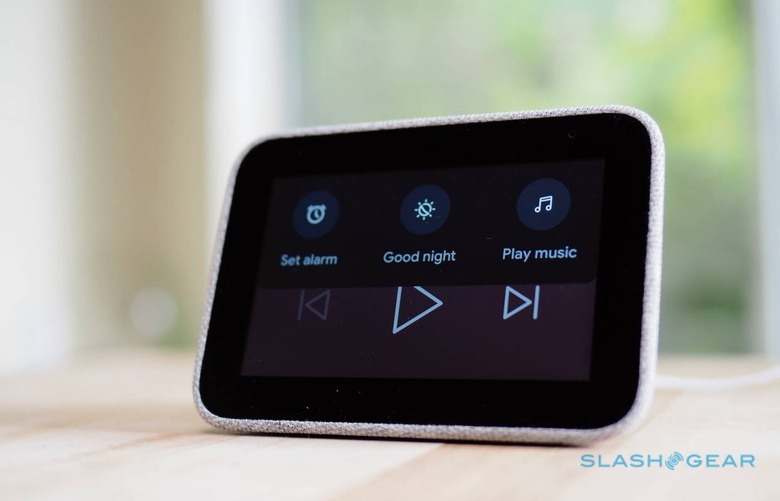 A lot of the most useful functionality is around alarms. It's easy to swipe across the standby screen to get to the alarm tab; or, you can ask the Assistant to set an alarm for you. The Assistant can suggest alarms, based on what's going on in your calendar the next day, or simply from your previous routines. A Sunrise alarm feature attempts to rouse you more gradually, by brightening the display before the alarm is due to go off. I'm not entirely sure I found it as relaxing as Google and Lenovo promise it to be.
When it comes to shutting an alarm off, there are now a few options. You can tap the Stop or Snooze buttons on-screen, or say "Stop" to silence it. A hard tap on the top of the Smart Clock can be set to either snooze or stop, too.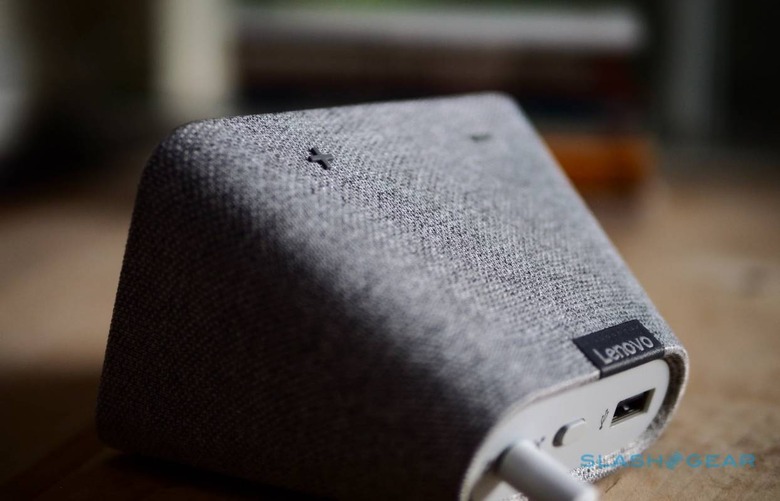 If you've got smart home equipment set up, you can use the Smart Clock to control that too. Individual devices can be commanded by voice, but more useful is to set up Routines. Think of them as sequences of multiple actions, all triggered by a single instruction. A "Bedtime" Routine, for example, might shut off the connected lights in the house, make sure the smart lock on the front door is secured, and set the thermostat to a lower level.
Routines are particularly handy because, while they can be started manually, you can also link them to alarms. A "Good Morning" Routine might automatically run when you wake up, for example, reading out your schedule for the day, telling you the weather forecast and any commute delays, and loading up your favorite streaming radio station.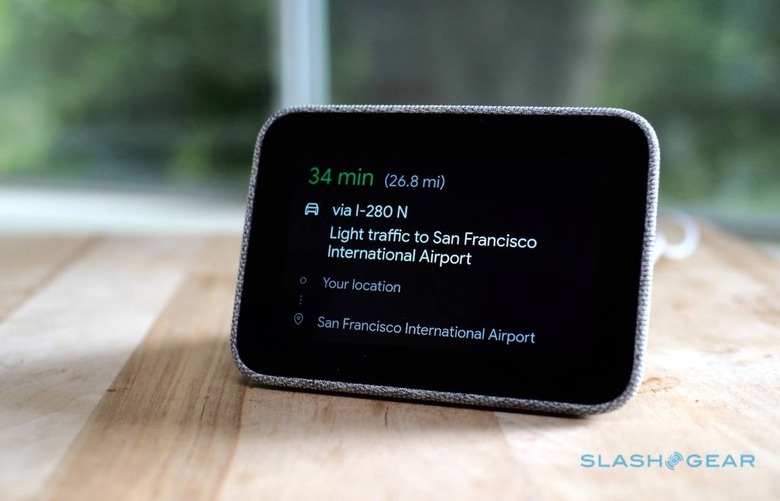 Alexa can do a lot of this too, mind, but I've never quite felt comfortable putting an Echo Spot on my nightstand. I also prefer how the Google Assistant deals with voice commands, and I find the Google Home app easier to manage when it comes to smart home devices than Amazon's counterpart.
Arguably Lenovo's biggest challenge isn't anything running Alexa though: it's actually the Nest Hub (formerly the Google Home Hub). In theory, there's a pretty significant price difference between the two. The Nest Hub is $149, while the Smart Clock is $79.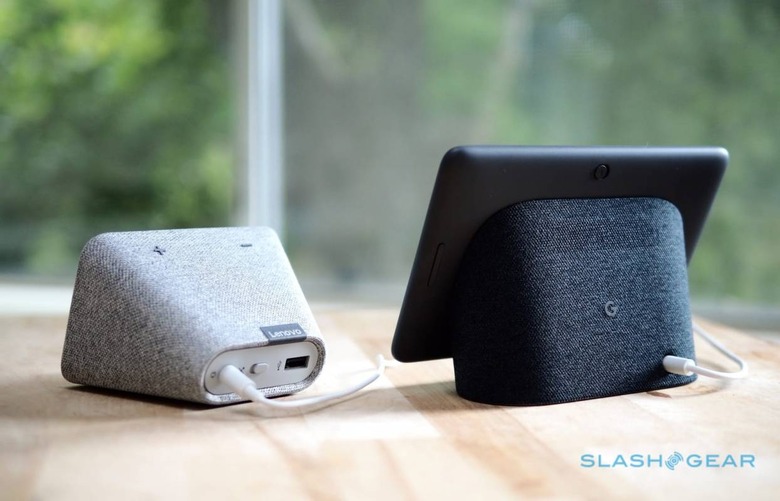 In practice, frequent discounts and promotions mean the Nest Hub usually commands only a $20 premium over the Lenovo. While the Smart Clock is better scaled for the nightstand, and has that useful USB charging port too, the Nest Hub makes better use of its display. I still think Google Photos on the smart display is the killer app, for instance.
Lenovo Smart Clock Verdict
Maybe that crowding in the segment isn't necessarily a bad thing. After all, if smart assistant technologies are to catch on in the mainstream, they'll need to fit in with as many settings as possible: for some, even the 7-inch Nest Hub will be that little bit too large to have alongside their bed. The Lenovo Smart Clock, in contrast, has a far more familiar, unimposing scale.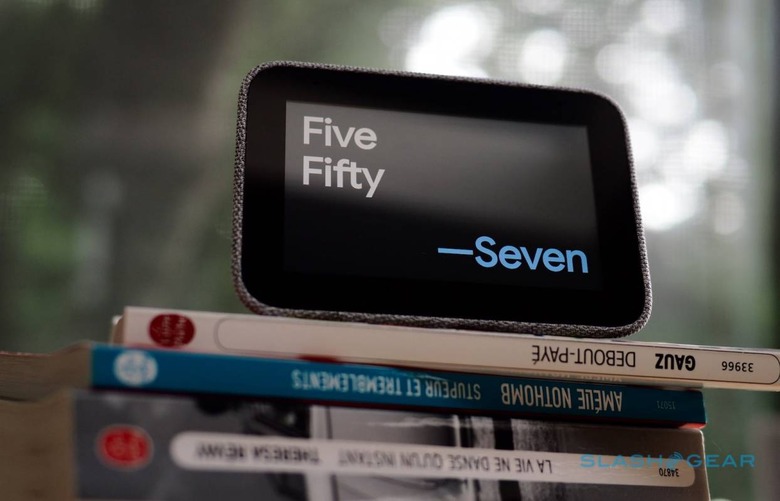 It also seems likely that, as with the Nest Hub and Lenovo's earlier Smart Displays, the Smart Clock will settle into an even more affordable street price. At that point, I could well see it colonizing side tables and hallways, spreading outside of its natural home in the bedroom.
Even at full price, though, there's plenty to like here. Going gung-ho with every bell and whistle would've been needlessly underwhelming. Instead, Lenovo has wrapped just enough Google Assistant technology in a friendly design, and the result is an upgrade to your nightstand that's as useful as it is unintimidating.