Lenovo Pocket Yoga touchscreen netbook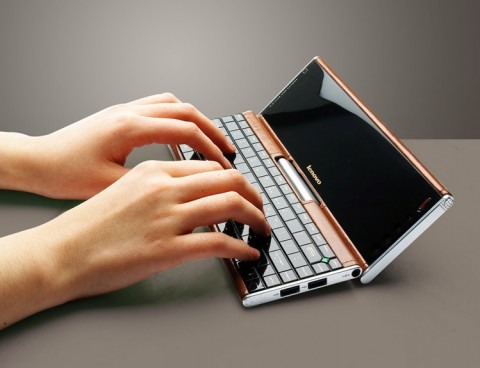 Lenovo have quietly released official images of their mysterious netbook, together with confirming the device's name.  The Lenovo Pocket Yoga has a broad, narrow display like the VAIO P, but unlike the Sony the Pocket Yoga's display is a touchscreen with stylus.More photos after the cut
The central hinge seemingly allows the Pocket Yoga to open up all the way around, until the form-factor is a long, thin pocketbook.  There's also a leather belt, used to keep the Pocket Yoga closed, but that also doubles as a wireless mouse. 
Full specifications are still unknown, but there's definitely a webcam and what looks to be some sort of mouse pointer diamond embedded in the top-right of the keyboard.  Hopefully Lenovo let slip some more details soon, including whether this is a design concept or a netbook headed for production.
Update: Unfortunately the Pocket Yoga is merely a concept, and a two-year-old one at that.  Full details here.
[via Electronista]