Lenovo leather-clad ultraportable prototype spotted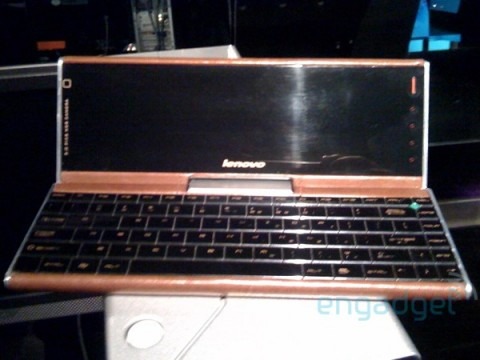 Snapped seemingly while being dragged through Lenovo's offices in Beijing, this leather-clad netbook/ultraportable prototype bears a striking resemblance to the Sony VAIO P.  Details on the device are scant, and it's not even clear whether the prototype is functional or not.
That's a shame, because if Sony can turn heads with a letterbox-aspect display then why shouldn't Lenovo.  The proposed or actual internal specifications are unknown, but the ultraportable was obviously intended to have a trackpoint controller (in bright blue on the top-right of the keyboard) that could be used when holding the computer in both hands, together with a webcam and what look to be five touch-sensitive keys on the right of the display.
It seems thicker than the VAIO P, but it's also made of more premium materials than the Sony's plastic.  The leather is a love-it-or-hate-it design choice, but the metal end-caps and single, chunky hinge are great.  Hopefully someone will step in and tell us when this prototype dates from and what, exactly, it's meant to be.