Lenovo IdeaPad U1 Hybrid notebook with removable Snapdragon screen-slate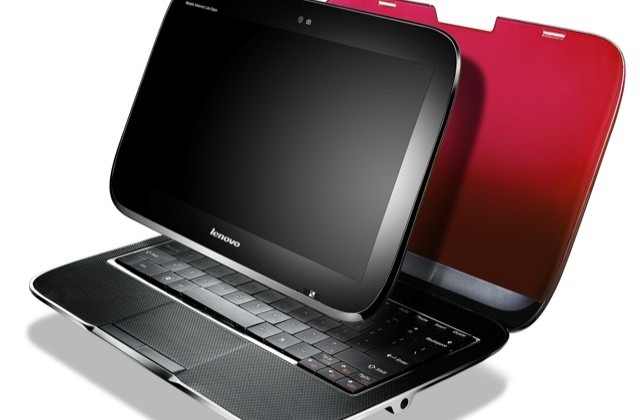 Lenovo's CES 2010 line-up has turned out to be one of the more interesting, with a solid range of updated mainstream notebooks accompanied by some more curious models such as the Skylight Smartbook and multitouch IdeaPad S10-3t.  However it looks like they've saved the best until last: the Lenovo IdeaPad U1 Hybrid is the industry's first hybrid notebook, a combination of a regular notebook form-factor with a removable 11.6-inch multitouch-capable capacitive touchscreen slate screen.  When docked, the IdeaPad U1 uses an Intel Core 2 Duo SU4100 processor, while the tablet section alone runs a 1GHz Qualcomm Snapdragon chipset.
The two parts have separate OSes, too: the main platform is Windows 7 Home Premium while the slate section alone runs a custom Linux build with Lenovo's own Skylight user interface.  That can be switched between a 4-panel multimedia view (personal pictures, music, video, documents) and a 6-panel internet view (email, calendar, RSS, social media and bundled services) and operated in both portrait and landscape orientations.  The touchscreen supports one- and two-finger gestures, and switching between the OSes and processors is apparently seamless: you can navigate to a webpage with the U1 Hybrid in laptop configuration, then pull out the display and keep reading that page with the Snapdragon powering things.
Battery life is estimated at 10hrs in notebook mode or 8hrs in slate mode, and even with always-on 3G standby is up to 60hrs.  Lenovo haven't skimped on connectivity, with 3G, WiFi a/b/g, Bluetooth and ethernet, along with two USB 2.0 ports, a combo USB/eSATA, both VGA and HDMI, and a 4-in-1 memory card reader.  Storage is up to 128GB SSD in the notebook and 16GB of flash in the slate, while RAM is up to 4GB in the notebook and 512MB in the slate.
The whole thing weighs 3.7lbs as a notebook or 1.6lbs as a table, with the slate being 12.65mm thick (full specifications in the gallery below).  Lenovo expect the IdeaPad U1 Hybrid to go on sale on June 1st 2010, priced at $999.  It's all very reminiscent – though perhaps better, thanks to the full CULV processor – to III's prototype hybrid netbook from last year, and you can bet we'll be chasing Lenovo at CES 2010 for a hands-on play.
Press Release:
One PC, Two Devices: Lenovo Introduces the Industry's First Hybrid Notebook

Innovative New Design Lets Users Switch Between Full Function Notebook Mode and 3G Multitouch Slate Tablet for Mobile Internet

RESEARCH TRIANGLE PARK, NC – January 6, 2010: Lenovo today announced the industry's first hybrid PC for consumers, the IdeaPad U1 hybrid notebook, a groundbreaking concept and new genre in PC form factors. The IdeaPad U1's unique design is engineered to provide consumers with two PCs in one device – each with its own processor and operating system – that work together and independently as either a clamshell laptop or a multitouch slate tablet.

"The IdeaPad U1 hybrid notebook is a game-changing technology in the PC industry that lets the user switch at will their PC experience to match their dynamic lifestyle," said Liu Jun, senior vice president, Idea Product Group, Lenovo. "By fusing the functionality of a notebook with the slate tablet's rich multitouch entertainment and mobile Internet experience, U1 provides consumers the freedom to choose the device they prefer for any activity."

The IdeaPad U1's fashionable scarlet red exterior has a footprint just smaller than a piece of paper and is paired with an equally impressive 3.8 pound thin and light design. With its unique detach-and-converge form factor, users can easily remove the screen to instantly switch from clamshell mode into a multitouch slate tablet. When the IdeaPad U1 is in its traditional clamshell form, the system boasts an 11.6 inch HD LED screen and runs Windows 7. When the 1.6 pound, multitouch screen is removed, it becomes an independent slate tablet with a powerful ARM processor, running Lenovo's customized Skylight operating system.

Two Brains are Better than One

Leveraging the benefits of both CPU, the two devices can synchronize to work as one with the ability to share battery power, 3G wireless, data and documents. In this way, the base laptop system can serve as a hub and docking station and the slate tablet as a mobile device. The two PCs have been engineered to work together and independently through Lenovo's Hybrid Switch technology that enables seamless toggling between the two processors. For instance, users can surf the Web in laptop mode and then continue from the same point without interruption if they detach to tablet mode.

"Me Centric" User Interface Provides Instant Gratification for Today's Consumers

Lenovo's hybrid notebook also features a customized "Me" centric tablet interface for comfortable landscape and portrait viewing. Users can switch between a six-section display and a four section display. U1's six-section screen display is designed to enhance the mobile internet experience by letting users easily multitouch access multiple Web-based applications at once such as email, calendars, RSS readers and social networking Web sites. The four-section screen display option is perfect as a media center on the PC such as photos, music, videos and to view/edit documents.

IdeaPad U1 Doubles Entertainment Fun

The IdeaPad U1's laptop and tablet modes each support more than five hours of 3G Web browsing and 60 hours of 3G standby. In addition, the U1 comes with integrated video camera and two stereo speakers with integrated microphone with echo cancellation make this the ideal PC for users who need flexibility but do not want to compromise features or functionality.

Pricing and Availability

The Lenovo IdeaPad U1 hybrid notebook will be available June 1, 2010 with an estimated retail price of $999.1

For the latest Lenovo news, subscribe to Lenovo RSS feeds or follow Lenovo on Twitter and Facebook. Follow Lenovo's activities at the International Consumer Electronics Show in Las Vegas at LenovoSocial.com/Live.