LeEco's LeSEE Pro autonomous concept makes troubled debut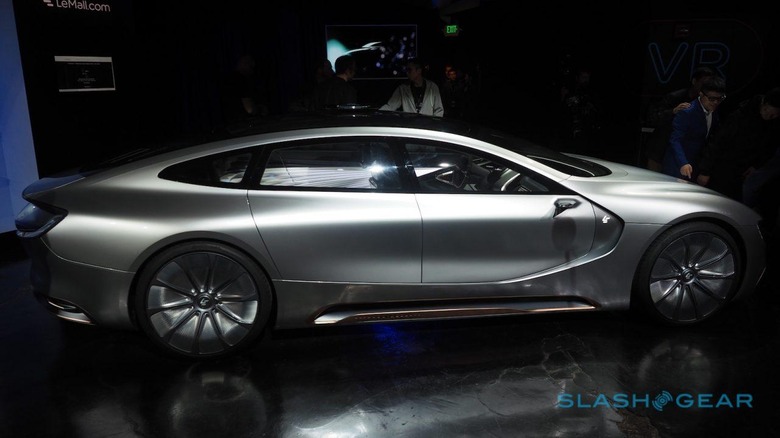 Something was clearly wrong when, rather than riding onto the stage in the LeEco autonomous car, CEO YT Jiang instead jogged down the catwalk in a flurry of smoke. No, the eye-catching concept hadn't caught fire behind the scenes. In fact, the saga of how Chinese behemoth and US market hopeful LeEco tried and failed to have its most dramatic product in front of media at its San Francisco coming out party was all the stranger.
Thus began a 20+ minute mea-culpa by Jiang, translated from Chinese, in which the LeEco founder described the comedy of errors that saw the original LeSEE concept fatally damaged en-route from Los Angeles. Unable to repair it in time, LeEco looked to London, UK: that's where the brand new LeSEE Pro concept has a starring role in the new Transformers movie. Cue a fairly stilted Michael Bay video in which he waxed anything-but-lyrically about the second-generation prototype, and insisted he wouldn't be returning it.
Only, as it turns out, he did. LeEco snatched the LeSEE Pro, thrust it onto a suitably-sized jet, and in a matter of hours had it brought from the UK to California. Finally, snatching defeat from the jaws of an unlikely triumph, they couldn't actually get the car onto the stage, hence Jiang's unexpected jog into the limelight.
The official unveil took place after the press conference, a fierce crowd of people eager to get a glimpse of LeEco's silvery monster. At first glance, you could be forgiven for not seeing much difference from the original LeSee – may it rest in pieces – that was first shown off in April at the Beijing Auto Show. Both have vaguely amorphous lines and a gaping maw, giving the car hints of cyborg axolotl.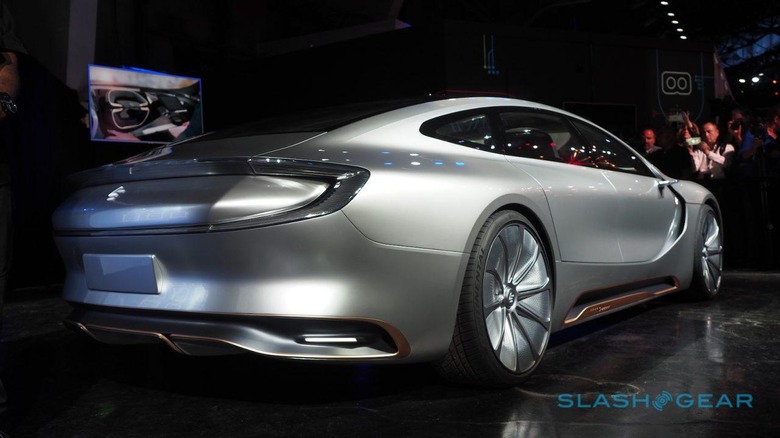 Ask LeEco, and the actual differences between the two cars are fairly clandestine. Describing it as a "second-generation vision" of what the company believes the future of autonomous vehicle will be, exact details are correspondingly hard to come by. "You can assume," a LeEco spokesperson told me, that it's "more advanced" than its predecessor.
Amidst the nebulous technology there's a set of clamshell doors on each side revealing a predominantly black and white interior that's ribbed like an accordion. The steering wheel retracts in self-driving mode, allowing the "driver" to join their fellow occupants in enjoying the in-car entertainment. Of course, that's really the crux of the LeSEE Pro.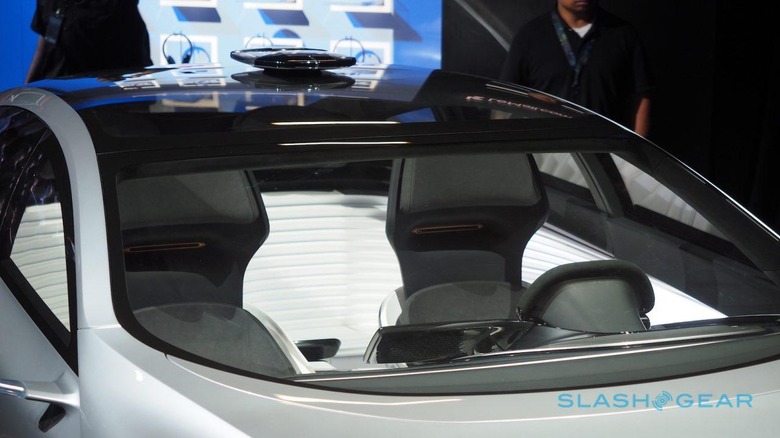 LeEco, after all, is all about its "vertical integration" and its ecosystem of media. The car is, simply, another place you could be enjoying its streaming on-demand and live content. If that car needs to be autonomous in order to release another set of eyeballs, then so be it.
The LeSEE Pro promises to be less calculating than LeEco itself. It'll apparently be able to track mood and facial expressions, tailoring itself and its driving behaviors to the emotions of the people inside. Bright lights in the grilles will express the car's personality to other drivers on the road, as well as pedestrians.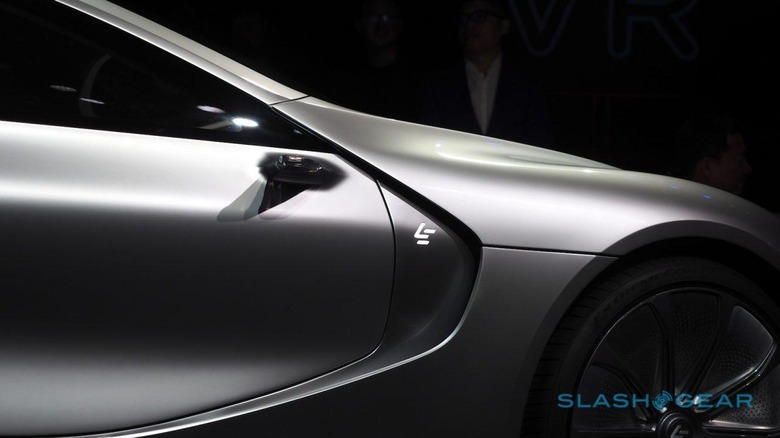 NOW READ: The big risk of China's Apple-wannabe
The drivetrain is another mystery, though LeEco says it envisages the LeSEE and LeSEE Pro as being fully electric. Given the firm has invested into Faraday Future, which is working on its own modular EV platform, that doesn't come as too great a surprise. LeEco says there'll be inductive charging, too, for making the recharging process more straightforward than having to physically plug in a cable.
Instead, you'll presumably just park atop a special pad. A port in the front wing will accept a plugged-in charger cable for on-the-go top-ups. Jiang highlighted the smog problem in Beijing, where LeEco has its head office, as a primary reason for ditching fossil fuels and adopting electric motors instead.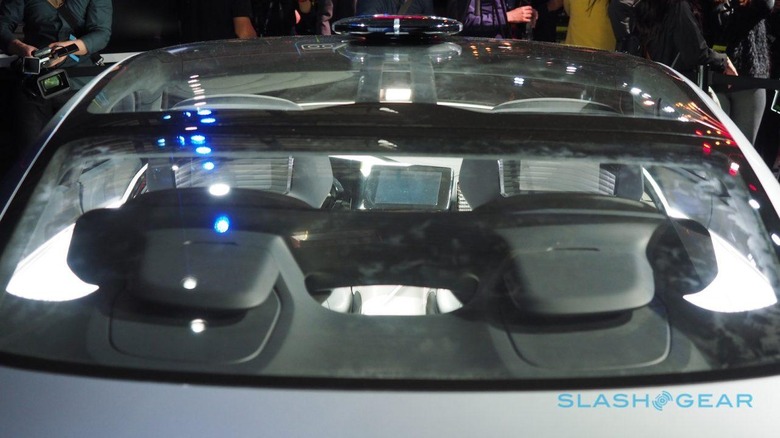 This is all very much still at the concept stage. LeEco wouldn't open the car up, and so I couldn't get my hands on any of the interior touchscreens or other controls. To what extent they actually operate is questionable. Similarly, neither the Michael Bay clip or anything at today's event showed the car itself in motion.
LeEco isn't saying when we could be able to expect a production version and, given the ongoing challenges everybody in the self-driving car space faces for developing Level 4 Autonomy software, it seems unlikely they'll get there any time soon. However, Faraday Future does have some news on the horizon.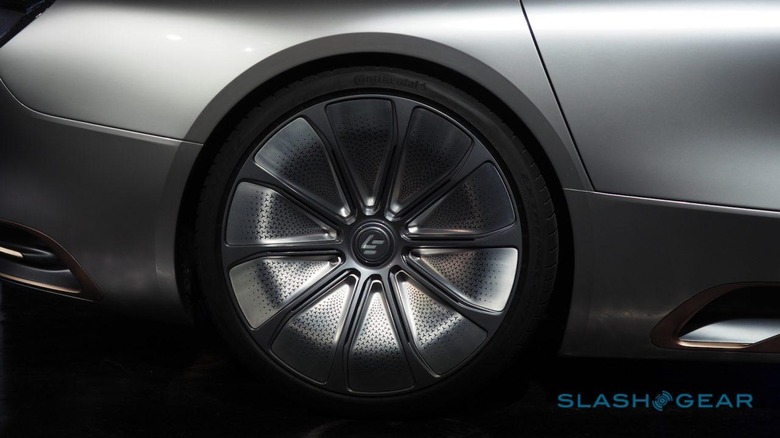 Jiang revealed that the startup automaker plans to show off a production car – its first, indeed – at CES 2017 next January. Considering how much both companies have talked up the modular platform, suited so its said for everything from a short-range city car to road-trip-ready long distance cruiser, that's something plenty of people in the auto industry are looking forward to with interest.