KIA Cross GT Concept Crossover Teased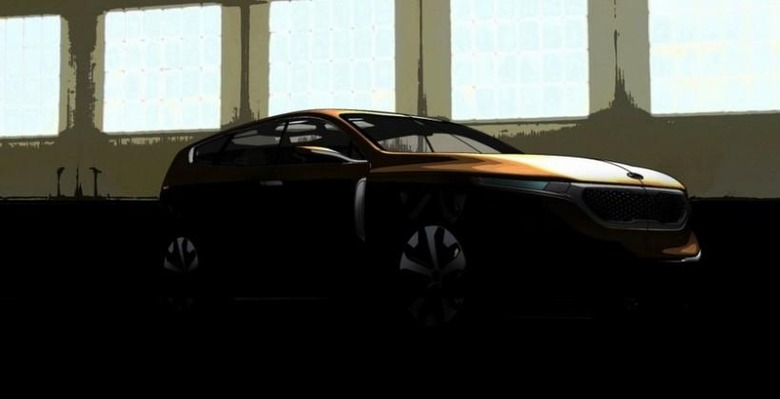 This week at the 2013 Chicago Auto show the next generation of KIA crossover vehicles has been revealed in a teaser image. This image shows a Cross GT concept vehicle with just a few details being revealed, most of them inside smooth lines and a laid-back feel. This vehicle has been tipped as a lovely Urban Vehicle with two-door action and next-generation innards – this we can guess while details involved are quite scant at the moment.
Another interesting choice by KIA here is the treatment of the photo – or concept drawing, shall we say. Here we've got a set of extremely simple yet stark colors that push against one another to create an illustrated look. In fact what is happening is that this Urban Vehicle is being masked as much as possible without losing the interest of the viewer – and the interest is what we've got!
This machine will likely be revealed within the next few weeks at least in part while the details this week stay in the "non-existent" category. The KIA Cross GT is shown here with emphasis placed on the "cool" factor while the forward-facing appeal. This Cross GT is being tipped as coming in at a larger size than the Sorento crossover revealed previously, this being suggested by Motor Authority to leave room for three rows of seating – we shall see!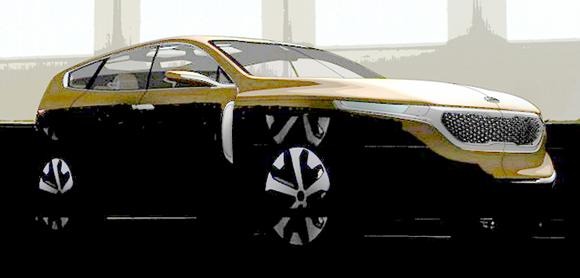 Have a peek in the timeline below for several entries in our massive Car hub, each of them blasting forth from KIA itself. We've had several test drives of future vehicle releases very recently with our man Cory Gunther taking the wheel down in Arizona with the new 2014 KIA Forte as well as the 2014 KIA Sorento – have a peek! Jump in our Car Hub for looks at the automotive universe from all directions!