With the new 2014 KIA Sorento there's more to it than meets the eye. At first glance you'd think the 2014 model is the same as its predecessor, but after a closer inspection you'll notice plenty of improvements. They've added a touch of class and luxury inside and out, updated the entire interior with a contemporary and "with the times" design, and even added an AWD option. Read on for our full thoughts and plenty of pictures from our KIA Sorento first drive.
With eye-catching styling, more chrome and less plastic, and a price point that surely will give you plenty of bang for your buck the new and improved 2014 KIA Sorento delivers quite the package. In case you missed it, this week we had the opportunity to enjoy some time with KIA down in Scottsdale, AZ, for their KIA First Drive event, and below is plenty of thoughts from their new Sorento.
Design
As far as styling and design at first glance you won't notice too many differences, but most of the changes come under the skin and hood. However, KIA did manage to give the Sorento a "mid-life" facelift or change-up. While it's mostly unchanged you'll get a beautiful European-inspired design like the original with a few key differences. They've completely improved and redesigned both the front and rear fascia.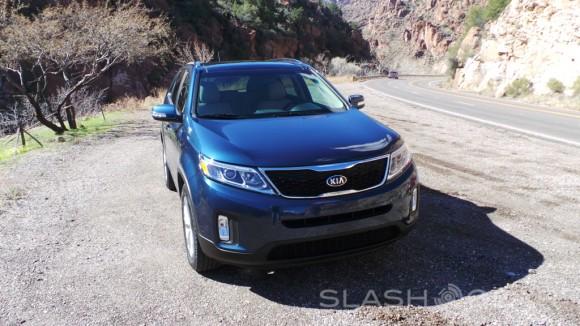 While the sides and most of the body remains the same, it's the front and rear bumpers that have been completely changed and redesigned. The pumper has been tweaked and improved, they've cut down on the cheap looking plastics and replaced them all with Chrome, and it now comes with trims including HID (High-Intensity) headlights and taillights, with LED daytime running light options too. The black plastics around the wheel frames have been removed to really give it a classy crossover look and feel.
With a new AWD and 19-inch alloy wheels option the KIA Sorento just keeps getting better and better. While their base model fits the same pricing strategy as the previous model, their new SX-L can push you all the way into $40k territory thanks to all the additional options, luxury, or bells and whistles. Some of those options include: AWD, Chrome tailpipe, power-folding side mirrors (heated), chrome roof rail racks, and more regarding the interior which we'll cover below. They've really stepped up their game to offer everything from start to finish. The backup camera and detection comes standard, but the optional side blind-spot protection (with chime, pictured below) can also be had and was quite useful.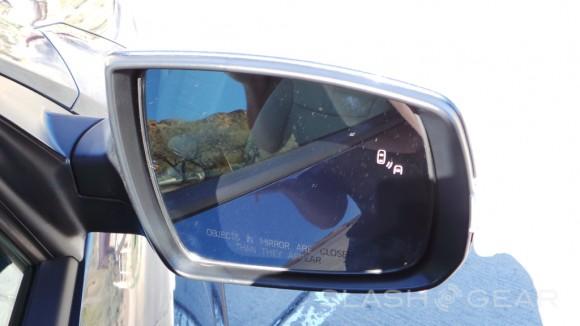 Overall there really isn't much to say regarding the design for 2014 aside from the changes to the bumper and interior, which we'll talk more on below. The HID light options, daytime running lights, and slight taillight changes surely gives the 2014 model a different look, but most won't notice them over the previous model. The Sorento has been popular and a hot seller in the US, and this fancier model to ring in the new year will only build on KIA's success.
Interior and options
We mentioned the exterior didn't have too many changes, but under the hood and skin is where KIA put forth tons of effort. The inside has everything you'd ever want, and need. KIA actually went as far as to say 80% of the interior was either changed or completely redesigned, and it certainly shows. From leather everything should you choose, panorama sunroof and more they've brought the heat to the Sorento. This is where price meets luxury. To continue on with the optional trims here's some more additional choices. Integrated navigation and Google Maps to the 8-inch UVO infotainment system, an Infinity 10-speaker surround sound kit, full panorama sunroof with automatic power-shade and more. We then can't forget about the power liftgate with adjustable height settings, 4-way power seats (even for second row) heated and cooled seats, ventilated seats (2nd row too), and finally a 3rd-row 50/50 split-folding seats choice. Did we mention the driver seat has memory foam, memory for position and even will adjust all the mirrors to the driver. Pretty neat right?
Some noteworthy upgrades is the addition of 3rd row seating getting a few extra inches, 10 speaker surround, AWD, and is just the right size (and price) for families. As far as the center console goes we have a redesigned and more comfortable layout, and the 8-inch TFT UVO system is dramatically improved. We'll talk more on that below. They've added an optional 7-inch full digital display for the gauge cluster too. Something many will be happy to see.
Everything you'd expect to see from a fully loaded vehicle is present here. All the steering wheel controls are present and wonderful, that includes full controls for the entire infotainment system, and even the optional digital gauge cluster behind the steering wheel. Then you obviously get Bluetooth, satellite radio options and everything that UVO has to offer.
KIA promises extra space for both the second and third row seating, although that was minimal. The optional heated seats for the second row was nice, but be careful as a child might kick that floor mounted button and quickly complain of the heat. In the end we were very impressed with the contemporary and elegant interior. It finally has the pristine condition and refinement the previous model was lacking. It isn't all praise however. We still didn't like the cheap plastic feeling doors (where your arm and elbow rests) and they could have improved on second and third row seating space a bit more. The panoramic sunroof does give passengers a more open and comfortable feeling. If KIA can continue to remove the cheap plastics with each generation this will surely be a top contender soon.
UVO Infotainment Center
The base LX model comes with a 4.3-inch display and backup camera, but after that any other model KIA's impressive 8-inch TFT UVO 2.0 Infotainment system really comes to life. If you can manage, this is certainly worth the small bump in monthly payments. Being all about tech and gadgets here, this was a huge priority for us. We are happy to confirm the 8-inch display was one of the best we've seen to date in this price point, had extremely light glare issues, and the viewing angles were excellent. Being able to see everything clearly, even with the sun glaring through the panorama sunroof right on the display, it was still easy to read and made controlling it a breeze — and safe.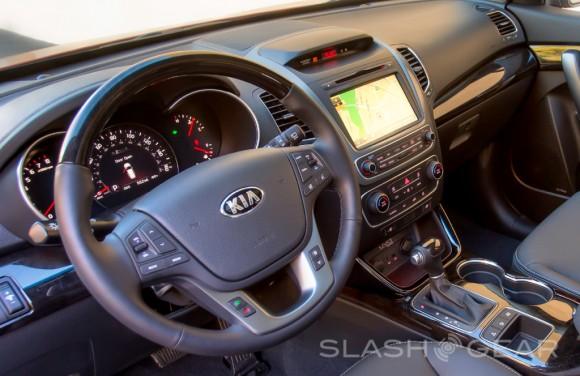 Again just like the KIA Forte, see our coverage here, being able to instantly sync our iPhone, Android phone, and even a Blackberry for audio streaming over Bluetooth was incredibly easy. No fumbling through settings or reading of manuals required. The average soccer mom might not get it as quick as we did, but it certainly is easier than most. KIA made sure to focus on quality of the technology inside their cars for 2014. They didn't just add in electronics to add them. It's technology we actually want and need.
"It's not just about providing technology in their cars, it's delivering technology that makes sense." — KIA VP of Marketing
Being able to pass off navigation directions to the 7-inch digital speedo and gauge cluster was one of my favorite features. This left the 8-inch infotainment system free to stream audio and album artwork, or even enjoy a video while the cars in park. Using Bluetooth or the wired USB 2.0 option album artwork was displayed, and streaming Pandora radio was never easier. We mentioned the dash was redesigned, and this is to blend the 8-inch screen with regular controls for a seamless experience. Being able to quickly change from media, radio, navigation, maps, and more all with dedicated buttons under the 8-inch screen made daily use easy and simple to understand. While we love on-screen controls, having everything be on-screen can be distracting for drivers so we applaud KIA in this regard. We all want our smartphones to be integrated into our vehicle and the Sorento does that in a simple, effective, and safe way.
Engine & Performance
Starting with a underwhelming 2.4-liter GDI dual CVVT 4-cylinder engine on the base LX model, everything else comes in a standard 3.3-liter GDI V6 option pushing 290 horsepower and 252 pound-feet of torque. This went up a decent 14 hp compared to the previous 3.5L V6. Options include a front, or all-wheel drive. The new 2014 Sorento is also offered with FlexSteer technology like the Forte. Using FlexSteer the driver can choose between Comfort, Normal and Sport tuning for the Sorento's electric steering.
The new Torque Vectoring Cornering Control technology was neat, allowing the car to direct power to the rear wheels for additional help during icy or slippery wet conditions. This is something you'll want to make sure is included in your purchase. Having briefly drove the 2012 model, it's safe to say the refinement to the entire chassis, stiffer platform and better shocks – not to mention FlexSteer – you'll certainly enjoy driving this around town or to the kids little league football game.
Our tour throughout the Scottsdale, AZ, desert really showcased the improved and beefed up shock absorbers. Taking the corners were tight and accurate, although we're certainly no experts in this field. Overall on the road for a mid-sized crossover the Sorento was surprisingly keen and comfortable. They've also placed a huge amount of effort on inside car noise, and that seemed minimal given our speeds in excess of 60 MPH.
Wrap-Up
At first you wouldn't look at the new 2014 model and think much has changed, but with around 80% of the vehicle seeing changes from top to bottom this really is an all-new and improved Sorento. With keyless entry and start coming standard, backup cameras, 8-inch infotainment systems and an improved V6 offering the Sorento should continue right where it left off in terms of popularity in America.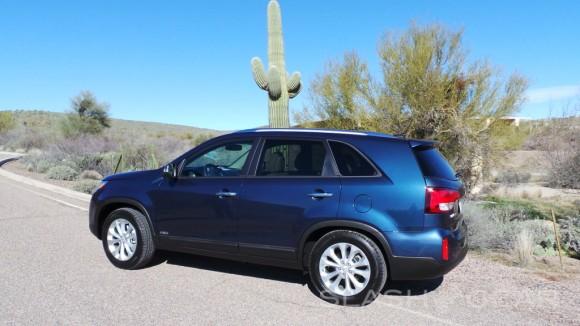 The base LX model will hit the streets priced around $24,100 and $25.7k for the V6, then reaching $35,000 for the SX, and the top spot comes in at $38k for the Sorento SX-Limited series. The new and improved faster, cleaner, meaner, and luxurious 2014 Sorento should arrive on dealer showrooms and grace buyers garages sometime in the next month.