JooJoo preorders shipping: deliveries expected March 29th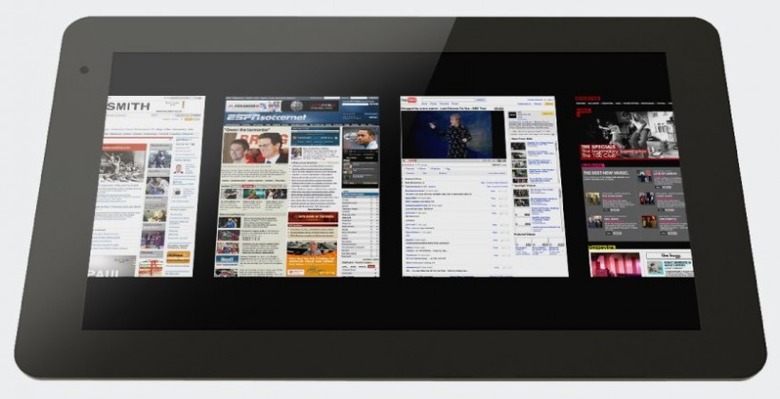 Chalk this one up under "things we didn't really expect to see happen", but according to Fusion Garage the JooJoo tablet is now shipping.  Up for preorder since early December 2009, those people who risked their $499 should apparently receive their orders by Monday, March 29th.
The news follows a quite change in the JooJoo online store earlier this week, where orders were no longer referred to as "preorders".  No word on how long any newly-placed orders will take to ship; the press release doesn't say, so we're presuming Fusion Garage have sufficient stock to cater to anyone not holding out for an iPad.
While we've seen plenty of criticism about Fusion Garage and the JooJoo project as a whole, not least in how relations with their former business partners TechCrunch broke down, we're frankly all for more competition in the web slate space.  The JooJoo has a 12.1-inch capacitive touchscreen, Intel Atom processor, NVIDIA Ion graphics and a custom UI; we'll be eagerly looking forward to hearing from those preorder customers who get their tablets early next week.
[via Engadget]
Press Release:
JOOJOO TABLET NOW SHIPPING

SINGAPORE, March 25, 2010 – Fusion Garage announced that its category-creating joojoo Internet tablet has begun shipping from the factory today. joojoo devices are now on their way to U.S. customers who pre-ordered them. Devices should be received by Monday, March 29.

New joojoo orders can be placed at https://thejoojoo.com/store at a cost of $499 USD. With its easy to use user interface, joojoo allows users to tap into Internet applications, news, music, high definition video, social media and Web services. The device boasts the largest capacitive touch screen of any device on the market, measuring 12.1 inches in length. joojoo is Flash 10.1 and Java compliant and comes equipped with a built-in, rechargeable lithium-polymer battery.

For more information, please visit www.thejoojoo.com.

About joojoo

joojoo, officially introduced in December 2009, is the category-creating Web tablet that provides near instantaneous Internet access and the best online experience. The African word "joujou" means magical object and Fusion Garage's joojoo brings users into an online world where everything on the Internet is just a single touch away. Powered by Fusion Garage's innovative browser-based operating system, joojoo enables users to quickly and easily tap into Internet applications, news, music, high definition video, social media and Web services. joojoo has revolutionary hardware, including the largest capacitive touch screen of any device on the market – 12.1 inches –providing full screen content viewing. Its ultra-portable, ultra-thin design offers the best Internet experience anywhere – on the couch or on the go, standing or sitting. joojoo's gesture-based user interface allows easy transitions between Web sites and turns pages in a digital publication via the movement of a finger. A full-size touch keyboard appears when users need it, and disappears when viewing content or paging through digital content. joojoo is available directly from Fusion Garage at www.thejoojoo.com.

About Fusion Garage

Fusion Garage enables the best Internet experience through innovative software and hardware devices. Founded in 2008, Fusion Garage's core browser-based operating system provides near instantaneous Internet access and has spurred the development of an entirely new category of consumer electronics devices dedicated to online usage. Fusion Garage is based in Singapore and is privately funded.