The next big release from Apple appears to be stacking up as a wearable device, coming up more than just a couple of times with a code-name iWatch. This device has been teased again today with a release inside China with inside sources suggesting Apple has been creating prototypes of the device and is currently testing more than one model. This miniature device is also set to look rather similar to that of the 6th generation iPod nano with a very similar battery size, lending steam to the idea that the change-back to a larger size for the line in favor of the iPod Shuffle was done for more than one easy-to-see reason.
One piece of this puzzle comes from CTech where it's been suggested that a 100mAh capacity battery is being used in test models. For those of you without a vast knowledge of what that battery size means, it means that this device will be very, very good at conserving energy. Common smartphone batteries today are closer to 2,000mAh than they are to 200.
Rumors this week have come up against the release of Samsung's second Galaxy Gear as well. With the first Galaxy Gear finding itself the subject of criticism at the hands of long-lasting battery lovers, the second wave is certainly going to be set with some optimization in mind. With one device lasting less than a day with heavy use, any future smartwatch will need to mind its battery time without a doubt.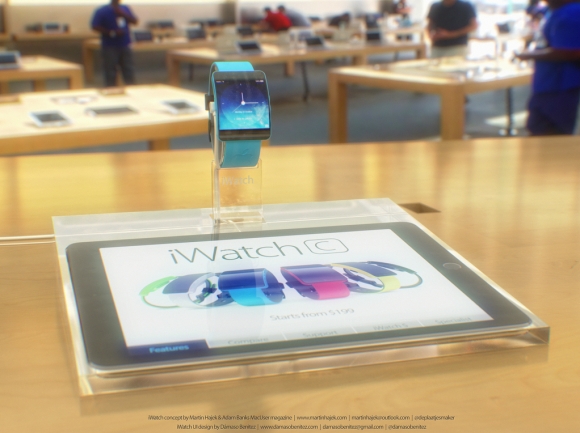 This particular release also stems from G for Games where a bit on wireless charging has resurfaced. With the ability to toss an iWatch into a dock – or even on a flat panel – for charging each night, the whole battery situation might become a lot less important.
We've seen a collection of renderings of the iWatch over the past year, some of the best coming from Martin Hajek whom we've seen around here before. In the images above you'll see the device appearing as a relatively bulky machine in a variety of colors. Certainly nothing like the Sony Smartwatch 2 or the Pebble, that's for sure.