It's Galaxy Note 10 release day: The deals (and the reasons to wait)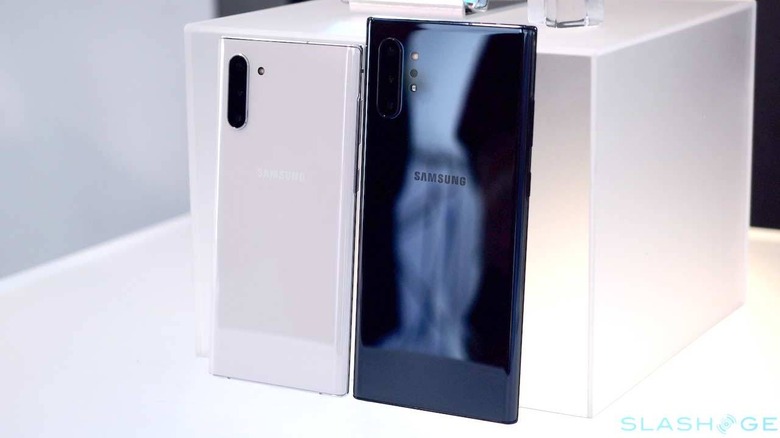 The Samsung Galaxy Note 10 is available for purchase (general availability) starting today, August 23, 2019. Today we're looking at the Galaxy Note 10 price, the price of the Galaxy Note 10 Plus (Galaxy Note 10+, if you prefer), and how and where people will get deals. We've also got a short list of reasons why someone might want to reconsider buying a Note 10 right this minute, including the fact that the Galaxy Note 10 Plus doesn't arrive until September.
Samsung Galaxy Note 10 Price
Inside the USA The Samsung Galaxy Note 10 will cost you around $949, while the Note 10 Plus will cost you around $1,099, and the 5G Note Plus will cost you right around $1,300 (that's exclusive to Verizon for now). These prices are base cost – the lowest they'll cost now, here at launch, with the smallest amount of internal data storage.
DEEP DIVE: See our Samsung Galaxy Note 10 First Impressions and Hands-on
If you're in England, you'll find the Galaxy Note 10 (4G) for £869 from Samsung's website right now. Shipping will take a couple days – the same is true for the Note 10 Plus. UK residents can also purchase the Galaxy Note 10 Plus for £999 from Samsung's website right now in its 4G iteration. There's also a 5G Galaxy Note 10 Plus available for £1099 (that's over one-thousand-pounds).
Samsung Galaxy Note 10 deals and trade-ins
The Galaxy Note 10 and Note 10 ordered directly from Samsung online includes the possibility of an offset cost via trade-in. Users can "save" up to $600 if they wish to trade in their "old" smartphone. The phones that generally garner the most value are those that were released most recently – and are in the nearest-to-mint condition at trade-in time.
SEE ALSO: Our big giant Samsung Galaxy Note 10+ Review
Users can buy one Galaxy Note 10 device from Verizon and get "up to $950 credit" toward another Galaxy Note 10. That requires that you get an Unlimited data plan for both devices – with additional conditions in fine print.
Samsung includes a "free 6-month Spotify Premium trial" with purchase of any Galaxy Note 10, as well as 4 months of ad-free YouTube (that's YouTube and YouTube Music). Both of these free trials require that you sign up with the service (Spotify or YouTube Premium), which could potentially mean you forget to cancel service after the trial is done, resulting in you paying a new monthly fee for service until you end up remembering to cancel in the future.
AT&T also has a BOGO deal with $950 credit – but theirs is spread out over 30 months of credit. AT&T's plan also requires an eligible AT&T Unlimited Plan and both taxes on full retail price for both devices up front. AT&T also requires that you add at least one new line to a new or existing account and that you pay a $30 activation or upgrade fee for each device.
According to AT&T's Offer Details for their BOGO deal: "Credits start within 3 bills and will be applied in equal amounts (up to $31.67/mo. over 30 monthly installments) to the lowest priced device. You will receive catch-up credits once bill credits start."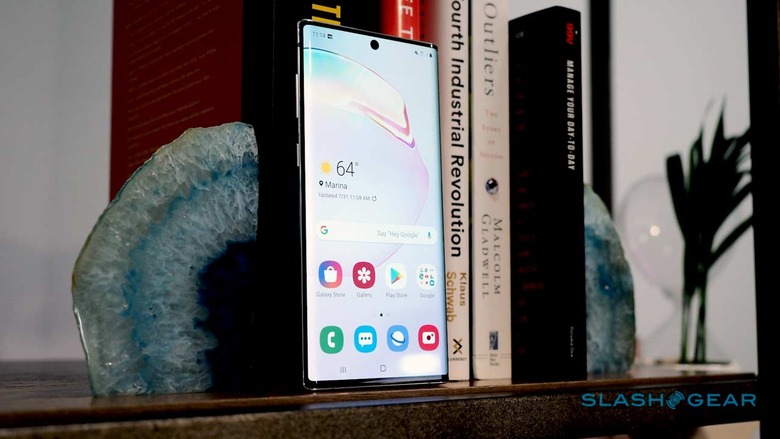 Sprint suggests you can "take 50% off the new Samsung Galaxy Note10" but add "with Sprint Flex lease" which means you don't actually ever own the phone, you're just... leasing the phone. With Sprint you'll need to start a new line of service and will be responsible for an 18-month lease.
Inside the UK ordering with Samsung you'll be able to offset your Note 10 cost by up to £350 if you trade in a phone as new as a Samsung Galaxy S10. That, of course, might seem a bit mad since you literally had to have purchased that phone for several times that amount earlier this year.
Reasons why you might want to wait
The biggest reason you may want to wait on purchasing a Galaxy Note 10 is the release of the Galaxy Note 10 Plus and 10 Plus 5G. The 10+ 5G ships on September 6th (from Verizon) and the 10+ (non-5G) ships September 13. The standard Galaxy Note 10 starts to ship today.
If you're the sort of person that gives equal consideration to all new smartphones on the market as they're released, you'll have another reason to potentially wait on the Note 10. Another several reasons, actually – the oncoming reveal/release of the 2019 iPhones (likely September 10th) and the October reveal/release of the Google Pixel 4.
We also do not know when the Samsung Galaxy Note 10 will get an upgrade to Android 10 – but that'll only really be important if you're more excited about features Google's announcing than what Samsung's already promised. Have a peek at the Galaxy Note 10+ review above and see if it's worth the wait, otherwise get that pocketbook out and dish out a full grand for the privilege to own the shiniest new Galaxy smartphone.