iPhone iOS 7.0.5 is out, but it's probably not for you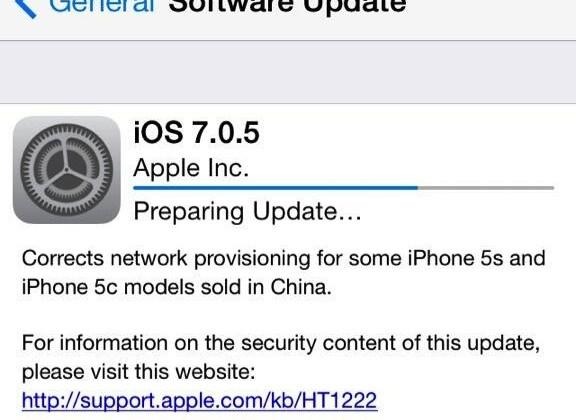 Apple has released iOS 7.0.5, though you might find that it won't show up on your iPhone no matter how often you mash the Software Update button. The new software, pushed out today, addresses network provisioning on select iPhone models sold in China, according to Apple's sparse changelog for the update.
That means that only certain iPhone 5s and iPhone 5c handsets for the European, Asia Pacific, and Chinese markets will see the firmware.
Everyone else – including anyone with a North American iPhone, or an iPhone 5 or earlier – will have to wait a little longer for an update. Similarly, the iPad and iPod touch are left out of the iOS 7.0.5 fun too.
It's not the first time Apple has had a partial-release for iOS, or indeed left different devices running different versions. We've seen it most often at the launch of a new device, where specific changes to accommodate updated hardware are demanded.
In this particular case, it seems the provisioning demands of getting the most recent iPhones working on new Chinese network partners have prompted the new version.
Apple recently saw its most successful quarter to-date for iPhone sales, with 51m sold in the fiscal first quarter of 2014.