iPhone game controller pad for iOS 7 leaks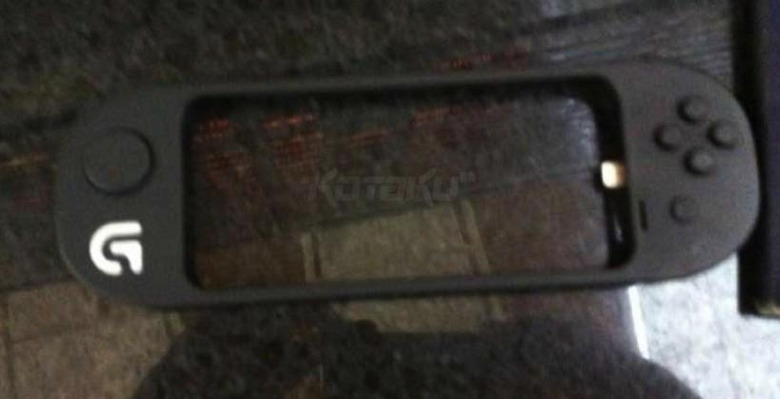 Apple is adding physical game controller support in iOS7, and the first gamepad hardware for the iPhone has apparently been caught in the wild. The Logitech-made snap-on gadget is "large enough to fit an iPhone 5" Kotaku says, and indeed has a Lightning connector meaning those with older versions of Apple's handset will either have to upgrade or hope Logitech and others tipped to join in the hardware push will release versions with the older 30-pin connector.
Technical details on the leaked hardware are unknown, though the photo shows a reasonably straightforward gamepad. There's a D-pad on the left and a cluster of four buttons on the right, along with what could be a start or menu button just underneath. Audio looks to be served with a cut-out to pipe the iPhone's own output through.
It's unclear whether there'll be shoulder buttons – there's only the one image, and it's too low-res to make out detail around the edges – or other keys on the back, though we'd guess that there'll be some way of adjusting volume without having to whip out the iPhone itself.
Apple has been a game-controller hold out, though that hasn't stopped third-party manufacturers from trying to improve the gaming usability of the iPhone, iPad, and iPod touch. Those have ranged from adhesive control-sticks that cling to the display and give some tactile sensation, to gadgets like the iControlPad2, arguably a precursor to the Logitech device seen here.
That's in direct contrast to Android, which has supported gaming hardware for some time, and has seen several different approaches to turning Google's OS into an entertainment platform. MOGA, for instance, has an Xbox-style controller for Android devices, while NVIDIA has used Android for its SHIELD portable.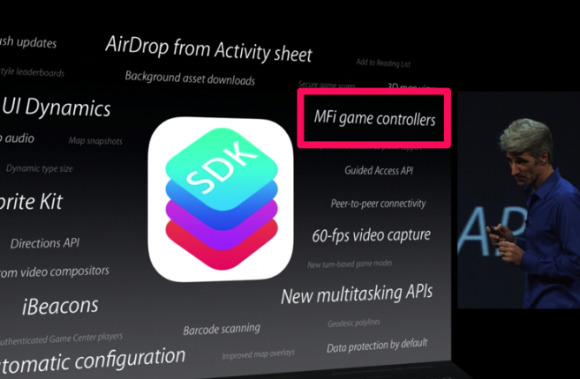 Of course, we'll have to wait until iOS 7 arrives on the iPhone 5 and other devices before the game hardware makes its official debut, most likely. The feature – cited as "MFi game controllers" – was only given a minor mention on a developer-centric slide during the WWDC opening keynote, with Apple preferring to focus on more mainstream functionality for the bulk of the iOS section.