iPhone Fling mini Thumb Joysticks Revealed

The folks that brought you Fling, the joystick stuck to all of your iPads, Ten One Design, now bring you a smaller version for your tinier handsets. The Fling mini Game Controller is not only now and here announced, it's ready to be shipped out! You'll be thumbing your way to high scores across the board with some joysticks that stick to your device's face, blocking only the tiniest amount of space on the screen as it's made from transparent flexible material. Tiny gaming, here we come!
This controller comes in a pack of two and will be setting you back a total of $24.95. But what would you do with such a set of rubbery flippers? You take our your iPhone, you start up a game that requires you use on-screen joysticks, and you jam these little monsters on to your display. Suction cups on the backs of the sticks allow for simple, non-invasive connecting to the screen and you'll be jamming away at games galore before you know it.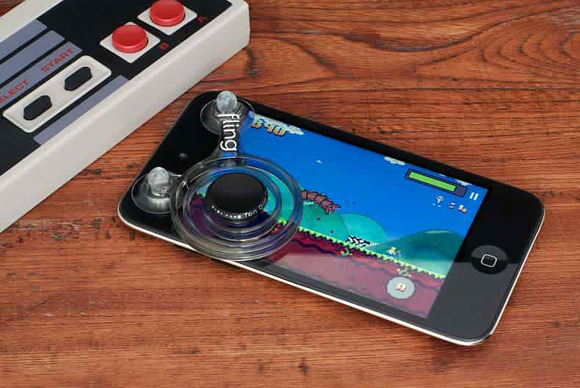 One of the most evil things about the transition we've been making between games that were made for consoles with controllers and games that are meant to be played on a single screen with no extra controllers is our desire to continue to play with controllers. I've got this single screen now, but my hands still want the original Nintendo controller. I want to play Mario, but my left thumb feels like it's about to tear off after about 10 minutes of playing (and we're talking ROMs here, so you know, but games like Death Worm have the same problem.)
What Ten One Design aims to do here is alleviate this dilemma with a bit of plastic in the form of a couple of knobs. You can purchase this set of sticks at Ten One Design today!