When it comes to the much-rumored "iPhone 8," we've long been hearing that Apple will debut the premium, flagship smartphone alongside the slightly updated iPhone 7s and 7s Plus. The belief is that the iPhone 8 will feature newer advanced features over the 7s models, namely an edge-to-edge 5.8-inch OLED display. Previous leaks have indicated that despite having a larger screen, the device will be smaller than the current 7 Plus thanks to significantly reduced bezels.
The latest evidence to back this up comes in the form of an image from China's Weibo claiming to show a trio of molds of the three new iPhone models. The mold in the center is the one for the so-called iPhone 8, and it reveals a device size that's much, much closer to the iPhone 7s on the right, with the left being the iPhone 7s Plus.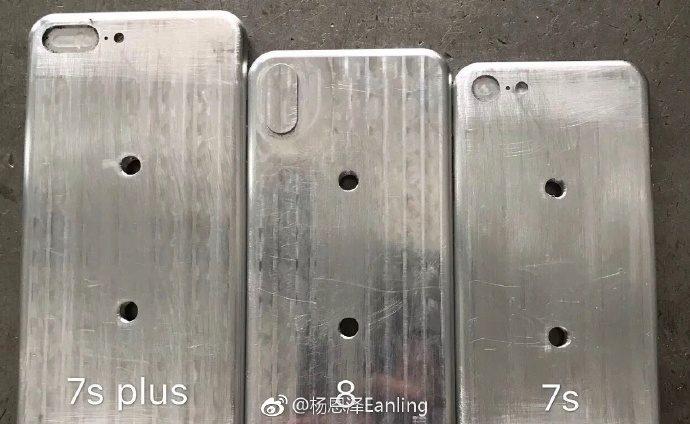 The mold for the iPhone 8 features a cutout for the vertically aligned dual camera lenses, another feature we've been hearing a lot about lately. Since the other iPhone models coming this year are expected to follow the pattern of Apple's typical "S"-updates, the 7s and 7s Plus should have the same physical dimensions as the existing 7 and 7 Plus, as well as their 4.7-inch and 5.5-inch displays, respectively.
It's important to note that molds like these aren't used in manufacturing the phones themselves, rather they're used for producing iPhone cases or other possible accessories.
Keeping that in mind, the image shows that the iPhone 8 could very well be just a little taller than the standard iPhone 7 we already have, and only a tiny bit wider, all with a display that's over an inch larger. That would make for an impressive change in the device-to-screen size ratio, all thanks to cutting down the bezels.
SOURCE Slashleaks