iPhone 6 and iPhone 6 Plus Review: Bigger is Better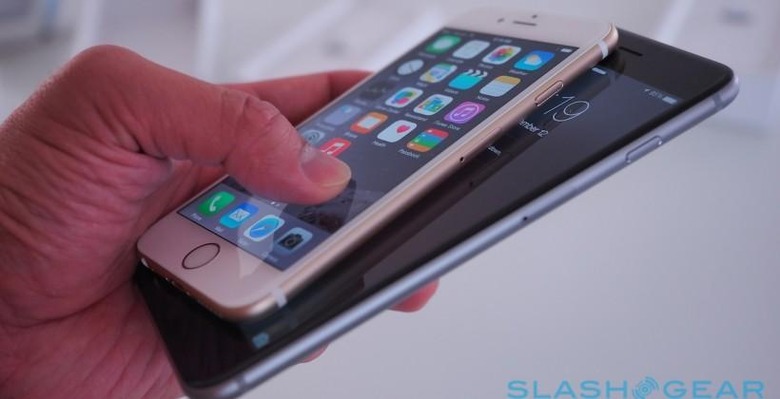 Apple promised us something big, and it delivered both metaphorically and literally. The iPhone 6 and the iPhone 6 Plus take Apple's flagship smartphone in new directions, finally bowing to consumer demand for larger handsets. These aren't just your old iPhone made bigger, however: a combination of broad hardware improvements and iOS 8 makes sure of that. Question is, does bigger mean better, or has Apple lost its legendary ease of use in the process? Read on for my full review.
Design
Nobody is going to presume you're carrying last year's phone. The iPhone 6 and iPhone 6 Plus introduce a brand new design language, recognizably "iPhone" in its styling but updated to accommodate the displays.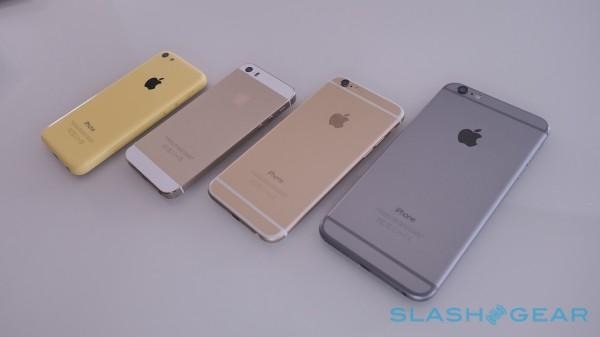 Gone are the crisp edges of the iPhone 5s, with smooth curves in their place. It's more than just rounded sides to the anodized aluminum, too: the toughened glass curves almost seamlessly into the body, like a meniscus bubble.
As the size has increased, so the detailing has become more careful. The volume keys are now semi-recessed lozenges, while the ringer mute switch has become smaller. On the opposite edge, the power button has shifted down to a new position, better placed for where your thumb or forefinger naturally falls.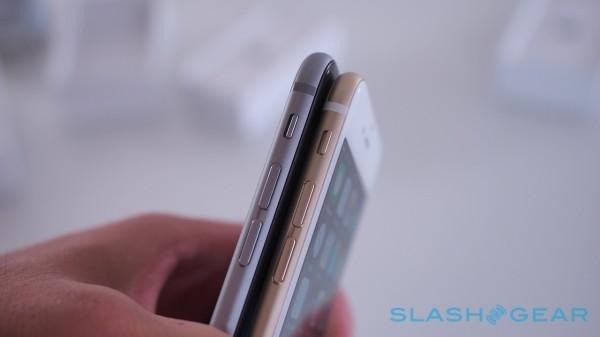 You can't fit a 4.7-inch or larger display into a phone that was previously 4-inches without an increase in size, though, and so both new iPhones are larger for this generation. The iPhone 6 comes in at 5.44 x 2.64 x 0.27 inches and 4.55 ounces, while the iPhone 6 Plus is 6.22 x 3.06 x 0.28 inches and 6.07 ounces.
A thinner body than the iPhone 5s – which, at 0.3 inches, is thicker than both new handsets – and the curves where the phone rests against your fingers helps disguise some of the increase, but the change is nonetheless clear. The difference between the old phone and the iPhone 6 Plus is considerable and, while many have been asking for such a large display, I've a suspicion that for many the 4.7-inch iPhone 6 will hit the sweet spot once they try out both models in-store.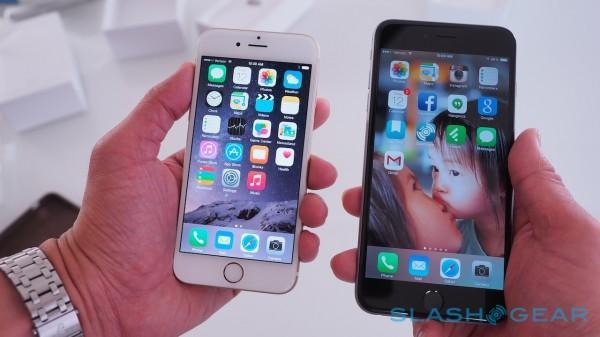 Whichever way your size inclination takes you, both iPhones are beautifully constructed. As before, there are space gray, silver, and gold color options, with matching or contrasting inset antenna strips, along with metal trim around the camera and the Touch ID button. The aluminum is thankfully not as smooth as, say, the HTC One M8, which can be slippery to hold, but I did drop the iPhone 6 Plus on a couple of occasions. A case might be a safe investment.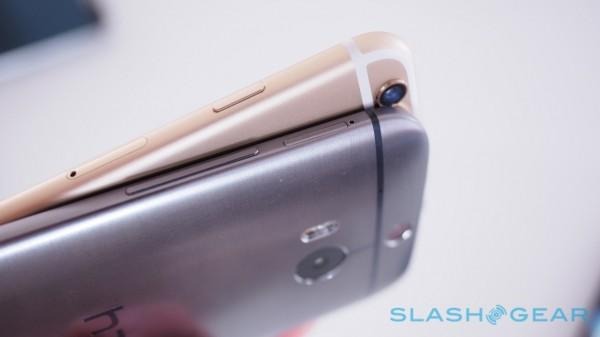 Retina HD
Breathless superlatives and iPhone 6 displays go hand in hand. Clearly they're both larger than before – 38-percent more viewing area on the iPhone 6, for instance, and 88-percent more on the iPhone 6 Plus – but the improvements go beyond size.
For a start, there's the resolution. The iPhone 6 comes in at 1334 x 750 for an iPhone 5s-matching 326 ppi pixel density. The iPhone 6 Plus goes even further, with Full HD 1920 x 1080 for 401 ppi.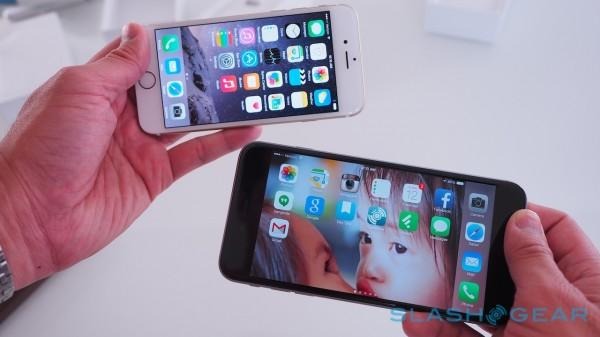 High-resolution screens aren't new, though; already there are a handful of phones with 4K panels, for instance. Apple's so-called Retina HD panels promise broader viewing angles thanks to dual-domain pixels – effectively each pixel is positioned at a slight angle – and sure enough even when you're looking at the iPhone 6 almost side-on, text is brighter and graphics clearer than compared to the iPhone 5s.
Apple also built in a new polarizer, which means you can now use the iPhone 6 while wearing polarized sunglasses without encountering odd colors. I've found it makes a big difference when you're in the car, using the new phone for navigation.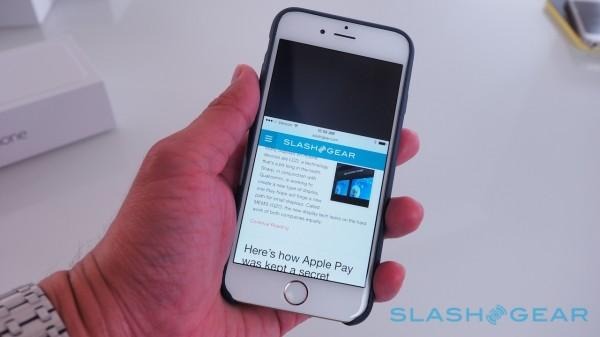 Steve Jobs notoriously criticized large smartphones as impossible to use one-handed. It's an argument Apple accommodated with the iPhone 5 by pointing out that the average thumb could still arc across the display and reach the far corner. For the iPhone 6 and iPhone 6 Plus, it's software which acts as a thumb extension.
Double-tap the home button – not fully press it – and Reachability kicks in, shifting the upper half of the screen down to occupy the lower half. It works system-wide and with any third-party app; you can either flick the screen back up, when you're done with it, or double-tap again.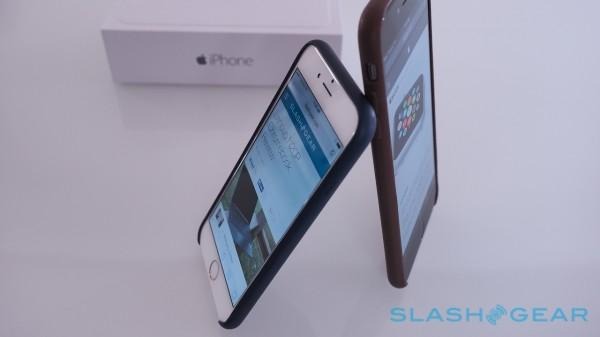 Reachability is simple but it works. Even with my relatively large hands, I struggled at times to reach across the iPhone 6 Plus' display without feeling like I might drop the phone; a quick double-tap, though, and I was easily able to hit targets that had been in the opposite corner.
One of the audiences most keen on a larger iPhone has been those with poor eyesight, and for them there's Display Zoom. There, the UI is effectively magnified so that it's as though you have an iPhone 5s but spread across a 4.7- or 5.5-inch screen.
By default, for instance, you get seven rows of icons on the iOS 8 homescreen (including the dock at the bottom); with Display Zoom turned on, that shrinks to six rows, just as on the iPhone 5s. It's simple but effective, though it would be great if you could set only certain apps to load in Display Zoom mode for those with more fiddly interfaces.
Hardware and Performance
Both the iPhone 6 and the iPhone 6 Plus pack the latest Apple A8 processor, the second 64-bit chip from the firm, and with a particular boost in graphics capabilities to offset the extra pixels it's expected to power.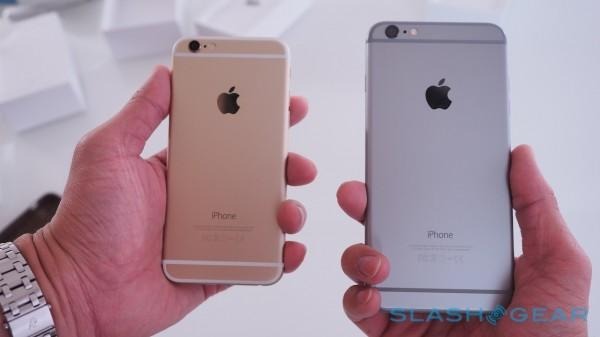 In fact, Apple claims the A8 is 25-percent faster computationally and 50-percent faster for graphics, despite being 50-percent more power efficient than the Apple A7 in the iPhone 5s. Actually fitting it into the slimmer phones meant shifting to a smaller production process, too.
The efforts have paid off, too. In Geekbench, the synthetic test of processor and memory performance, the iPhone 6 scored 1,601 in single core testing and 2,876 in multi core tests (versus 1,374 and 2,389 for the iPhone 5s, respectively). In the SunSpider test of browser performance, where faster scores are better, the iPhone 6 completed in 366.0ms, half the time it took the LG G3 and Huawei Ascend 7 to finish.
Meanwhile, media processing has improved, too. I tried editing and exporting a number of different video clips in iMovie, just as I did with the iPhone 5s, and the improvements are impressive. The iPhone 6 exported an 8 minute, 1080/60p clip in 4 minutes 45 seconds, while an 8 minute, 720/60p clip was done in 3 minutes 1 second.
For a 5 minute, 1080p clip, the iPhone 6 finished in 1 minute 39 seconds: in contrast, the iPhone 5s took 2 minutes 24 seconds to do the same thing. A 5 minute, 720p video was exported in 52 seconds, compared to 2 minutes 4 seconds for the iPhone 5s.
In short, whether you're using the iPhone 6 and iPhone 6 Plus as a mobile video studio, for gaming, or just for multitasking between email, browser, and other activities, there's more than enough speed on tap.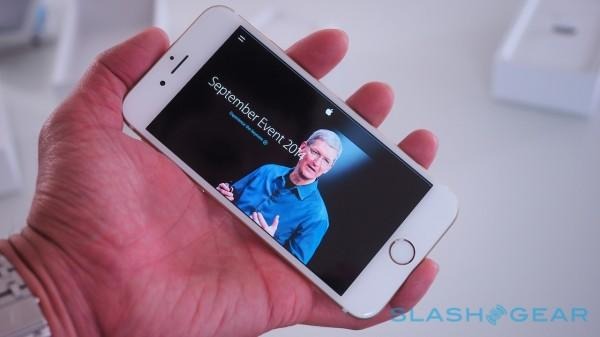 The A8 is paired with the M8 coprocessor, the successor to the M7 motion chip found in the iPhone 5s. As before, the M8 brings together the iPhone's various sensors into one low-power place: it's where you find the accelerometer, digital compass, gyroscope and, new to this generation, a barometer.
By offloading them from the main chip, Apple can run them for more of the time without having a significant hit on battery life. Adding the ability to measure air pressure, meanwhile, allows the iPhone 6 to gain an even greater insight into how you're moving.
So, whereas before if you climbed stairs or ran up a hill the M7 wouldn't necessarily give you credit beyond simple steps, the M8 can track changes in elevation and recognize that you're moving up or down. Improvements to the accelerometer mean it can better differentiate between walking and running, measuring distance traveled for both, and it works in tandem with the GPS chip to figure out your exact running stride, too.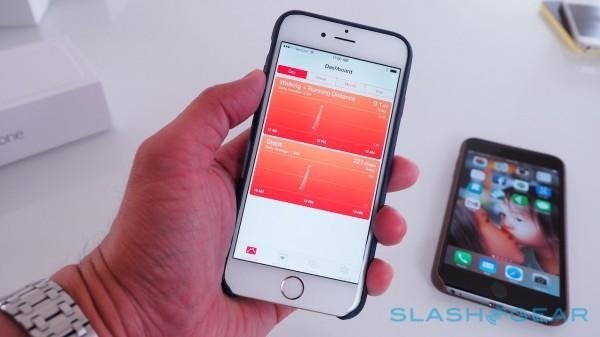 Previously, your iPhone could tell the difference between you walking, running, and driving, but the iPhone 6 can also work out if you're cycling as well. With Apple's new focus on HealthKit, its centralized store for movement and fitness data, those are abilities that third-party tracking apps will all be able to take advantage of.
As for other connectivity, Apple has six different versions each of the iPhone 6 and iPhone 6 Plus, catering to different LTE, HSPA+, and EV-DO Rev.A bands (up to 20 LTE bands in a single model, too). The LTE supports faster networks as well, in theory up to 150 Mbps though, as with any smartphone, the reality is you won't see speeds like that in the real world. Otherwise, there's WiFi a/b/g/n/ac, Bluetooth 4.0, and NFC, though the latter will only support Apple Pay for mobile payments initially.
Inside, there's either 16GB, 64GB, or 128GB of storage. The Lightning port is on the bottom edge, alongside a 3.5mm headphone jack and a row of six holes hiding the speaker. Although it may not be front-facing, as on some other phones, it's loud and surprisingly clear: certainly sufficient to pair with a video.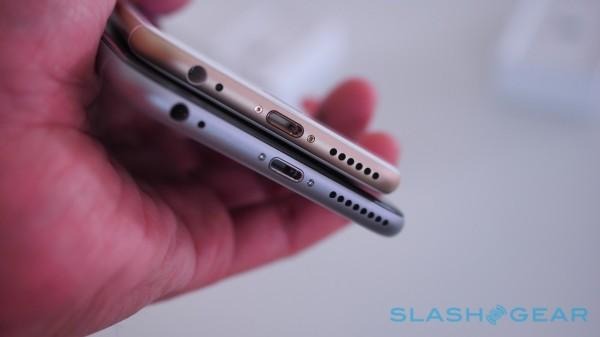 Touch ID and Apple Pay
Apple's fingerprint biometrics technology remains arguably the best implementation on a mobile device. Although the iPhone 6 isn't the only smartphone out there to support unlocking with a fingerprint, the flexibility of tapping from any angle and its overall consistency keeps it ahead of the pack.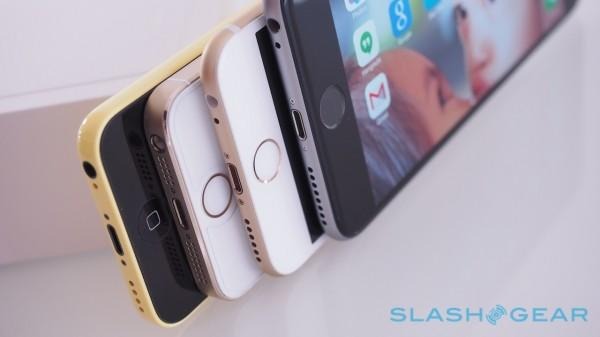 For the iPhone 6, Touch ID spreads beyond the lockscreen and authenticating the App Store, iTunes Store, and iBooks Store. There's now support for third-party apps to use it instead of a traditional password.
For instance, I tried out a beta of the new 1Password app, which manages all of the various login credentials for your social, shopping, and other accounts. Rather than typing in my password each time, I was simply able to tap my thumb on the Touch ID sensor. Given how much sensitive data we keep on our phones, Touch ID's spread throughout the iOS 8 ecosystem can't come soon enough.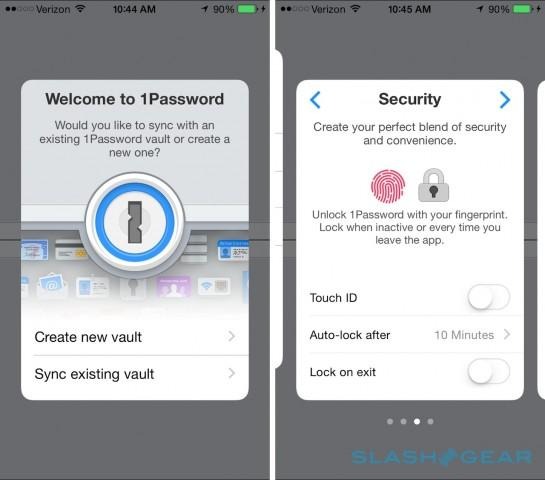 Your fingerprint is also the gatekeeper to Apple Pay, the iPhone 6's new mobile payments system. Effectively turning your iPhone 6 and iPhone 6 Plus into a virtual wallet, Apple Pay won't go live until October, though I had a chance to test the system in advance.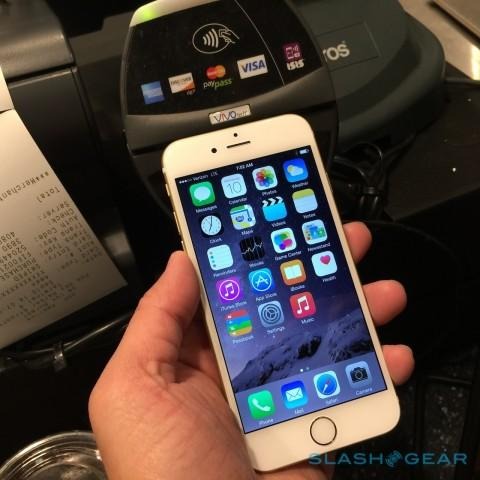 Once you've registered a credit or debit card – or simply given permission to use the same card you have registered to your existing iTunes account – it's a matter of holding the top edge of the iPhone 6 near a payment terminal in a store and then tapping the home button. The deciding factor will be retailer adoption, of course, though Apple Pay is off to a solid start with stores like Macy's, Whole Foods, Bloomingdales, and more.
Even if your favorite retailer doesn't have Apple Pay support out of the gate, third-party apps will be accepting it too. Uber, Starbucks, and OpenTable are all onboard, and the streamlining of setting up a new account – no longer having to entrust each app with your credit card details, or indeed go to the effort of punching in the numbers themselves – is welcome. I'll return to Apple Pay in more detail when it goes live in the US next month.
To Plus or not to Plus?
So you know you want a new iPhone, but which new iPhone will it be? By launching two versions of its flagship simultaneously, Apple has prompted device indecision of a sort we've never seen before from iPhone fans.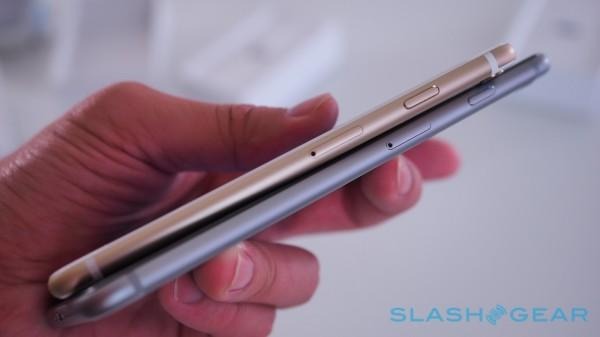 There's a knee-jerk reaction toward the iPhone 6 Plus. Over the past 18-24 months, there's been a shift to "bigger is better" in smartphone display size. That, plus the bigger battery, higher resolution screen, and optical image stabilization on the camera has left many assuming that the iPhone 6 Plus is the version to have.
I'm not so sure it's as clean cut as that. Even with Reachability, a 5.5-inch screen is huge and if you've got even average sized hands it requires that you accommodate it in how you typically use your phone. The 1080p display and extra real-estate pay obvious dividends if you're using iMovie to turn the iPhone 6 Plus into a portable video studio, but for everyday use I've found myself gravitating toward the iPhone 6.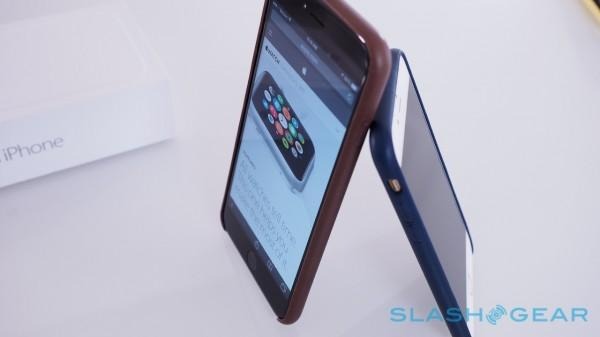 Yes, it may not have the same expansive display, but the minimal chrome in iOS 8 leaves most of the screen for content. Combined with Reachability, the fact that it's larger than the 4-inch iPhone 5s really isn't a consideration. It's maybe more successful at keeping one foot in the traditional iPhone camp, and one in this brave new world of iOS on bigger handsets.
Of course, the fact that the iPhone 6 Plus carries a $100 premium over the iPhone 6 might also make a difference to you.
The deciding factor might be what other Apple devices you already own. If you've got an iPad mini, the iPhone 6 Plus might overlap too much: I certainly found I was leaving my iPad mini with Retina display at home more often than not, and taking the iPhone 6 Plus with me in preference. iPad Air owners might find pairing it with an iPhone 6 gives the best of both worlds without too much cannibalization.
iOS 8
Hardware is only half of the iPhone 6 story: the new smartphone is also the flag-bearer for iOS 8, the latest iteration of Apple's mobile software platform. iOS 8 will be preloaded on the iPhone 6 and iPhone 6 Plus out of the box, but it'll also be offered as an upgrade to those who already have an iPhone, iPad, or iPod touch.
As of Wednesday, September 17th, if you have an iPhone 4s, 5, 5c, or 5s, an iPad 2, 3, 4, Air, mini, or mini with Retina display, or a fifth-generation iPod touch, you'll be able to download iOS 8 free of charge. I'll cover the headline improvements from the point of view of the iPhone 6 and iPhone 6 Plus below, though some older devices won't get every feature.
Interface and Widgets
iOS 8 doesn't unleash the same sort of huge design change on the iPhone that iOS 7 brought, but there are plenty of neat enhancements and tweaks.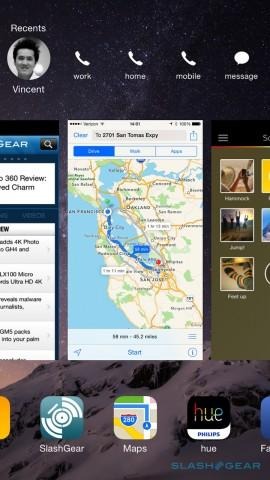 Spotlight searches, meanwhile, take a leaf out of OS X Yosemite's book, and now include Wikipedia articles, recent news reports, and places you're nearby in the results. The multitasking view now includes a row of shortcut icons above the app windows, allowing you to jump straight into the contact details of the people you communicate most frequently with: if you generally call them, then you'll see quick-dial buttons when you tap their icon, whereas if you more commonly use Messages then that will be among the options instead.
In the Mail app, swiping right on a message in the inbox marks it unread, while swiping left gives the option to flag it, archive it, or trash it altogether. On the iPhone 6 Plus, there's now a split-screen view in landscape orientation for Messages, Mail, Calendar, and some other native apps. In Mail, for instance, you can see both the contents of your inbox and the body of a message simultaneously, which makes triaging a full account a lot quicker than jumping between screens. Unfortunately, the smaller iPhone 6 doesn't get the same view.
What both phones get are widgets, in the notifications pane similar to what we've seen in Yosemite. Some apps will be able to put certain subsets of their functionality right into that pane, such as showing how much cellular data you have left in the current month, what the scores were for your favorite teams, or what the latest updates were on a social network.
As on Yosemite, widgets can be reordered or hidden, and it will be up to developers to manually add support for them into their apps.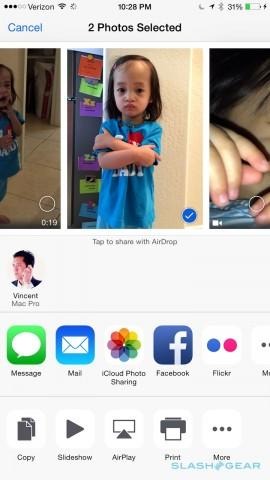 Maybe the biggest interface improvement from my perspective is iOS 8's new sharing support. Previously, tapping the share button only gave options for the methods Apple itself had directly added, like Messages or Twitter. That meant, even if you had a third-party app you wanted to share to, like Dropbox for instance or a different social network, you couldn't do so using the regular share dialog.
With iOS 8, other apps will be able to add their own shortcuts to the share menu. It'll demand an updated version of the app before that happens, but after that they'll show up as options alongside Apple's default. It'll also be possible to reorder the list, to move up those apps you use more frequently, or indeed hide apps altogether.
It's a huge improvement that should leave iOS feeling a lot more open, not to mention cutting down on the amount of app jumping you do.
Notifications
The iPhone 6 and iPhone 6 Plus' bigger displays may have more room to work, but iOS 8 supports doing more with less space when notifications come in. Alerts are now interactive, so you can pull down on a new email or some other notification and respond to it right from the top of your screen.

There's support for texts, email, calendar invitations, and reminders, along with notifications from third-party apps, though don't expect everything to work straight away. Developers will need to add specific support for interactive notifications, otherwise while you can preview a little more of them by tugging down on the alert, there's no way to actually respond.
So, email to Apple's own Mail app could be replied to, but messages arriving in the Gmail app demanded you open Google's app itself. Similarly, I could reply to IMs through iMessage from the notification, but not to Google Talk chats.
Keyboards
Text entry has had a double upgrade in iOS 8, starting with a new default text input system for the iPhone 6 and iPhone 6 Plus, but also adding support for third-party keyboards. Apple's QuickType keyboard makes more intelligent suggestions now, taking into account not only the context of what you're typing but the app you're typing in, and what you've typed before.
So, the keyboard quickly learned that I had certain common phrases that I use in iMessage chats, and suggested those in favor of more generic terms. The words offered up are different depending on the app: brevity is assumed in text messages, for instance, whereas when you're writing an email the suggestions can be more complex.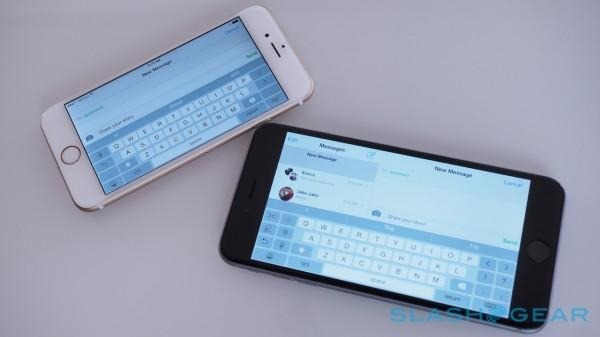 Flip into landscape orientation, meanwhile, and the extra width of the screen on the iPhone 6 and iPhone 6 Plus is used to accommodate some new buttons. On the left, you get shortcuts for voice dictation, undo, and emojis, as well as the comma, while on the right there are navigation controls and the period key.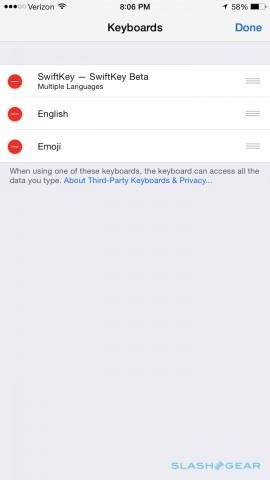 If you've never got on with Apple's on-screen keyboard, however, iOS 8 offers the flexibility to pick a different one. Third-party keyboard support is a welcome addition; I've been trying out SwiftKey on the iPhone 6 Plus, for instance, and its swipe-based text entry works great on on the large display.
I did encounter a couple of glitches along the way, however. Apple's new landscape keyboard layout didn't show up in certain third-party apps – in Gmail, for instance, it was the old-fashioned layout but blown up to fit the width – while I'm told a Facebook bug where if you're using a third-party keyboard you can't upload pictures in the iOS app will be fixed in the next release.
I also found the QuickType keyboard has a tendency to want to come back, even when you're using a third-party version. At times, even though I'd set it to SwiftKey, the iPhone 6 Plus would automatically switch over to Apple's default 'board instead.
Those glitches are almost certainly going to be ironed out in short order, but more significant is the absence of voice dictation support for third-party keyboards. Apple is keeping that recognition engine for itself, so if you want to dictate you'll need to be using the official keyboard.
Messages
Apple's iMessage system has always been one of the easier ways to keep in touch, and in iOS 8 it's getting a multimedia update.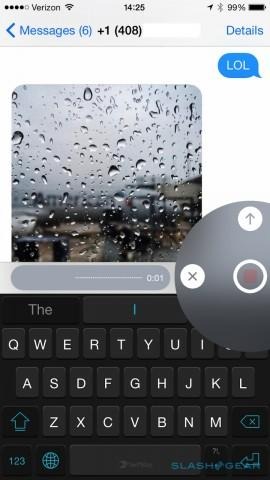 Tap and hold the microphone button to the right of the message box and you can record an audio clip; sliding your thumb up and releasing sends it. When you receive a message, you can either press the play button to hear it out loud, or lift the iPhone 6 to your ear to hear it privately.
There's a similar streamlined way to send video messages, too, while group messages are easier to manage with the ability to rename them, individually mute their notifications, and control who's included and who isn't. Location sharing has been added, too, similar to Glympse, with the ability to expose your current position for an hour, until the end of the day, or indefinitely. Tapping someone with a shared location brings up a map of their position.
Photos
The photos app is no longer a simple gallery, but integrates a range of editing tools that I've found in many cases allow me to completely bypass the tweaks and changes I'd commonly be doing on a desktop.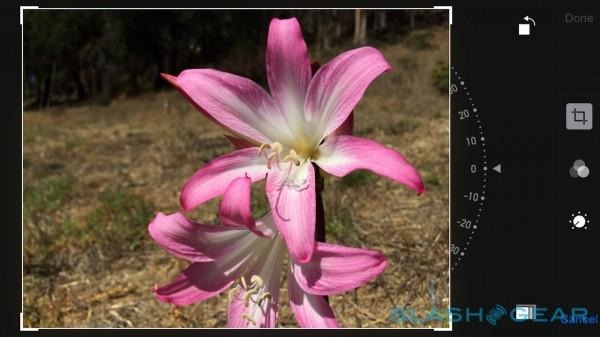 There's automatic horizon straightening and cropping, as well as sliders to control lighting and color: in fact, several different criteria are being changed behind the scenes, like exposure, brightness, and contrast, but all handled by a straightforward scroll bar.
If you're not willing to leave the iPhone 6 to handle it, you can tap through and make manual changes to each of the factors. Unfortunately there's no way to "teach" Photos how you prefer the balance to be set for future edits, but you do get support for filters – by Apple and third-party developers.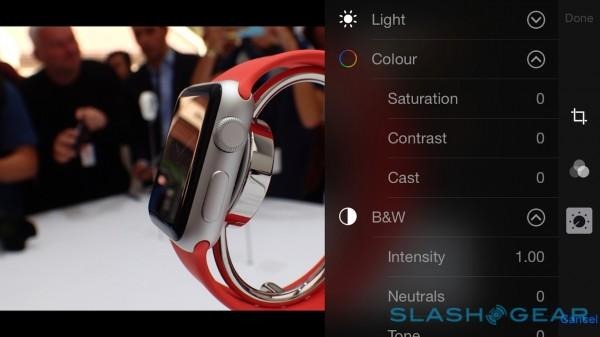 All of the editing tools are available for third-party apps to use this time, too, and it's now possible to send multiple photos in Messages rather than having to select them one by one.
Health
Health and fitness tracking is big business now, and the value of understanding your daily routines and how you could improve them – whether that be diet, activity, or something more medically specific – continues to grow. Apple's take is the Health app, and the HealthKit framework behind it, a dashboard for the various fitness metrics being collected about you.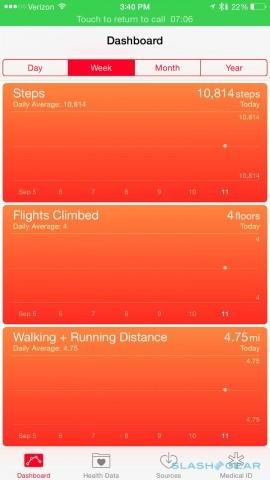 Think of Health more as an umbrella than a service in its own right. The data fed into it – and plotted on colorful graphs, tracking the course of a day, week, month, or year – comes from the various platforms you're probably already using. Your pedometer app or wristband, for instance, might contribute the number of steps you're taking, while your food logging app could share your calorific intake.
The intention isn't just a single place to find all that information, but open the door to sharing it and combining it in more interesting ways. Right now, most fitness wearables keep what they've tracked in silos, hoarding it to a single platform. Shared with HealthKit, however, and you could compare things like heart rate, blood pressure, steps taken, and food consumed, all gathered by different devices and apps but mashed up in Health.
Then, any app given permission to access what Health has aggregated will be able to perform more comprehensive analysis based on data from more than its own individual silo.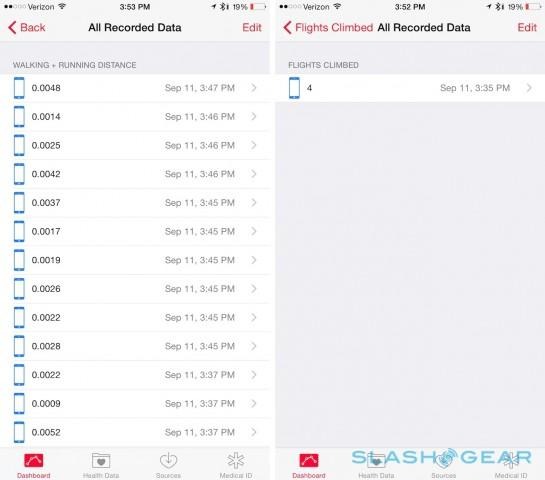 It's early days for Health, certainly. In fact, I had an early glitch, where it wouldn't register any content after I restored the iPhone 6 from an iPhone 5s backup; installing a new pedometer app fixed that, and the data came flooding through in real-time. Still, we're already seeing early signs of developers and platforms looking to get involved.
Jawbone, for instance, is working on a new version of UP that would use the data from the M8 motion coprocessor rather than demanding the company's own wristband. Once the Apple Watch arrives, Jawbone aims to use movement data from that, too. I doubt they'll be alone in taking that strategy.
Continuity and iCloud Drive
If you've got an iPhone 6, there's a fair chance you'll also have a Mac, and the interconnectivity between the two has increased with iOS 8 and OS X Yosemite. It's hard to overstate how much easier it is to use AirDrop to transfer files between phone and desktop now cross-platform support has been added, particularly in contrast to how frustrating it can often be to do the same thing on Android or Windows Phone.
i was able to quickly copy over a folder of documents from Mac to iPhone 6 Plus for reading on the go, and then swap over a selection of photos and videos I'd captured when I got back to my desk. No cables, no passwords, no cloud intermediary: AirDrop just worked.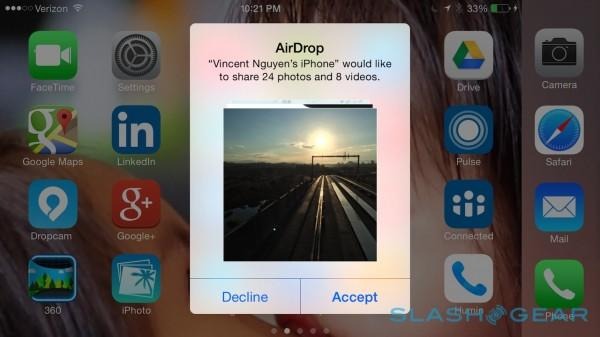 Once Yosemite rolls out, there'll be Continuity, too. Start an email on your iPhone 6 and then decide you'd rather type it out using a full keyboard? Once you get near your Mac, you'll see the draft-in-progress show up in the bottom left corner, ready to pick up where you left off.
It works in the other direction, too. If you're in the middle of a document on your Mac, you can quickly pull it up on your iPhone 6 Plus in Pages and continue as you leave the house. It's called Handoff, and it supports Mail, Safari, Pages, Numbers, Keynote, Maps, Messages, Reminders, Calendar, and Contacts, from the start, with developers also able to add support into their own apps.
Continuity also includes easy hotspot setup, with Bluetooth used to flag up to your Mac that the iPhone is nearby and automatically – once you've given permission the first time, at least – starts a mobile hotspot session to get you online.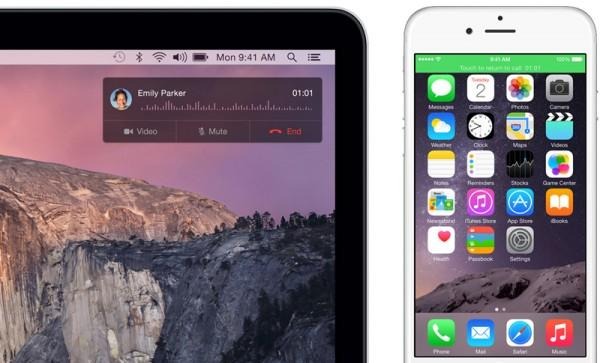 Most useful is the ability to remotely send and receive SMS and MMS messages through your phone, with them showing up in Messages on the Mac but appearing, to the recipient, as though they're coming from your regular phone number. There'll also be the ability to use your Mac as a speakerphone for voice calls through the iPhone.
As for iCloud Drive, that expands iCloud's photo backup into a full online file store, for any documents, images, and other content that you might want to access across iOS, OS X Yosemite, and even PC.
Camera
Throwing megapixels at a smartphone camera and expecting better results has been a flawed strategy for a couple of generations of handset, and the iPhone 6 opts out of that race to take a different approach. On paper, the slightly protruding camera gives you 8-megapixels, just as you got before on the iPhone 5s, but it's actually a new sensor and how those pixels operate is different.
Apple calls them Focus Pixels, and the idea is that each not only captures light but the angle at which the light hits the sensor. Knowing that, the iPhone 6 can use a type of autofocus similar to phase-detection, usually only found in full DSLR digital cameras.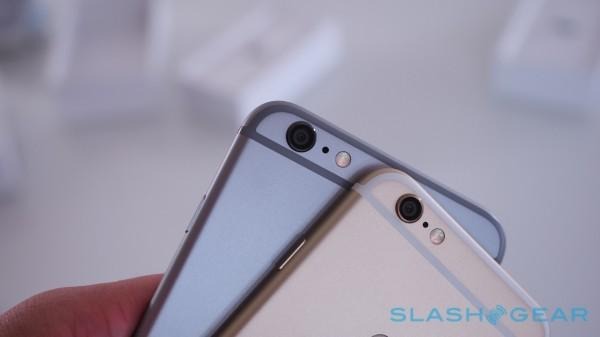 The promise is a faster, more accurate autofocus lock, and while the technology is complex, the end result is easy to grasp: the iPhone 6's camera is incredibly quick. There's hardly a moment's delay when you open the app and before the camera gets a fix, and it keeps on going too, not getting confused by moving subjects like some smartphones can. My previous pick of the smartphone cameras had been LG's laser focusing system on the G3, but the iPhone 6 feels faster still.
It's not the only improvement, either. Apple's camera app has always been straightforward – perhaps too much so, given the tweaking some users like to do – and so now a simple slider controls exposure in the preview window. You can adjust by up to four f-stops in either direction, making the final image brighter or darker.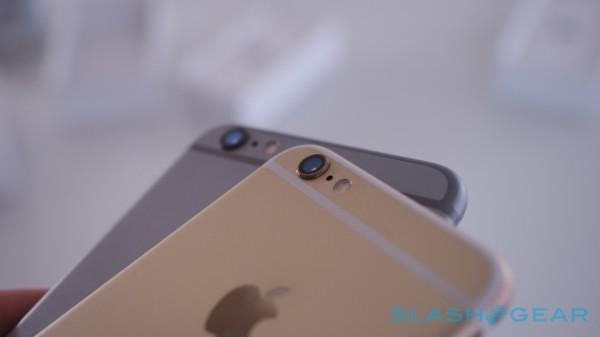 Face-detection is improved, even when individuals are further away from the you, and there's more accurate blink and smile detection. Panoramas have been supported for some time, since the iPhone 5 in fact, but now they're captured at even higher resolution: up to 43-megapixels, in fact. A feature I loved from the iPhone 5s, the dynamic auto-exposure which keeps working as you pan and avoids any unduly murky or overly bright portions of the frame has been carried over, too.
So far, both the iPhone 6 and iPhone 6 Plus are the same, but the larger handset carries an extra advantage: optical image stabilization (OIS). The iPhone 6 relies on software to smooth out the impact of shaky hands and other causes of wobble, and it works well in most circumstances. However, the iPhone 6 Plus takes things up a notch by physically compensating for how you're holding your phone.
The M8 motion coprocessor, gyroscope, and the A8 processor all figure out how the iPhone 6 Plus is moving around and then actively shift the lens from side-to-side to counteract that. Meanwhile, the software plays a part too, with the camera simultaneously snapping long and short exposure images and combining the best of each.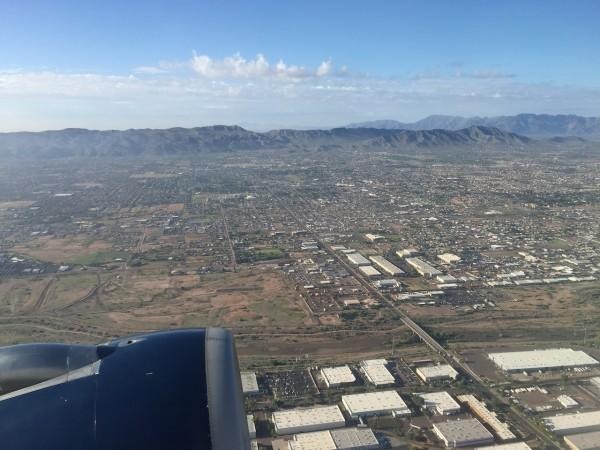 As with Focus Pixels, it's fiendishly complicated stuff, but also as with the autofocus system, it's incredibly straightforward for the user to benefit from. Low-light pictures look better, because the camera can snap longer exposures without introducing blur, while even just panning around to capture people as they ran around in front of me was free of smearing.
Turn the iPhone 6 around, meanwhile, and you find the updated FaceTime camera: still 1.2-megapixels, in a market where 5-megapixels can be found on several other phones, but paired with a new, larger f/2.2 aperture for brighter shots.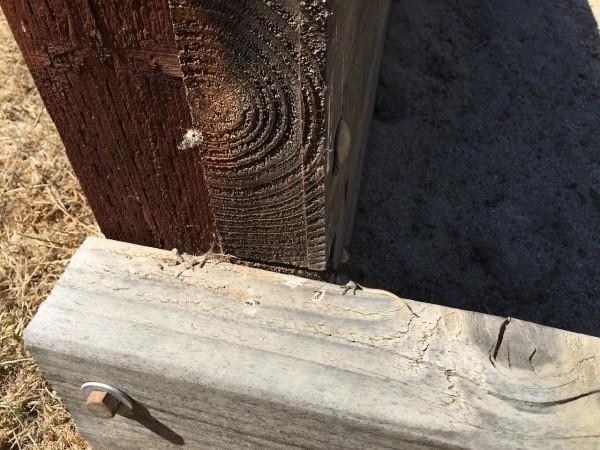 I'll happily sacrifice higher resolution for the single-shot HDR photos and videos, which help even out the dark and light portions of the frame. There are basic manual controls there, too, with a slider to adjust how bright the image is. A burst-mode, meanwhile, snaps ten frames in rapid succession and then sifts through them to pick out those selfies where people are smiling and have their eyes open fully.
Behind the scenes, meanwhile, there's support for the H.265 codec which effectively means better compression for video and so FaceTime HD calls that are less demanding on your monthly data plan. Arguably best of all is the fact that developers will be able to tap into the new iSight technologies. Updated APIs mean third-party apps can gain access to the focus, exposure, and white balance systems, along with the hardware encoders.
Then there's video. Apple has opted to step up the maximum frame rate – now 1080p at 60fps, from 30fps on the iPhone 5s – rather than give the iPhone 6 and iPhone 6 Plus 4K capture, even though as the third-party 4K camera app proves, the hardware is certainly capable of it. Still, it feels like the right decision given that Ultra HD displays are still a rarity. The faster frame rate means you can pull out more usable stills from recorded footage, too.
Focus Pixels work during video recording as they do for photos, and it's equally impressive. Filming my daughters as they ran around during playtime, the iPhone 6 was easily able to keep the frame crisp even as they quickly moved closer and further away from the lens. There's far less of the focus hunting which can be an immediate giveaway that you've been filming on a phone.
Even if you have the iPhone 6 Plus, you don't get optical image stabilization during video recording. Instead, Apple has a software system dubbed cinematic video stabilization, and I was surprised at how well it works. Give it a very jerky scene and there's some inescapable wobble, but for the most part it irons out shaky hands or even the movement of a vehicle in motion.
There are some fun additions to the video recording as well, like time-lapse, which automatically pieces together photos taken at intervals of your choosing into one long segment. You'll need a stable place to stand it, but it's a great way to show how the sunlight changes over the course of the morning, or how the night sky changes.
Finally, there's an improvement to slo-mo video, with the option to record at 240fps rather than just 120fps as before. As before, you can choose which portion of the video is slowed down and which is viewed at normal screen.
Phone and Battery
Providing solid voice call support is table-stakes for a modern smartphone – sure enough, I had no issues being heard on test calls, and the speakerphone is loud and clear – but the iPhone 6 steps up its game with a few cutting-edge enhancements.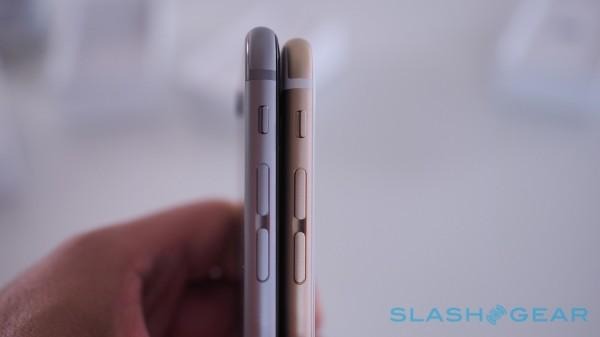 VoLTE or "Voice over LTE" support will be one of the biggest differences, shifting voice calls to the 4G network and improving audio quality in the process. It'll be a particular improvement if you're a Verizon customer or use another CDMA network: traditionally, your LTE data connection has dropped when you're making a voice call, limiting you to WiFi for browsing, but with VoLTE you'll be able to do both.
In the US, VoLTE is being rolled out on Verizon, AT&T, and T-Mobile USA. International carriers will vary in their support, and since both operator and device need to be upgraded for VoLTE to work, not everybody will get to enjoy it from day one.
Even rarer will be WiFi calling, initially only supported on T-Mobile USA and, in due course, on EE in the UK. As you might have guessed from the name, WiFi calling shifts your voice conversations to your WiFi data connection, though still allows you to place calls that look like they come from your cellphone number.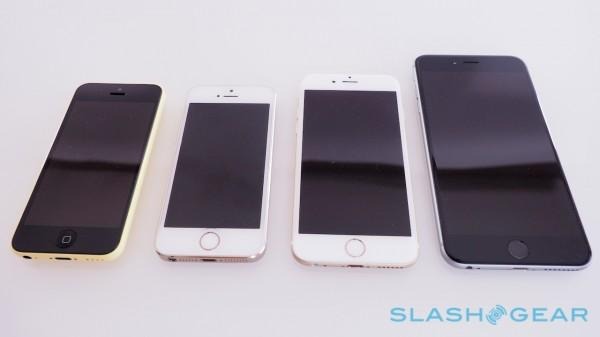 Move out of WiFI coverage, meanwhile, and the iPhone 6 should automatically hand over the ongoing call to the VoLTE network, rather than force you to redial. Other carriers, like AT&T, say they'll be joining the WiFi calling party sometime in 2015.
Battery life benefits from the larger form-factor: Apple can simply squeeze a bigger battery inside. The flip side, of course, is that a bigger screen requires more power to run it. Nonetheless, Apple's official estimates for how long the two phones will last have increased compared to the iPhone 5s, and my experience with both suggests that holds true in practice.
On paper, the iPhone 6 should last for up to 14 hours of 3G talk time or up to 10 days of standby, Apple says. Alternatively, it's rated for up to 10 hours of LTE internet browsing, up to 11 hours of WiFi browsing, up to 11 hours of video playback, or up to 50 hours of audio playback.
As for the iPhone 6 Plus, Apple suggests that can be used for up to 24 hours of 3G talk time or up to 16 days of standby. Up to 12 hours of LTE or WiFi browsing is suggested, or up to 14 hours of video playback or up to 80 hours of audio playback.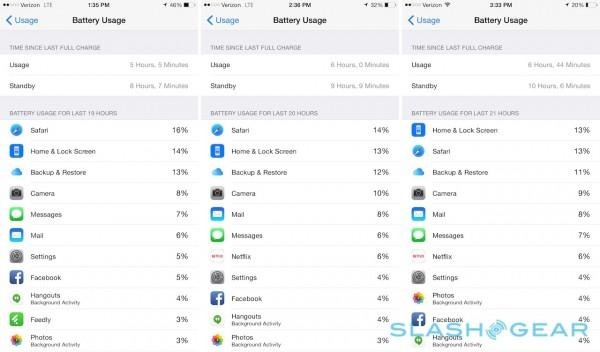 In practice, with mixed use, I got more than a day of use on a single charge from both models. That includes push-email, instant messaging, using the camera for stills and video, browsing in Safari and using Apple Maps, a few phone calls, and some streaming audio and video.
Still absent is native wireless charging, but with a Lightning connection the iPhone 6 does recharge very quickly. After an hour plugged in, the iPhone 6 had topped up its battery by a third.
Wrap-Up
Needing to choose between two high-specification iPhones is a good problem to have. Pre-order customers have already voted with their wallets: the iPhone 6 and iPhone 6 Plus have given Apple its most successful smartphone debut to-date. The results could be eye-opening, too, once pre-orders start arriving and the sheer scale of the iPhone 6 Plus becomes apparent to users more familiar with 4-inch displays.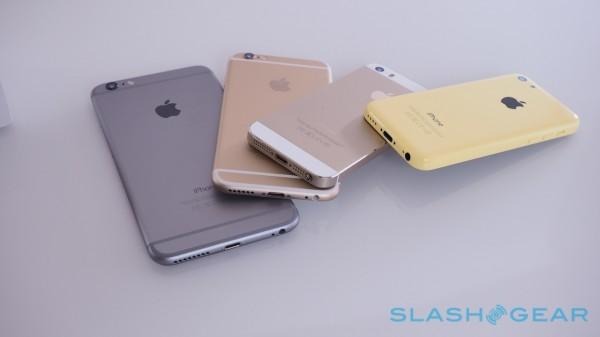 I'm relieved Apple took a two-pronged approach and offered both the iPhone 6 Plus and the more mainstream iPhone 6. Yes, you lose OIS if you opt for the 4.7-inch iPhone, but in its place you gain the practicality of its more convenient scale.
The iPhone 6 Plus won't be short of fans, and indeed I love its multimedia abilities and how productive I can be with it, but unless you're an avid gamer, a determined mobile video pro, or insist on as much time away from the AC adapter as possible, the iPhone 6 feels like a more encompassing option.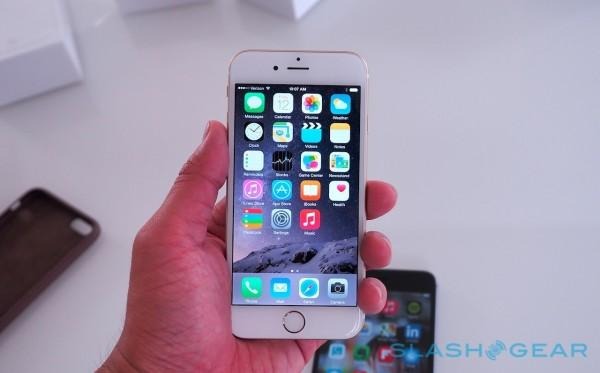 Make no mistake, much of this winning hand comes down to iOS 8 and the improvements Apple has made there. It feels a more open platform, Apple finally allowing developers access to APIs, menus, and hardware that would normally have been blocked off. Those who choose to stay with the iPhone 5s they're familiar with will find plenty to appreciate once they update.
Times change, however, and the smart smartphone changes along with them. The public asked for bigger and Apple delivered not only bigger but better, too. A stunning Retina HD display, blisteringly fast A8 processor, and class-leading connectivity make these the best iPhones ever. 2014 has been a great year in mobile, and Apple just raised the bar even higher.