iPhone 5S leak tips dual-LED flash and more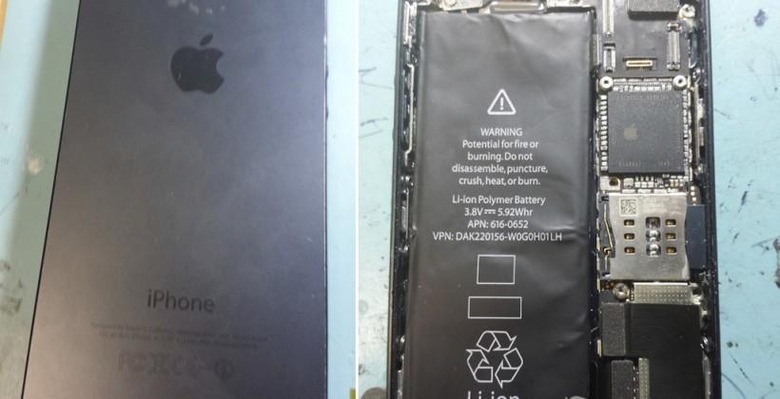 Could this be the new, dual-flash toting iPhone 5S set to hit shelves later in the year? That's certainly the suggestion, with leaked images showing what's tipped to be Apple's refreshed flagship smartphone ahead of its official unveil. MacRumors ran through the details to be gleaned, summarizing that – while no Apple leak can ever be considered entirely safe – there are some strong signs that this is Cupertino's new toy.
For a start, there are strong similarities between what's going on inside this particular leaked handset and previous leaks. Earlier in the week, we saw images purportedly showing the iPhone 5S' logic board, and the two look the same, aside from the labeling being left off the new processor.
In fact, whereas previous iPhone processors were labeled with their A-series name – such as A6 in the iPhone 5 – there's no such legend on the leaked device. Instead, it makes do with an Apple logo alone. MacRumors also points to the 1243 date code just visible on the processor, which indicates an October 2012 manufacturing date; that could well suggest it's the same A6 as before, though whether that's simply because this is an early prototype before final CPUs are ready, or that Apple is sticking to the A-series part, remains to be seen.
On the back, there's a bigger flash opening – now a lozenge shape, rather than a circle – also fitting in with schematics leaked this week said to be showing the new iPhone 5S. Several previous rumors had suggested Apple was to upgrade to a dual-LED flash for increased power, and this new opening would certainly accommodate that.
Apple leaks are big business, and are often more hopeful than accurate. Still, this new device certainly fits in with what's expected of Apple this year: a more evolutionary update to the hardware, while iOS 7 takes center-stage.
Meanwhile, there's also the ongoing chatter of a second, more affordable iPhone, for more affordable price plans. That would have a plastic body in a variety of different colors, leaks have suggested.
VIA Engadget