iPhone 5s in gold first to sell out: reports of boosted production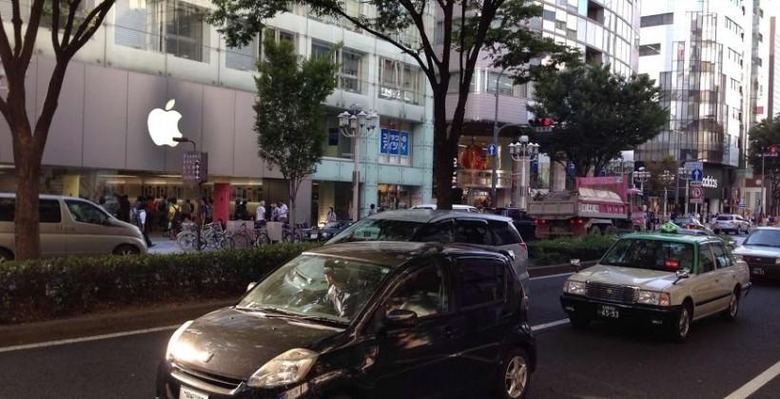 Starting at 8AM local time here in the United States (that's local whatever time zone you're in), the iPhone 5s will be going on sale – and at midnight (this morning) the iPhone 5s in gold was the first to start flying off digital shelves. It's become readily apparent not only online, where at Apple's online store you'll find the gold iPhone 5s kicked back to a general October ship date, but in store openings across the nation (through mountain time, at this point) that the gold iPhone 5s is headed for short supply. Meanwhile those satisfied with their older-model iPhones appear to be asking line-goers and online sources in droves: when does iOS 7 come out? Good news: it was released Wednesday, two full days before the iPhone 5s or iPhone 5c hit the hands of consumers.
According to an anonymous source speaking with the Wall Street Journal, Apple has already requested suppliers increase production on gold iPhone 5s parts in the wake of early demand. This increase is said to be "by one third" as online sales sold out within hours.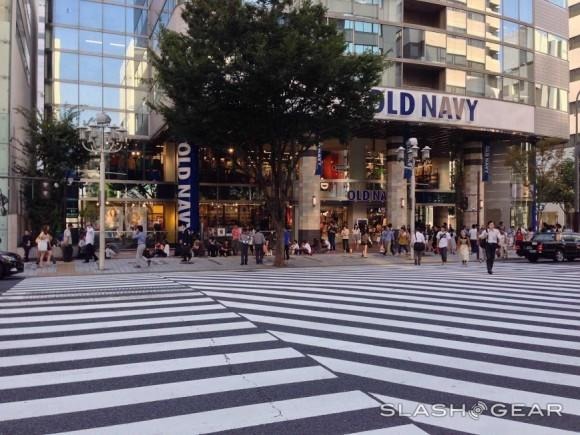 It should be made clear here that "sold out" doesn't mean there's not going to be any more gold iPhone 5s, but that supply is at a point where Apple is suggesting they'll certainly be able to get a phone out to users by October rather than the 7-10 days of a fully-stocked device. Meanwhile stock as begun to flow into eBay where you'll find auctions beginning to reach the $900 USD range for an unlocked 16GB gold iPhone 5s – that's around $250 more than you'd pay in-store.
Photos above come straight from Nagoya Japan, where lines were two blocks long in the early hours leading up to launch today. There we (we're in Japan, yes indeed), saw as many as 300 people in line at one Apple Store well before doors opened. We've also got a full iPhone 5s review alongside an iOS 7 review for your perusal while you're waiting in line yourself today, if you do so wish to take a peek.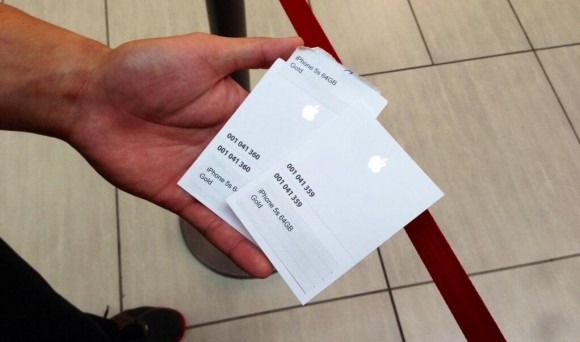 According to Fast Company, users on the streets in London are suggesting several stores are sold out of iPhone 5s entirely. These are unverified reports, but substantiated by more than one citizen, as it were. Up in Canada, Surinix reports at least one Kitchener Apple store has sold out of 64GB iPhone 5s models in all colors – the image you see above comes from Surinix (aka Thientam Bach) as well. Below you'll find what may be the first word on sales from Apple, as shared with AllThingsD this morning:
"Demand for the new iPhones has been incredible, and we are currently sold out or have limited supply of certain iPhone 5s models in some stores" – Apple representative
The Apple Store wasn't the only one to open up sales of the iPhone 5s today – one Verizon store in Fort Wayne, Indiana sold out of all models of the gold iPhone 5s while the silver (or white, if you prefer) model was in "short supply" – meanwhile it would appear that all models in Space Gray continue to be ready to roll. According to 9to5Mac, most retail outlets – aka every store with iPhone 5s models that isn't an Apple Store today – are working with "almost no gold or silver" while Space Gray was supplied in far greater numbers.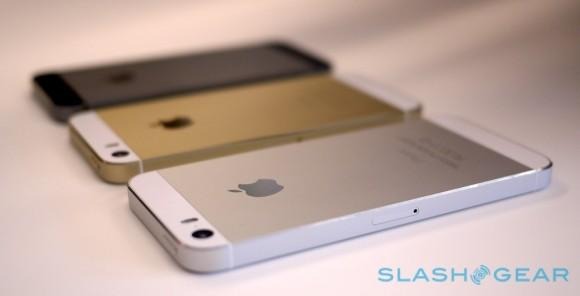 At the one and only Apple Fifth Avenue store in Manhattan, CNET reports that the gold version of the iPhone was "in short supply." It's also been suggested that this flagship store "had no supply" of the iPhone 5s 64GB gold edition at all. CNET's chat with "the first people in line at Apple's flagship store" (Fifth Avenue) confirmed that this store specifically was not stocking the gold version of the largest-capacity gold-colored iPhone 5s.
Whether or not this is an isolated incident is not yet clear. We'll be keeping an eye on supply and demand for this and the iPhone 5c in the days ahead – don't forget to take a peek at our iPhone 5c review while you're at it: in yellow!