iPhone 5S Gold Edition Surfaces In France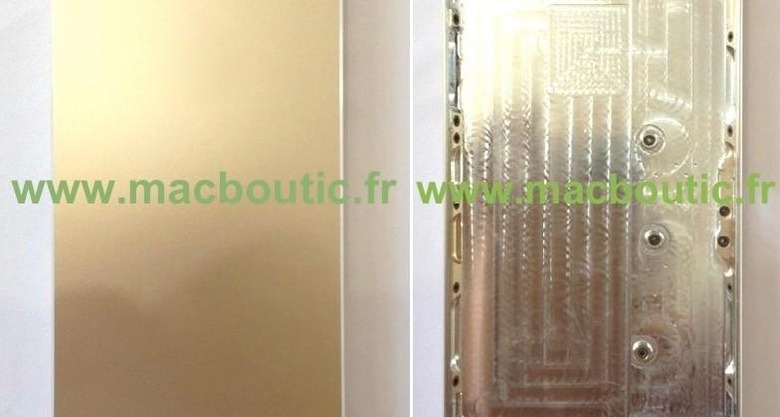 In the array of photos of the iPhone 5S that've we've seen over the past few weeks, one set of "Champagne" or otherwise gold-colored parts have appeared: today we can make that two. What's appearing to be a set of gold iPhone 5S parts have arrived at Mac Boutique where they've suggested the device to have its logos "blurred" for one reason or another – in other words: they're deliberately edited out. These parts appear to match leaks of this next-generation device we've seen in silver and black as recent as early this week.
This gold edition of the iPhone 5S would present a third color choice for the likes of the incremental update of the iPhone 5. The release of this third color would come amid the reveal of the iPhone 5C, a lower-cost edition of the iPhone 5 with a plastic back casing and a variety of color choices to boot.
In other words, Apple would appear to be preparing for a rather colorful event to reveal the lot of these devices soon.
According to the most recent suggestion for time – one we're inclined to believe due to some never-fails assurances – there'll be an Apple event on the 10th of September. This would place the reveal of the iPhone 5S and iPhone 5C at just after whatever's revealed at IFA 2013, the Berlin-based technology convention. There the iPhone would be free of any news-drowning release waves from Germany and well away from any other similar device releases.
Have a peek at the timeline below to see where else the iPhone 5S has been appearing recently. It's been showing up – for the most part – in silver, but it'd be an absolutely wild oddity if a black edition did not appear right alongside the white (aka standard gray, silver, whatever you'd like to call it for iPhone 5).
VIA: Engadget