iPhone 5 targeted in new Samsung Galaxy S III ad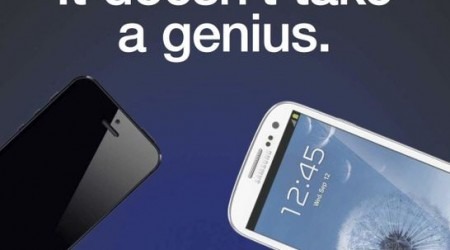 If you had to pick between the iPhone 5 and the Samsung Galaxy S III, which one you choose? A new ad from Samsung looks to make the decision easy. Rolled out over the weekend, this new ad compares the specifications of the two phones side-by-side, saying that "it doesn't take a genius" to figure out which one is the better phone.
That phrase, obviously, is taking a shot at Apple's famous Geniuses, who pop up in Apple's stores to tell you all about the company's products. Looking at the full ad below, you can see that the list of specs and features for the Galaxy S III is quite a bit longer than the one for the iPhone 5. Naturally, Samsung points to the S III's 4.8-inch screen running at 1280x720 resolution while the iPhone 5 has a 4-inch one at 1136x640. Both offer 1080p video recording, and while the iPhone 5 may be smaller, the Galaxy S III has it beat when it comes to RAM (2GB to iPhone 5's 1GB) and talk time (11.4 hours to iPhone 5's 8).
The Apple faithful have since bitten back with an ad of their own, this one titled "Don't settle for cheap plastic." In this ad, we see the iPhone 5 sporting the longer list of specs and features, with around the second half of Samsung's list for the Galaxy S III missing entirely. You can see both full-size ads by clicking on their respective thumbnails below.
What's the takeaway from all of this? You should probably just pick the phone that suits you best instead of obsessing over comparing specs and features. After all, there's a reason why the Samsung Galaxy S III has sold 20 million units since launch, just as there's a reason why people line up year after year to pick up the latest iteration of the iPhone. Don't expect this to be the last of Samsung's assault on the iPhone 5, however, as the company is rumored to have a commercial in the works that aims to pull people away from the allure of the iPhone 5. Stay tuned.
[via CNET]