iPhone 5 mini dock connector talk snowballs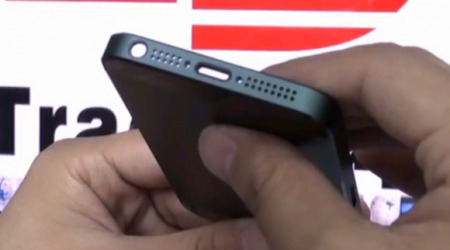 Talk of a new, smaller Apple dock connector to debut on the iPhone 5 continues to gather pace, with new sources saying the next-gen smartphone will indeed switch to a more compact port despite potential fury from accessory owners. Technical details on the port are still in general a mystery, but two insider sources tell Reuters that the iPhone 5 will indeed ditch the existing 30-pin connector that has been standard across many iPods and all generations of iPhone and iPad, so as to make space for a headphone jack on the bottom edge. However, while accessory manufacturers are rubbing their hands together in glee at the thought of a new wave of add-on-sales, users may be less enthused.
The existing port is 21mm wide and takes up much of the bottom edge of the iPhone 4S, leaving only space for speaker grills either side. By switching to a smaller, 19-pin connector instead, Apple could free up space for the headphone socket while still keeping the twin grills.
Evidence of such a design has already been seen, albeit from third-party case manufacturers, who have been showing off prototype iPhone 5 cases that have cutouts for the smaller dock connector. Subsequent talk from engineers suggested that Apple would take advantage of the new connection not only for design reasons, but to enact a new "authorized accessory" program that would lock out unlicensed devices.
Both factors could mean big business for those selling iPhone accessories. Although Apple is expected to also deliver a dock connector adapter – similar to its approach with the smaller MagSafe 2 power connection on the latest MacBook Pro with Retina Display and MacBook Air – that may well prove too inelegant for owners. It could also lack compatibility with new accessories natively supporting the smaller dock port, only allowing the iPhone 5 to use older accessories, not older iPhones from connecting to newer accessories.
Whether owners will be enamored by the idea of replacing their speaker docks, spare chargers and other gadgets remains to be seen. Apple is expected to reveal the iPhone 5 in October.