iPhone 5 in multi-colored plastic predicted in Apple 2013 roadmap

This week KGI Securities analyst Ming-Chi Kuo has released a projected roadmap of Apple products spanning the next 12 months, this map including no less than an iPhone 5S and a new iteration of the iPhone 5, complete with plastic casing. While an actual "official" leaked roadmap as such leaked from Apple would be a first sign of the apocalypse, we're ready and willing to have a peek at this possible vision for the future, especially given the relatively good future foretelling we've seen come from Kuo specifically in the past.
What this map shows is an iPhone 5S coming in Q3, followed within weeks by a new design and release for the iPhone 5, complete with a set of case modifications we've been hearing rumors and suggestions about over the past week – how odd! These predictions include a device which has largely the same specifications as the iPhone 5 as it exists on the market today, but with a 1600 mAh battery instead of 1420, 8.2mm of thickness instead of 7.6, and a weight of 130g instead of 112.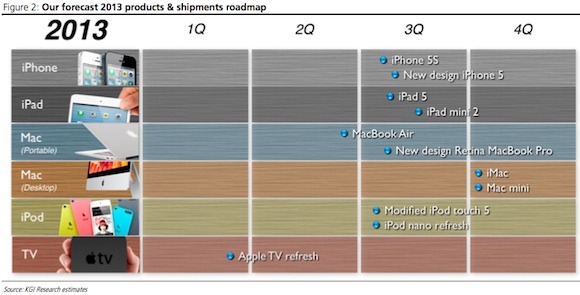 Perhaps most interesting of all is the suggestion that the refreshed iPhone 5 will be coming with multiple different colors, not unlike the most recent push with the iPod touch. This release will also have plastic casing rather than aluminum, this keeping the cost of the device down considerably – and remind yourself here that these are all predictions from KGI Securities analyst Ming-Chi Kuo, not assurances.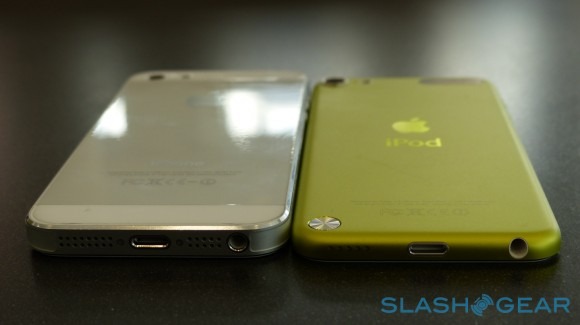 The price for this newly refreshed iPhone 5 will be between $350 and $450 unlocked (compared to the current $600-700 on the market today) and it'll be completely free when purchased with a 2-year contract. This contradicts the pattern Apple worked with when the iPhone 4S was revealed, the "free" model being at that time the iPhone 3GS, aka the least powerful of the three models on the market. With this release there'd only be two.
This roadmap also predicts that there'll be an iPad 5 released between the iPhone 5S and the modified iPhone 5, with a newly designed Retina MacBook Pro released at the same time. Also released with the iPhone 5S will be a modified iPod touch 5th gen and an iPod nano refresh. Predicted for Q1 is an Apple TV refresh of some kind, near the end of Q2 a new MacBook Air, and last in Q3 an iPad mini 2nd gen.
Lastly Kuo suggests that at the start of the fourth quarter of 2013 we'll be seeing a new iMac and a new Mac mini – exciting times! Have a peek at our Apple hub for more Apple action through the year, and get ready for the multi-colored plastic of the iPhone 5 refresh – if that's what you believe will be coming, of course.
[via MacRumors]