iPhone 5 grabs Q4 2012 top spot as GS3 drops to third place says research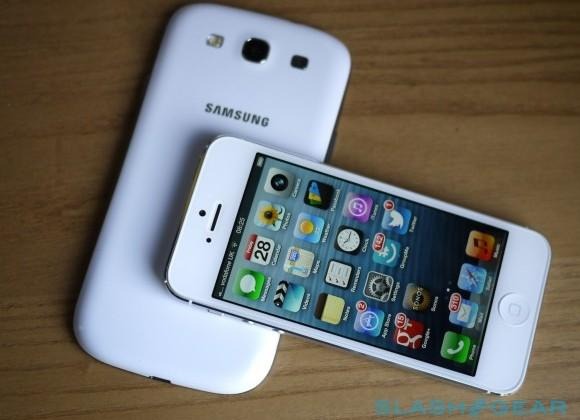 Apple's iPhone 5 took the smartphone top spot in worldwide sales in Q4 2012, according to new figures, and together with the iPhone 4S pushing the Samsung Galaxy S III into third place. In fact, 1-in-5 smartphones shipped worldwide in the last quarter of 2012 were either iPhone 5 or iPhone 4S models, Strategy Analytics claims, crediting healthy subsidies, broad availability, and the appeal of the latest Apple handset's larger screen for the improvement in demand. The results are a turnaround from Q3 2012, where Samsung's flagship ruled the roost.
In Q3, the Galaxy S III came in top, with 18m shipments; the iPhone 5, which had only been on sale for part of the quarter, contributed just 6m shipments. However, while iPhone 5 demand has surged – up to 27.4m units shipped in Q4 2012 alone, the research firm says – iPhone 4S shipments also increased, up over a million units, to 17.4m.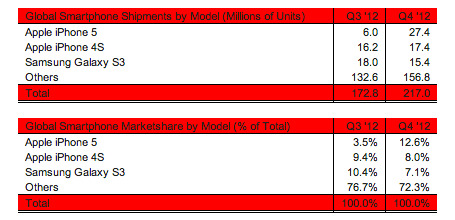 "Global demand for the Galaxy S III appears to have peaked" Strategy Analytics concludes, pointing out that the specter of the Galaxy S4 sequel is already upon us. That device is believed to be waiting in the wings for a March 14 reveal, though the specifications of the phone are hotly contested.
Meanwhile, rumors continue to persist around a low-cost iPhone, though Apple executives have been quick to try to squash the speculation.
Nonetheless, it's certainly Apple and Samsung's world when it comes to smartphones at the moment, with the two firms together holding more than half of the overall market. That presents a significant issue for rivals like HTC, who will find it increasingly different to raise their own products, such as the recently announced HTC One, above the noise.