iPhone 4S iOS 5.0.1 battery fix falls short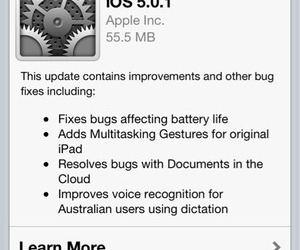 Apple's iOS 5.0.1 update looks to have been a smooth first test of the company's new OTA distribution system, but feedback on whether it has addressed widespread battery problems is less positive. Apple Support Forums are awash with owners complaining that the issue – where an iPhone running iOS 5 sees faster than expected battery drain – remains or, in some cases, has apparently been made worse with the new patch.
The company has not specified exactly what iOS 5.0.1 does to fix the power problems – the release notes merely say it "Fixes bugs affecting battery life" – and was slow to even acknowledge the issue in the first place. "A small number of customers have reported lower than expected battery life on iOS 5 devices" an Apple representative admitted earlier this month. "We have found a few bugs that are affecting battery life and we will release a software update to address those in a few weeks."
Unfortunately that hasn't been the case for all users. Some are reporting battery drain of almost 1-percent a minute, while others have found that allowing the smartphone to run down fully and then charge to 100-percent seems to help. On the flip-side, however, other iPhone 4S owners have seen their problems fixed with no tweaks or recalibration required, using the new software.
Has iOS 5.0.1 fixed your iPhone 4S battery drain issues, or are you still suffering shortened runtimes? Let us know in the comments!