iPhone 11 Pro Max: Details on the most extravagant iPhone ever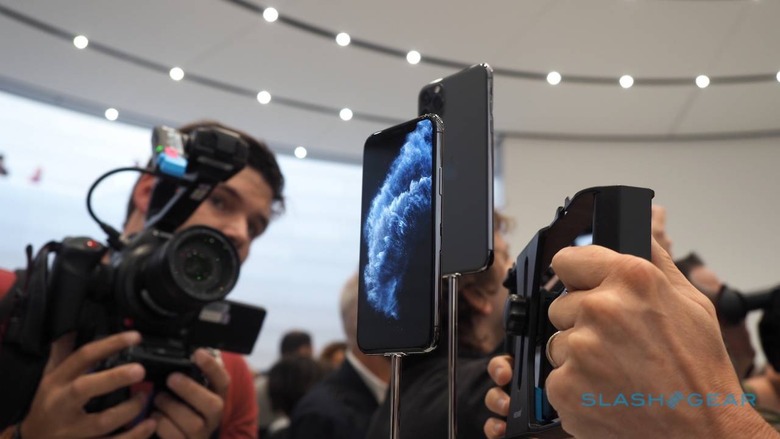 Today we're looking at the most expensive, large, and extravagant iPhone ever released, the iPhone 11 Pro Max. This device was first revealed by Apple earlier this week as one of two iPhone 11 Pro models, the other without the "Max" in the title, sporting a slightly smaller display. The iPhone 11 Pro Max has a 6.5-inch display, three cameras at its back, and (with its most decked-out configuration) could be the most expensive iPhone ever offered by Apple.
Back in September of 2017, an article written by former SlashGear writer Nate Swanner painted a picture of what was then a shockingly-expensive trip to the Apple Store: "The $2,000 iPhone is coming." Cutting out the costs of Apple Care, a protective case, and the total for the most expensive iPhone was around $1,149. Swanner predicted the future in that article.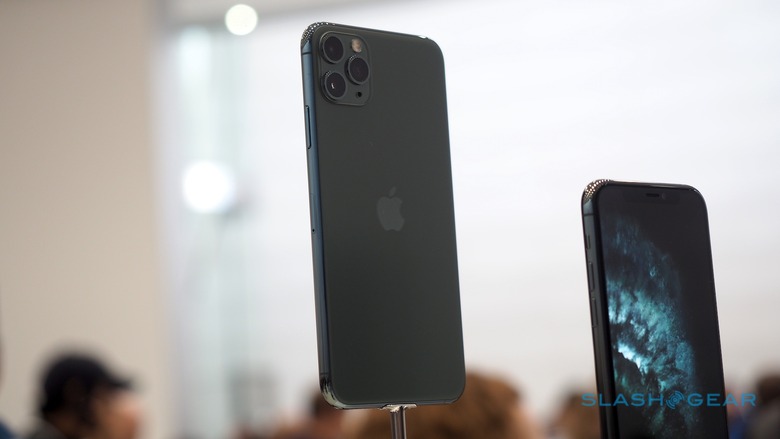 "At some point, Apple will feel comfortable enough selling us an iPhone with a starting price of $1,099," wrote Swanner. "By then, the highest-end model will be teetering on $1,500."
According to the Apple Store online, today, the iPhone 11 Pro Max with 512GB internal storage Unlocked and SIM-Free will cost approximately $1449 USD. That's without tax, without a case or Apple Care, without accessories.
The iPhone 11 Pro will be released in four finishes, four colors: Space Gray, Silver, Gold, and Midnight Green. You might want to take a peek at the article by Chris Davies about that last color on the list in the article "I can't stop thinking about the Midnight Green iPhone 11 Pro".
The iPhone 11 Pro Max sizes in at 158 x 77.8 x 8.1 mm (6.22 x 3.06 x 0.32 in), and weighs approximately 226 g (7.97 oz). Both the front and back panels are made of glass, and the sides are stainless steel. Users in most regions will find the iPhone 11 Pro Max in a Single SIM configuration, and in China there'll be a Dual SIM iteration of the device.
The display on this device is a "Super Retina XDR" OLED touchscreen that's 6.5 inches large. This display is rectangular with rounded corners and a space (AKA a "notch") at its forehead for sensors and a front-facing camera array. With 1242 x 2688 pixels in this display, the panel has approximately 458 pixels per inch pixel density.
The front-facing array of sensors and cameras includes a 12MP shooter with f/2.2 aperture. There's also a ToF (time of flight) sensor AKA 3D camera for features like Face ID scanning. This front-facing camera array can capture 2160p (4K) video at 60fps and 1080p video at 240fps.
The back-facing camera array consists of three 12MP cameras. One is a 12 MP camera with f/1.8, 26mm (wide angle lens), 1/2.55", 1.4µm pixel size capture, PDAF, and optical image stabilization (OIS). The second camera is a 12 MP, f/2.0, 52mm (telephoto) lens-toting camera with 1/3.4", 1.0µm, PDAF, OIS, and 2x optical zoom.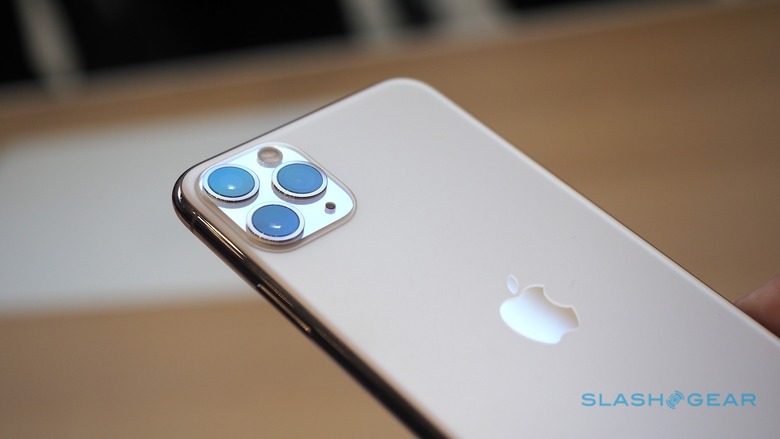 The third 12MP camera sports a 13mm (ultrawide) lens, f/2.4 aperture, and a 120-degree field of view. Together these cameras can capture HDR photos, panoramas, 4K video at 60fps, 1080p video at 240fps, high quality photos in low light, multiple different views in a multi-frame video at once, and a few other new features like "audio zoom" based on what's seen in the viewfinder at the time.
Apple's also teased some iPhone 11 Pro Deep Fusion camera technology that's not yet been shared in extreme detail. According to Apple's Phil Schiller, it's "computational photography mad science."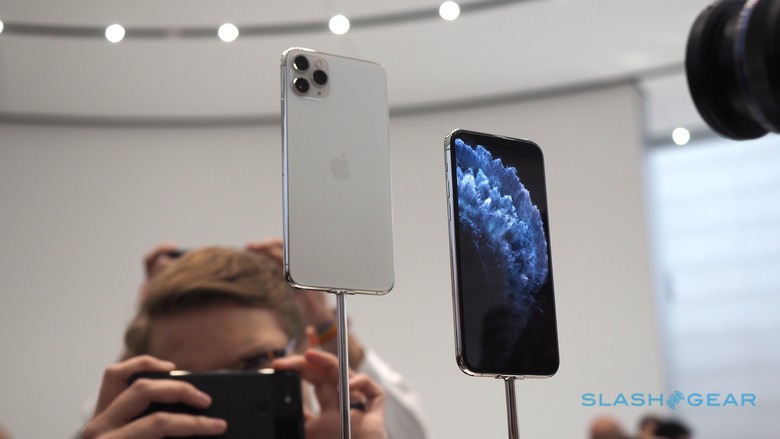 Three configurations exist, depending on availability, all three with 4GB RAM. One has 64GB internal storage, another has 256GB internal storage, the other 512GB internal storage. All versions of the iPhone 11 Pro Max have an Apple A13 Bionic chipset inside and a 3500mAh battery with 18W fast charging abilities. Apple says that this iPhone's battery allows it to last "5 more hours" than iPhone Xs Max.
We've had our iPhone 11 Pro (and Max) hands-on with first impressions earlier this week. Now it's time to ramp up toward a full review. Does this look like a phone on which you'll be considering dropping cash later this month?