iPad mini supplies slim as white tablet disappears in minutes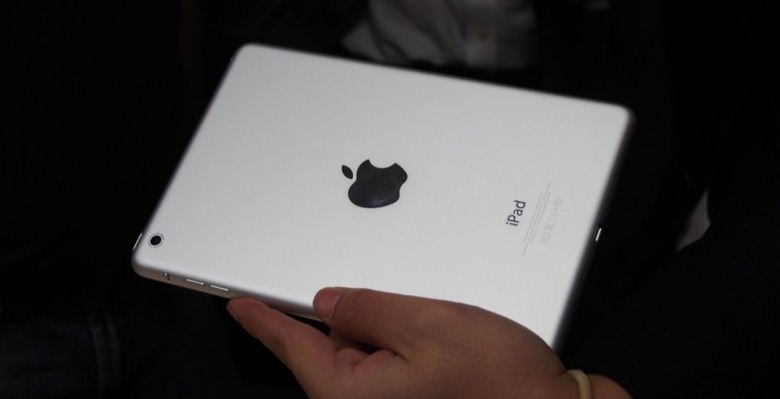 Apple's new iPad mini is already seeing supply constraints on select models, with the white & silver variant proving particularly popular at the online store. The 7.9-inch tablet went up for preorder just after midnight pacific time, with initial WiFi-only ship estimates of November 2 for the white & silver iPad mini swiftly being replaced by a "2 weeks" window across all capacity variants.
In fact, the change happened so quickly that there was some speculation that Apple had had no initial stock of that color option. However, SlashGear reader Jordan tells us that he was able to secure one model in the few minutes it listed a November 2 availability date, indicating either massive demand in a very small space of time, or that Apple only had limited numbers in the first place.
Elsewhere in the iPad mini line-up, in the UK the 16GB WiFi-only black & slate version is also now listed as shipping in two weeks time, though the 32GB and 64GB models are still available for November 2. Apple's lowest-capacity models – and thus cheapest – generally are the first to run short on stock, though the US store currently shows no such limits (beyond the previously mentioned white & silver ship times).
As for the WiFi + Cellular model, with that not expected until later next month – "mid-November" for the US, or "late-November" for other countries where presales are being taken – it's not clear how orders are affecting supplies. A similar situation is taking place over at iPad 4 preorders, with the 4G version of the larger tablet also shipping after the WiFi-only model.
Prior to announcement, there had been wide speculation as to supply chain issues potentially affecting the iPad mini, with whispers of component shortages. However, Apple was said to have ordered 10m in the first batch so as to accommodate the expected high demand for what has become the cheapest way to get on the iPad ownership ladder. More on the iPad mini in our hands-on.