iPad Mini details leaked by Cygnett cases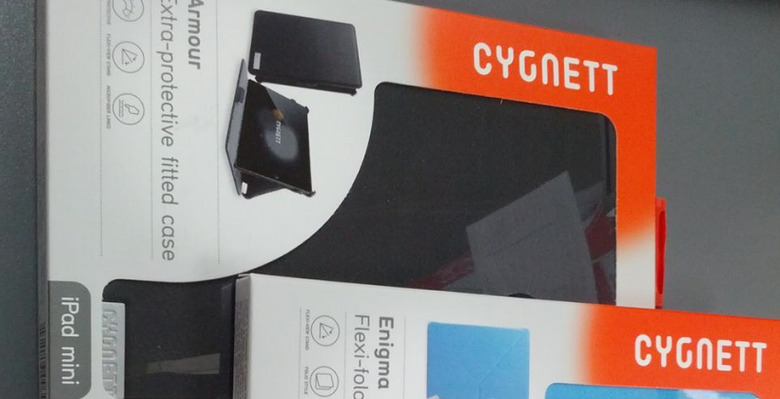 This week it appears that the iPad mini – a device not yet confirmed by Apple – has had details leaked by none other than accessory makers Cygnett in a couple of cases released to a storefront in Australia. Normally this sort of thing would be mentionable, but it's generally a small brand that makes a point of showing off their pre-release device cases – in this case, a big brand like Cygnett would never show off cases early because such a reveal would be looked upon by Apple as a major breach of trust. As it stands, if these cases are indeed real, Cygnett may be in a load of trouble.
What we're seeing here is a case that seems to confirm several of the details that we've head about before on the iPad mini. First, the name – iPad mini will be the name of the device if these cases are legit, and they do appear to be. Second, the case is 20 cm long by 13 cm wide, 9 inches diagonally. The case is also approximately 1 cm deep, this and the rest of the specifications leading toward a general understanding of how large the iPad mini will be.
The man from ProductFeedback that found the case drew up an iPad mini device on paper with the same border around a prospective display that the iPad currently has. Though this doesn't match up with the product models that have been "leaked" thus far, it does yield an interesting final display size: 7 inches. This creates a device with a 19:6 aspect ratio and a device that's essentially a squished iPad as it exists today.
Have a peek at the timeline below showing several other iPad mini bits and pieces, and know this: if Apple does indeed send out invitations on the 10th of this month, as it's also been tipped, and the event is on the 17th, the device could be out in stores by the end of the month. Would you pick up an iPad mini here in the Autumn of 2012 to go along with your brand new iPhone 5? Let us know!
[via Muhammad Skaka]