iPad HD Liveblog Reminder: We kick off 10AM PST!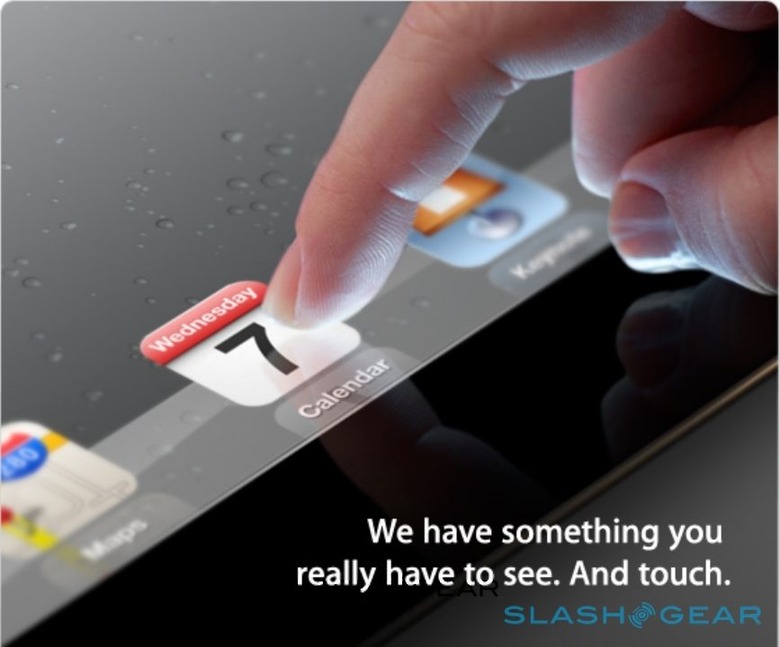 Living under a rock probably wouldn't be sufficient to shield you from speculation around the iPad HD these past few weeks, but fear not: Apple's big reveal is close at hand, and SlashGear is revving up the liveblog machine to bring you all the details. The iPad event kicks off at 10AM PST – that's 6PM GMT or 1PM EST – and we'll have all the breaking news at live.slashgear.com.
There's no shortage of rumor and speculation about what we can expect from today. Apple's invite all but confirmed that a new tablet is on the cards, from which we're expecting a Retina Display with 2048 x 1536 resolution for incredibly-smooth graphics. There's also likely to be LTE connectivity – Verizon is said to be adding LTE support to its stores, just so it can be demonstrated – and a faster processor, possibly the Apple A5X, with an upgraded GPU.
However, more recent indicators point to a more significant game-changer, in the shape of an advanced haptic-feedback display capable of delivering the sensation of actual materials to users' fingertips. Based on Senseg tech, so the rumors claim, it could prove a significant benefit to on-screen controls like keyboards.
A new iPad isn't the only fresh device tipped to be on the cards. An Apple TV refresh is also suggested, bringing 1080p HD support among other advances. Meanwhile, a new Catalogs category has been quietly added to the App Store, and we'll likely hear more about that today too.
We'll know everything from 10AM PST today, so join us over at live.slashgear.com for all the announcements!