Apple iPad 3 Event March 7 Confirmed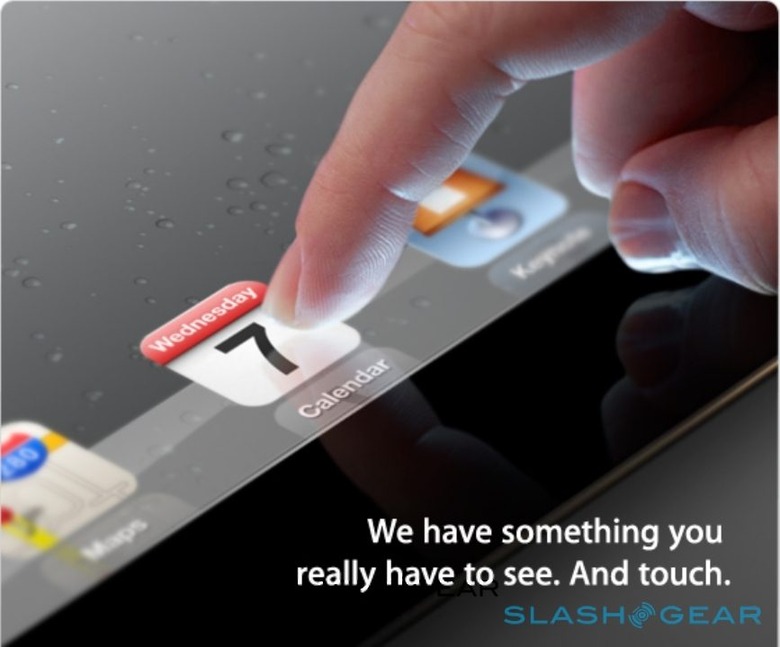 Apple has confirmed a press event on Wednesday, March 7, where we're expecting to see the iPad 3 make its official, and much-anticipated, debut. Rumored for the first week of March for some time now, the event will kick off at 10AM PST in San Francisco, and we'll be liveblogging it as usual! According to Apple's invite, "We have something you really have to see. And touch." Catch up with all the rumors and speculation around the new iPad after the cut.
Rumors about the next-gen iPad's specifications have been circulating even before the iPad 2 was revealed early last year. According to the latest batch of speculation, the tablet will be roughly the same size as the existing model, but feature a much higher resolution screen, running at 2048 x 1536 or double the current iPad 2. That would certainly fit with Apple's "you really have to see" tagline
We're also expecting a new processor, though original expectations of a quadcore Apple A6 have since been thrown into question by signs of an A5X that is apparently, like the existing A5, a dualcore chipset. Still, a stronger GPU is tipped, to help drive all those pixels, as well as LTE 4G connectivity.
A more impressive camera is also believed to be in the pipeline, up from the iPad 2's current 1-megapixel shooter, though there's no word on whether – like the MacBook Air and Pro range – the front-facing iChat camera will be upgraded to support 720p HD video calls.
We'll know for sure at the event next week, which we'll be liveblogging at http://live.slashgear.com/. So, join us at 10AM PST on Wednesday, March 7 for all the details as Apple announces them!